11 COOLEST Places to Live in Argentina (Updated 2023)
Tons of international influences make up the melting pot that is Argentina. Throw in some breath-taking natural wonders, historic cities, and a world of cuisine and it's well worth anybody's time.
This South American giant has a lot going for it – and surprisingly boasts a lot of places for nomads to use as a base to explore it all. You may not think it, but there's more to cities in Argentina than its famous capital!
Knowing which one to pick is the hard part. And that's where we come in.
We've created this guide to the best places to live in Argentina to give you some inspiration before you take the plunge. Whether you want to live it up in a big city or go somewhere quieter on the coast or in the mountains, there's something for everyone.
Let's do this!
Staying Safe in Argentina
Argentina is one of the countries you shouldn't skip if you're a digital nomad. Safety here is never an issue as the country pretty much has low levels of crime rate.
Just like any other countries, pickpockets and bag-stachers are still present in public transport areas and other busy places. Most of these are likely to occur in larger cities like Buenos Aires.
One of the biggest dangers of Argentina is its roads. Drivers have little thought for pedestrians and drive fast and unpredictably. Looking both ways may seem obvious, but it's super important here! In conclusion, always pay attention and trust your gut when something doesn't feel right!
To make sure you are extra safe in Argentina, we recommend getting travel insurance from Safety Wing.
With an insanely easy to use platform and dedicated customer service, SafetyWing provides Primary Health Care and covers up to $2500 worth of tech.
"Nomads flock to Buenos Aires for its cool cosmopolitan credentials."
Monthly Cost of Living in Buenos Aires
Cost of Rent
in Buenos Aires
Buenos Aires is the bustling capital of Argentina. Once known as "The Paris of South America", its grand European architecture points back to a more illustrious past of the late-19th and early-20th centuries. But more than its buildings, it's the multicultural make-up of the city that make it an exciting place to live and work.
It's one of the most diverse cities in all of the Americas, with several languages spoken and a dynamic food scene to enjoy as a result. Perhaps most famously, Buenos Aires is the home of the tango and this passionate dance remains still very much ingrained in the city's DNA. You can still see people performing the sensual dance across the city.
Being such a rich and multicultural gem of a city, Buenos Aires has plenty of different neighbourhoods to base yourself – many of which are very cool. Villa Crespo, for example, is cosmopolitan and full of street art.
Full of crumbling (but beautiful) buildings, San Telmo is a colourful spot. This charming cobblestone-clad barrio features open-air markets and a romantic atmosphere; it fell into decline but is slowly rejuvenating.
Palermo Soho, on the other hand, boasts a young creative scene. Think boutiques, cafes, and restaurants. The feel of this place is almost alternative but nevertheless attracts upper-class Argentines.
There are tons of coworking spaces in Buenos Aires, so there's a bunch to take your pick from. A great option for nomads, however, is GOWORK Coworking. It's great for meetings, has plenty of desk space, puts on events, and looks the part too.
"Fun-loving nomads keen on budgeting should make a beeline for Cordoba."
Monthly Cost of Living in Cordoba
Cordoba, capital of Cordoba Province, is Argentina's second-most populous city. It's a hub of learning, a mix of old and new, and a designated Cultural Capital of the Americas. It is known for its historic demonstrations (1918) and civil uprisings (1969). So far, so good: this place is an interesting choice.
You'll find the National University of Córdoba here. Founded in 1613, it's the oldest university in the country and third oldest in the whole of the Americas. Some of the campus is even UNESCO-recognised. That, and several other large universities, help create a healthy student population in Cordoba.
Choosing to base yourself in Nuevo Cordoba means being in a more modern part of the city than the historic centre. However, it also means you'll get a whole ton of eating, drinking, dining, and shopping opportunities on your doorstep.
For something more bohemian, you could opt to stay in Guemes. Set to the southwest of the city centre, this neighbourhood has a growing nightlife scene and plenty of creative hotspots. It's also pretty safe and pedestrian-friendly.
Alberdi, on the other hand, is more traditional, with historic monuments and neo-Gothic architecture – providing a beautiful backdrop for city living.
Loop Coworking is the place to go for your coworking needs in Cordoba. It provides an excellent working environment, plus there's even a garden to chill out in during those much-needed coffee breaks.
"Want to live at the end of the world? Ushuaia's the place for you."
Monthly Cost of Living in Ushuaia
Possibly one of the coolest places to live in Argentina, Ushuaia is situated in Argentina's far-flung Tierra del Fuego archipelago. Incredibly, this is the world's southernmost city. It's impressively situated on a large bay, backdropped by the snow-capped mountains of the Marshall Range, and is a busy port and hub for adventure sports.
Ushuaia fully lives up to its own nickname "The End of the World". In fact, being situated only 1,100 kilometres from it, this is the jumping-off point for many ships bound for Antarctica – both the tourist and scientific variety. It's a bit of an adventure to even get to Ushuaia: it's cut off from the rest of Argentina by the impassable Andes.
Even though Ushuaia is a relatively small city, it's a cool place to base yourself if you really like to explore the great outdoors: it's the gateway to the incredible Tierra del Fuego National Park.
There are also a few options for getting involved in the city itself. There are multiple quirky museums, such as the Museo del Fin del Mundo and the Museo Mundo Yamana.
And if nothing else, simply taking a stroll around town offers up utterly picturesque views of nature beyond the painted wooden houses. Even though it's easy to walk, we recommend getting yourself a bike to pedal around, or hopping on one of the many minibuses.
There aren't many coworking spaces in Ushuaia, but there are a whole load of cafes. Many of them have good wi-fi and even better coffee. Tante Sara Cafe & Bar has an international menu and speedy internet, for example, while Cafe Bar Banana has fast wi-fi and is a good spot for breakfast.
"The elegant planned city of La Plata has a student underbelly for bargain-hunting nomads."
Monthly Cost of Living in La Plata
The capital of Buenos Aires province, and close to the Argentine capital itself, La Plata is awash with old-world grandeur. It's a planned city, but of 19th-century proportions: think diagonal boulevards, a neo-Gothic cathedral, pretty plazas and museums to tell you all about it.
La Plata may not have the cosmopolitan feel of Buenos Aires, but what it does have is a buzzing university atmosphere. It's a leafy sort of place, with attractive streets, places to eat and drink cheaply, and happening nightlife.
Throw in some surprisingly large city parks, and a top natural history museum, and you've got a pretty comprehensive option for basing yourself in Argentina.
One of the coolest places in La Plata is the Old Station district. This is where students like to hang out. Accordingly, you'll find cool drinking establishments and live music galore in this happening area.
Elsewhere, and a little bit further out of town, is El Campo. This differs in that it has easy access to the countryside, which is great if you like living your life in the great outdoors. Nature lovers and fitness fiends will appreciate this place.
If you're looking for a coworking place in La Plata for your digital needs, check out Coworking Moebius. This is a modern place close to the city centre, offering a welcoming spot to get things done. There's also HIVEVALLEY Coworking Space; also centrally located, it's a cool modern space with 160 spots where you can be productive.
"Nomads with a nose for wine should make a beeline for Mendoza."
Monthly Cost of Living in Mendoza
Set in an arid region of the country, Mendoza is Argentina's wine country. Here is where you'll find the bulk of the nation's wine producers, with over 1,500 wineries across the region. South Americans travel from across the continent to indulge themselves in the delights of this most delectable of places.
At the centre of the region is Mendoza city proper. Here especially, the wine is free-flowing. It's famous for its Malbecs and other full-bodied reds, while there's also a healthy food scene: olive oil is produced here and it's used plentifully.
Mendoza itself is a pretty city. It boasts pedestrianised streets, leafy boulevards, and easygoing plazas edged by chic cafes and places to indulge your tastebuds and tummy.
Though daytimes in Mendoza are fun enough, nocturnal good times are more than easy to find. Head to Aristides and you'll find restaurants and bars spilling out onto the pavements.
Downtown may be where the tourists head, but this is also where you'll find some of the best attractions in town, from museums and galleries to shops. This part of town is also great for its transport connections.
There are a couple of options for coworking spaces in Mendoza. Attix Coworking, close to the centre of the city, has high-speed internet, lots of space, and a friendly vibe. Tribu Coworking balances friendly with professional, and is a great place to meet other people. There are a ton of events there too.
"Salta is a high-altitude gem of city that's attracting ever-more attention."
Monthly Cost of Living in Salta
A marriage of Andean heritage and colonial Spanish architecture, Salta was founded way back in 1582. It's located in the Lerma Valley at 1,152 metres above sea level. As you might imagine, it's a great jumping-off point to explore the foothills of the Andes and beyond, with salt flats being another magnet for nature-loving travellers.
The city is more than its natural surroundings, however. You can find a wealth of cultural heritage here too. Not only are there a whole host of beautiful old buildings and museums, but Salta even has its own (more relaxed) version of the tango to rival Buenos Aires: milonga. You can see it performed in the city's vibrant folk music clubs.
Life in Salta moves at a slower pace than it does in many other Argentine destinations. Think chilled plaza cafes and romantic streets to wander along.
The centre of the city is a draw for tourists, who rent cars and book onto tours to explore the rugged nature beyond. Because of this, Salta is actually the most visited city in Argentina's northwest.
One thing you simply have to do if you spend any amount of time in Salta is sample its version of the humble empanada. Every city has a particular style – and Salta's is particularly tasty.
There aren't many coworking spaces in Salta, but there are a couple of good'uns. Studio Coworking is brand new, decked out in modern industrial flavours, and is a great place to meet others and develop ideas. Elsewhere, there's Coworking SLA: a small spot with around 21 workspaces, as well as events room. Ticks all the boxes.
"Beach-loving nomads should head for the sea and surf of this lively resort town."
Monthly Cost of Living in Mar del Plata
Cost of Rent
in Mar del Plata
Located along Argentina's Atlantic coast, Mar del Plata is the second-largest city of Buenos Aires province. It's a booming resort town that's overflowing in the summer, particularly on the weekends, with Argentinians spending their downtime chilling on the beaches.
There are a string of long, wide sandy beaches to enjoy in Mar del Plata – if you can find space, that is. They're uber popular. And to provide entertainment for those out-of-town visitors, there are theatres, casinos, hotels, restaurants, bars, sports stadiums, and just about everything you could ever need.
Out of the height of its tourist season, Mar del Plata has more low-key charm to it. Once a glamourous resort town in the 1920s, vestiges of the past can be seen in grand heritage architecture scattered throughout the town.
All of its non-beachy sights tend to be connected by beautiful stretches of pavement and boardwalk; spots like the strange Torre Tanque – an ornamental water tower built in 1943.
Days can be spent here shopping, or maybe learning to surf (if you can't already). Come evening, the city comes alive with nightlife hotspots and party-goers eager to let their hair down and have fun.
There are a fair few options for coworking in Mar del Plata (alongside cafes with wi-fi, too). Loft Coworking toes the line between trendy loft apartment and hipster coworking spot and is just 8 minutes' walk from the beach. Ayana Coworking is a little bit more sleek and serious, but still boasts views of the sea.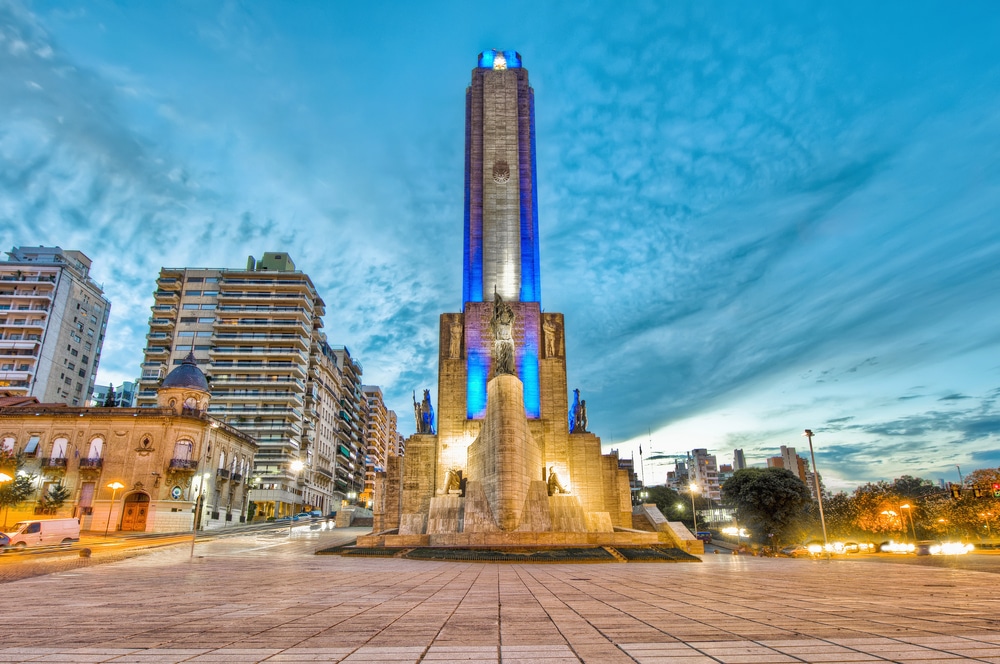 "Rosario is all riverside urban regeneration: perfect for nomads who want an up-and-coming base."
Monthly Cost of Living in Rosario
Rosario is the largest city in the province of Santa Fe. Located around 300 kilometres from Buenos Aires, the town is dominated by the Parana River. This old port city is actually the third most populous in Argentina, and has its roots firmly in its hardworking industrial heritage.
This is a properly Argentinian place. In fact, it's famous as being the birthplace for two globally renowned exports: Lionel Messi and Che Guevera. Rosario is also where the Argentine flag was born. But there's more Argentinian heritage to be found in the streets, with its well preserved Art Nouveau, Neoclassical, and Art Deco architecture.
It may be part of Argentina's industrial network, and a large transport hub, but much regeneration of derelict buildings has breathed new life into unloved locations around town.
New restaurants, bars, cafes, trendy galleries, and cool skateparks have popped up in derelict spaces. Beaches along the riverside, and islands in the river itself, are the place to be in the warmer summer months.
Overall, Rosario is a down-to-earth, fun-loving sort of city. Combine this with its large student population and its love of football, and you have a pretty happening place to help make living in Argentina an interesting experience.
Nomads rejoice: there are a ton of coworking spaces in Rosario. Some of the best ones include WorkAround Rosario (friendly, excellent work environment); WIT coworking space (historic building with courtyard and cafe); and Brujula Coworking (sleek, minimal, professional service). You almost can't go wrong here.
"This postcard-perfect city suits nomads looking for a slice of Argentine-Alpine paradise."
Monthly Cost of Living in Bariloche
Cost of Rent
in Bariloche
Bariloche is the most visited destination in Patagonia. Let's be honest: it's not hard to see why. There's some super dramatic Alpine scenery here, lush and green, with lakes and mountain scenery to drool over. And there's some Swiss Alpine architecture to match. Even chocolate too.
This mini Switzerland is located in a national park – Nahuel Huapi National Park, to be exact – along the shores of Nahuel Huapi Lake. And it's all surrounded by the foothills of the Andes. It was developed in the 1930s and '40s as a hub for trekking, skiing, and mountaineering – and it has never stopped being popular.
This is an absolutely stunning setting for a city. It's kind of unbelievable that a city can even exist within a national park, but somehow the vibe and aesthetic here seems to work with – rather than against – the natural landscape.
Mix that natural setting with the fact that there are a ton of awesome activities to get stuck into, and you have yourself a fully-fledged option for any adventure-seeking nomad. Close by, soaring peaks tower more than 2,000 metres above sea level. These are coated in snow in winter, becoming a hotspot for skiers.
In summer, the mountains become prime trekking spots. And even if it's not adventures you seek, simply spending time exploring cafes, restaurants, and chocolate against a backdrop like this is enough to charm anyone.
For coworking spaces, there is a selection of locations around Bariloche. Hit up Fab Lab Brc, a creative space with tons of events where you can socialise with other nomads. Or maybe try La Compania Coworking Bariloche, a great place to get keep to those deadlines; it's spacious, pleasant, and boasts a cafe to enjoy refreshments while you work.
"This border city is for nomads who like green living and having nature on the doorstep."
Monthly Cost of Living in Puerto Iguazu
Cost of Rent
in Puerto Iguazu
As the name suggests, Puerto Iguazu is the gateway to Iguazu National Park. Located in the extreme northeast of Argentina, it's actually on the border with both Brazil and Paraguay. The city has seen much development, thanks to tourism and visitors coming to see the beauty of the surrounding landscape.
The city itself sits at the confluence of the Parana and Iguazu Rivers. Despite its border location and tourism credentials, there's actually a lot going on in this city. In fact, it's because of tourism that there are a fair few places to eat, drink and be entertained.
As beautiful as Iguazu National Park is, there's much more to nature around here than waterfalls. The Sendero Macuco is one of them: a lush trail through jungles, rife with wildlife-spotting opportunities.
Las Tres Fronteras is a cool place, too. Situated at the western end of town, it's a good vantage point for seeing into three different countries at once: Argentina, Brazil, and Paraguay.
There's also an eco edge to the city, with attractions such as La Aripuca – a theme park-esque locale where visitors can learn about the effects of deforestation on the natural environment. Casa Ecologica de Botellas, a whole house made out of plastic drinking bottles and other recycled trinkets, also points to its green credentials.
Don't expect too many coworking spaces in this outpost of a city. However, there are a whole ton of cafes with wi-fi. One of these is Excelso Coffee Co. Here you'll get free wi-fi and a comfortable space to work in. Another is Deseos Cafe Bar for some great coffee, tasty pastries, and good wi-fi. The staff are nice too.
"Nomads looking to get away from it all head to El Calafate."
Monthly Cost of Living in El Calafate
Cost of Rent
in El Calafate
Ushuaia may call itself the end of the world, but El Calafate comes pretty close, too. Situated in the far-flung Patagonia region, on the shores of Lake Argentino, it's another of the country's compact cities (and tourist hotspot) that offers access to unbridled nature.
It was once a sheltering spot for wool traders but was developed in the 20th century along with the creation of the Perito Moreno National Park. The name of the city is fun: it's named after a Patagonian berry that apparently ensures that you return to Patagonia one day if you eat it. The same can be said about visiting the city too.
The main part of El Calafate is the most happening spot in town. Here you'll find souvenir shops, chocolate shops, cafes, hotels, and restaurants.
But away from all that – as convenient and fun as it is – the city soon becomes down-to-earth and residential. Local life plays out day by day in these streets, as the streets become unpaved and slip out into fields and nature.
It's a small, welcoming city with a friendly vibe. You can spend time here cycling around the lake, flamingo-spotting, hiking in the nearby landscape – and, perhaps, enjoying a spot to finish (or start) a creative project away from distractions.
Coworking spaces are lacking in El Calafate. But there's no shortage of cafes with wi-fi. A couple of reliable options are Pietro's Cafe, with its free wi-fi and great service; Olivia Bagels & Coffee Shop has good (fast) wi-fi and a selection of tasty food to keep you fuelled; Don Luis is a bakery hotspot with delish pastries and wi-fi too.
Final Thoughts on the Best Places to live in all of Argentina
Those were the best destinations in Argentina for digital nomads. It's an amazingly diverse country with a huge selection of towns and cities to base yourself in to match.
There's something to suit just about everyone. You could go to literally the end of the world at Ushuaia and spend your weekends adventuring, or you could simply lose yourself in the hubbub of Buenos Aires, the ever-lively capital city.
Whichever place you go for, you could always mix it up and spend a while moving between a few of them before you make a decision. Why not? Argentina literally has so much to offer.
All that's left is to brush up on your Spanish, pack your bags, and off you go!
Looking for more great Digital Nomad content?
***Disclaimer*** Some of the links in this post are affiliate links. This means that if you use our links, Nomads Nation will earn a small commission at no extra cost to you. Thanks for the love and support!