EPIC Mous Extreme Commuter Backpack 25L Review: Is It Worth Buying in 2023?
EPIC Mous Extreme Commuter Backpack Review: Is It Worth Buying in 2023?
The new Mous Extreme Commuter Backpack has been causing a TON of hype for its modern aesthetic, innovative features, and impressive protection for your tech gear.
But is it worth the high price tag?
In this Mous Extreme Commuter Backpack review, I'm going to show you everything you need to know about this bag so you can easily decide whether its right for you.
And if this Mous backpack is not for you, then don't worry – I'll make some alternative recommendations for bags that might better suit your needs. 
A YouTube review is worth a thousands blog posts.
Check out our full YouTube review below! 👇
Mous Extreme Commuter Backpack 25L Review - What you need to know
Specifications
Cost: $250
Size: 25 Liters
Weight: 3.9 pounds (approx.)
Style: Techy urban
Key materials: PU coated YKK zippers, PU-coated ballistic or carbonated nylon, Fidlock buckle
Top features: Fidlock magnet, zipper poles, hidden wallet pocket
Mous Extreme Commuter Backpack 25L Pros
Impressive materials, including fidlock wujin Cordura and YKK zippers

Quick access options, such as the keys and back wallet pockets

Comfortable back panel with ventilation

Laptop compartment with great padding and organization
Mous Extreme Commuter Backpack 25L Cons
The backpack is on the heavier side, weighing 3.9 pounds

Some users may find the abundance of pockets to be overkill

The long-term durability of the shoulder straps is uncertain
6 things you need to know
about this bag
Now that I have given you an insight into some general specs let us now move on to the real deal, the features of the Mous Extreme Commuter Backpack 25L.
Regarding size, the Mous Extreme Commuter Backpack 25L offers 25L liters of capacity. While you or some might find it larger than others, the space makes it more versatile. It can accommodate everything from your shanks for a weekend trip. Or, you can even take it along for week-long getaways.
NOTE – Mous has since launched an 18L version of this bag as well.
Made from water-resistant materials, the Mous Extreme Commuter Backpack 25L protects your belongings well. For me, the interesting part was the innovative Fidlock magnet system on the main compartment. I will explain it in detail in the upcoming sections.
For organization enthusiasts, this backpack comes with over 17 pockets and compartments. The backpack makes organization effortless and is great for people who prefer neatly arranged gear.
Coming to aesthetics, the Mous Extreme Commuter Backpack 25L has a modern and tech-savvy vibe. Its style aligns well with the fast-paced urban landscape, blending form and function. You can get the bag only in black color. The dark theme hides wear and tear while giving your bag a fresh look.
For this feature, we will be going more practical. I will pack and unpack the Mous Extreme Commuter Backpack 25L now and then to give you a clearer picture of all that can fit inside!
Upon buying the Mous Extreme Commuter Backpack 25L, you will get a 25-year warranty that covers manufacturing defects. Considering its features, the current price point is around 250 US Dollars as of I review this bag. You can check the prices and buy it here.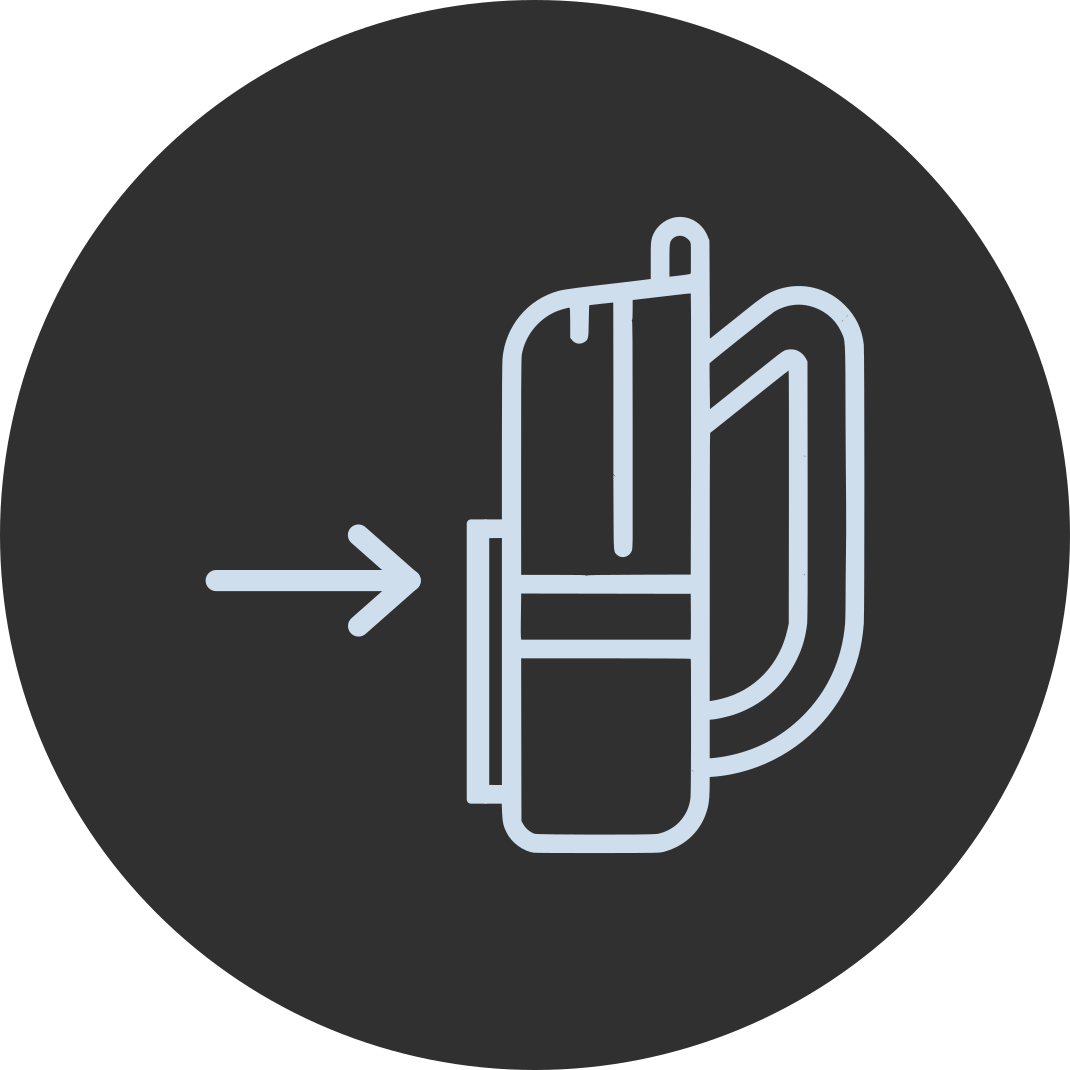 The Front of the Mous Extreme Commuter Backpack 25L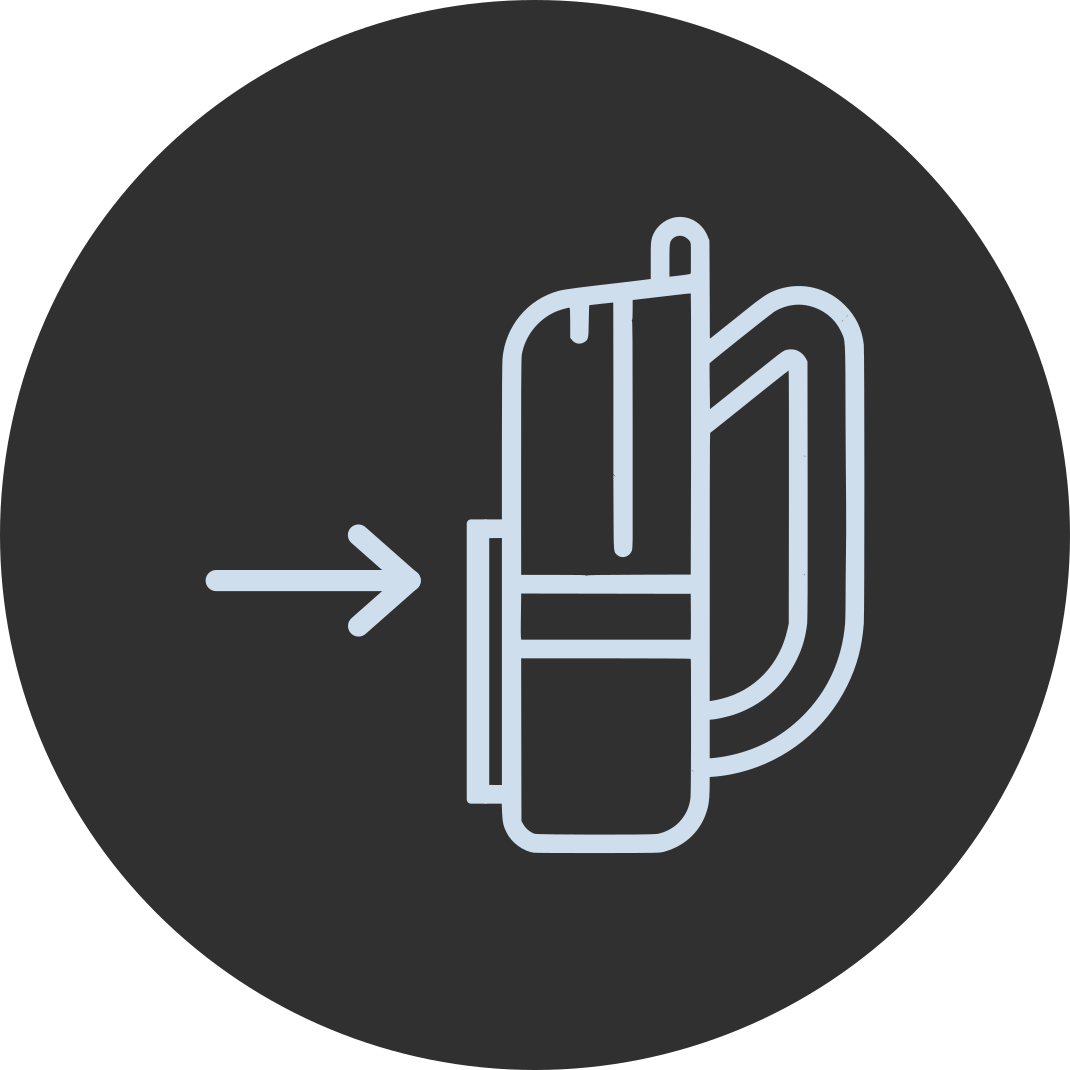 Starting with the front of the bag, I can't help but notice the branding. It's right there, front and center. Although it doesn't have a logo that I can emotionally connect with, it's quite minimalistic, which works!
Now let's look at materials, a pivotal aspect of any backpack, especially when you are paying 250 dollars for it!
The Mous website mentions Cordura here and there, which is great as it is known for top-tier material quality. But, as I look closer, the material is either pu-coated ballistic or carbonated nylon. Both of these are great for two reasons:
Durability
Weather resistance
Since I am unsure about whether it is Cordura or not, I can't really say much about the long-term durability here.
Coming to the fidlock magnet, this mechanism has kind of given identity to this backpack. Fidlock, like Cordura, is the master of the art of magnetic hardware.
The magnetic innovation incorporates security quite well in the Mous Extreme Commuter Backpack 25L. I can feel the satisfaction of unfastening with a simple pull and securing with a snap!
There is excess nylon below the fidlock, which allows you to tighten or loosen it. While you might not find it like a traditional roll-top but can use it to tuck away items like a jacket which makes it quite a nifty feature.
The Middle of the Mous Extreme Commuter Backpack 25L
Continuing our journey through the Mous Extreme Commuter Backpack 25L, let's move to the middle, where there is much to discuss!
Here, we encounter a grab handle that is only on one side. It has decent padding and reliable webbing, offering extra leverage. Since it's off-center, you won't have to carry it like a briefcase. Instead, it serves as a practical grip for grab-and-go.
Beneath the handle is a pu-coated YKK zipper which I really like as it opens to a compact pocket just for your keys. Woojin, another fantastic hardware brand, brings this nifty feature to us.
Imagine this: you come home after a long trip, just want to grab the keys, and get into your home. Obviously, no one would love to rummage through the mess inside the bag. At that time, you will be grateful, as the keys are just right there on the outside.
The magnetic closure allows you to take out the keys, unlock the door, and put the keys back, all in a snap. The PU coating ensures that your keys are away from the water, which airbag owners might like.
As a bonus, you can even use this pocket to keep small essentials like tissues to make the most out of the available space!
On the opposite side, there is a water bottle pocket which I like for several reasons:
Firstly, due to its elastic nature, there is an additional expansion that allows the pocket to stay nice and flush when you're not using it.
When you need to put a water bottle, it can easily fit a large one, like a 22 ounce Columbia water bottle.
Mous also included an extra lash point with premium metal hardware. You can use it to compress your bag a bit, but I liked it for keeping things in place that you put in the pocket. Besides the water bottle, you can even put a tripod and loop the latch around to make it extra secure.
Nonetheless, since the elasticity mostly wears over time in a year, the pocket might not stay as flush as you first got it.
At the bottom, we get two external lash points with a sturdy clip useful for exterior carry options. If you want to take a jacket, tripod, or yoga mat, you can easily fit them here.
Moving upwards, we get a top pocket with microfiber lining that is ideal for fragile items like sunglasses or a phone. Although slightly snug, it can comfortably accommodate things like my fake Ray-Bans! I found it a bit tight to my taste, but the extra padding and PU-coated YKK zip are good features to have.
Entering the Main Compartment
The most interesting thing about this bag is how it extends from the front and main compartment. You get an old-school feeling while looking at the top with a blend of modern closure.
After opening the fidlock, we see two YKK zippers that take us inside the main compartment. These zippers continue the pu-coated trend, so weather resistance is again a plus here. I am 10/10 for the YKK zippers, so that justifies the price point to some extent.
But here are some quick points about this access:
It's great because of the security it offers. If you frequently carry around expensive camera gear, you surely want to protect it against the weather or potential theft. To get to the main compartment, you need to get through a few layers, which makes the closure beneficial.
Mous also did something interesting here, as you can be creative and customize the zipper placement.
There is a whole relationship between accessibility and security, so either way, there is give and take. I know this because I am building my own backpack, and the security vs. access question often keeps me awake at night. You can also be a part of my journey as we make the first-ever community-developed backpack.
Inside the Main Compartment
Back to our backpack, let us talk about the main compartment, the heart of the bag. With the 25-liter capacity, you get ample room. With the padding, the compartment maintains its shape well.
The flap above has a variety of pockets—four in total. The smaller pockets on top are good to keep the bits of gear, which you can look at as it has mesh. Since I don't carry around cameras much, I use these for keeping a few coins or dollars for backup! The middle pocket is less elastic with no mesh where you can keep stuff like wires or anything you want to keep hidden; The final pocket is quite large with mesh, and I am not going to lie; Mous has done a good job.
Inside the compartment, we have a pocket on the top, a bigger pocket on the front, and then another one to fit in your water bottle. There is an additional pocket on the side panel.
All of these pockets are a bit overkill for me because I don't want like 20 pockets in my bag. I am more on the 10 pockets range because I find just two pockets are way too minimalistic. If you want a better idea of all that can fit, check out my full video review here.
One noteworthy thing about the interior is that I love the color choice for the bag—gray. The light shade adds a highlight effect making it easier to find specific items amidst the lot.
The Back of the Mous Extreme Commuter Backpack 25L
We are going to start off here by reviewing the most important aspect, according to marketing, the security of the laptop compartment. It has great padding and organization with a false bottom.
Now here is the fun part. Mous claims the backpack can fit a 16-inch MacBook Pro without the laptop sleeve. While with the sleeve, it can hold a 13-inch MacBook Pro. Both of these descriptions sound very "peculiar."
The false bottom is an inch thick, so even if you drop your bag, your laptop and everything inside is safe and sound. Overall, I think this is a top-notch laptop pocket! To add, the iPad pocket is spacious enough for an iPad Pro 12.9-inch.
I really commend Mous for their zipper poles because of their functionality. Although I'm not too fond of the look, due to their design, you can easily wrap your fingers around the zipper poles to open/close. Also, it can prevent accidental drops as you can hold the bag just by the zipper if, by chance, you drop it.
The Mous 25L Backpack has a little guy right at the back panel for hanging. You can hold the bag for like 10 seconds or so with it, but it's mainly for hanging.
For me, the wallet pocket hidden at the back panel is a must-have for every backpack. You don't necessarily have to put a wallet, but that's what these are best for:
They are against your back and have a slim finish.
Since they are against your back, you get extra security.
It also makes accessibility easier as you can swing the bag around, unzip it, and grab your wallet. All of this is done without removing your bag entirely.
Shoulder Straps and Lash Points
For me, a critical aspect of any backpack is the shoulder straps, which bear the weight of your load. I like the width of this backpack's straps as it reduces pressure by distributing weight across your shoulder. On the other hand, the smooth Lycra or spandex material ensures comfort.
In my opinion, the styrofoam padding, though lightweight, wears over time, so it is not something I can comment over right now.
We also get external lash points on the shoulder straps, which work to clip things on easily. It is ideal for AirPods with little cases, so your jams are just within your reach.
Below the lash points, there are the Daisy chains which are well-suited for a sternum strap. A sternum strap enhances comfort during long hours of use, especially in a backpack with a lot of tech gear.
For their efficiency, I like the back panel more in contrast to the shoulder straps. There is plenty of ventilation with lots of rivets and dents for air to pass through. The mesh further enhances the airflow, creating a comfortable wearing experience.
Additionally, you get a luggage pass-through holder that offers convenience when traveling with a suitcase. You can pop it on the luggage handle, and you are good to go! But this will make the orientation sideways, so that is something important to remember.
Exploring the Alternatives to Mous Extreme Commuter Backpack 25L
If you're seeking alternatives to the Mous Extreme Commuter Backpack 25L, here are some options that cater to different preferences and needs:
For a similar style and functionality, consider the Boundary Supply Errant Pro. This cyberpunk-inspired backpack offers distinct features and a unique aesthetic. With noteworthy expandability, it is getting considerable attention in the backpack realm.
The Simple Weekender backpack offers a comparable design to the Mous, omitting the top flap. This alternative maintains a sleek appearance, matching durability, weather resistance, and laptop protection.
For those seeking even more pockets and extensive organization, the Nomatic Travel Pack is an excellent choice. With a design focused on enhanced organization, this backpack presents a plethora of compartments. It allows you to expand from 20 to 30 liters and offers a range of features.
And that's a wrap on the EPIC Mos 25L Backpack! For me, it is more than just a backpack; it's like a reliable sidekick that's up for anything. Whether you're navigating city streets or exploring the great outdoors, I think it makes a decent option to consider.
Here's to countless exciting journeys with your new favorite backpack!