5 Best 20 Litre Backpacks [2023 Guide]
5 BEST 20 LITER BACKPACKS (2023 GUIDE)
Are you looking to get your hands on a top-quality 20-litre backpack? Well, it can be a daunting process. There are so many great 20 litre backpacks on the market, and the variety of choice is overwhelming.
Before you delve into the world of 20-litre packs, it's crucially important to decide on what you want in a backpack. Are you looking to store your camera gear in there? Or do you want to keep your gym clothes in there?
These are all important questions that you need to answer before you buy a backpack. And guess what? We are here to answer these questions. We have researched and compiled our favourite 20-litre backpacks that are perfect for nomads.
We are nomads too, and we understand the importance of choosing a great backpack. And this article is our guide to the best 20-litre backpacks on the market in 2023.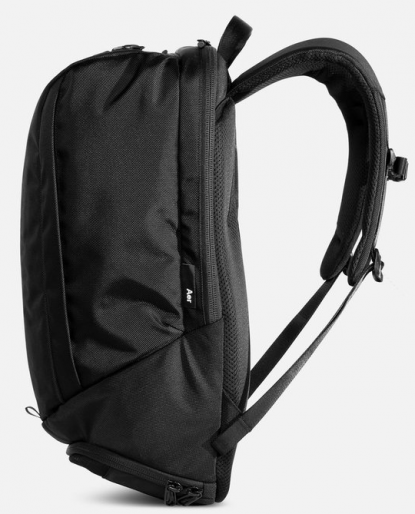 The AER Duffel Pack 2 is our first backpack on the list, and it's an excellent choice for nomads like us. Firstly, if you're like us, you probably work online and need a laptop or a tablet compartment? Great, this backpack offers a laptop compartment that's great for digital nomads who need to carry an expensive laptop or tablet with them.
And better still, it has an array of tech compartments which are great for storing an external hard drive and chargers etc. The AER Duffel Pack 2 stays true to its name. It has an excellent duffel style opening that is perfect for the gym.
Do you love to spend your days grinding in the coworking space before heading to the gym for a brutal workout? If so, this backpack is great for either.
It also costs around $170, which is decent value for money. We believe it's very hard to find better value for money at that price.
Size – 25 litres
That is the perfect size of an everyday backpack. You have ample space to carry all your daily essentials with you. And room for cameras, laptops, and spare clothes. Twenty-five litres is a great size for many nomads.
Design
We all know a great design is essential, and this backpack won't disappoint you in this department. It comes in three different colours which include black, grey, and navy blue. Therefore, you get a wide range of styles and colours.
And also, the design is very sleek. It looks great in the office, coworking spots, and professional environments. But it certainly wouldn't look out of place on an adventurous hike either!
Weight – 2.4lbs
The AER Duffel Pack 2 weighs 2.4 lbs, which is an ideal weight for an everyday backpack. As a nomad who is always travelling, you want a bag that has vast space but the lightest weight possible – and this bag ticks both boxes.
People who purchase AER products know how comfortable the products are. And this product is what you would expect from AER comfort. It's comfortable, easy to use, and hassle-free.
The bag comes with padded straps which take an enormous amount of pressure off your shoulders. If you have a laptop, clothes, and daily essentials, your bag might weigh a lot. That's why you want comfortable padded straps, and this bag has precisely that. It's like having pillows on your shoulders.
The bag comes with YKK Zippers and Cordura nylon, which is the most reputable ballistic nylon in the world. The interior comes with various netted compartments and enough comfort to satisfy the average nomad.
AER Duffel Pack 2 Pros
They designed the bag for a particular user profile
If you're someone who carries a lot of technology, such as laptops, and you like to go to the gym, this bag is for you.

Very comfortable external materials.
The exterior materials are incredible, and the designers created them to perfection. The ballistic nylon is fantastic and fabulous for any user.

Fantastic comfort
The exceptional comfort of this bag is great for any user. The designers made sure it was made for daily use and have fitted the pack with comfort to match. It's also a long pack that helps even the weight around your back and takes the pressure off from those long walks.
AER Duffel Pack 2 Cons
Not a full duffle bag
Unlike the vast majority of AER bags, AER doesn't give the option of a full duffle bag. There is no way to remove the straps. Is that a big issue? Probably not. However, they do this for most of their bags, and we can't understand why they didn't do it on this one.

Cheap interior materials
The exterior materials are fantastic, but it feels like they cut high costs on the interior materials. In truth, they feel a bit cheap. It seems a shame that despite creating an almost perfect exterior, they would cut costs on the interior materials.
The Nomatic brand consistently produces fantastic nomadic backpacks, and they haven't fallen short on this one. This backpack is the best on the list for business, technology, or laptops. And if you take your business on the road with you, this backpack is the one for you.
The bag is a 270-degree backpack, and Nomatic designed it for entrepreneurs, digital nomads, or anyone who needs to carry their laptop. The bag is perfect for easy access to your technology equipment.
Due to a trademark issue, Nomatic had to rebrand to 'Gomatic' in Europe and the UK. Although the brand name is technically different, both versions sell the exact same high-quality gear 🙂
Furthermore, the backpack has an array of pockets on the inside. You will never have any issues looking for storage space in this pack. It has everything a technology fanatic could want. And even better, numerous compartments are full of storage areas.
It's easy to see why Nomatic backpacks continue to grow in popularity and are such a popular choice for nomads. This bag costs around $250, so it's more than some of the other bags, but the quality does make up for it.
– Size – 20 litre (can expand to 24 litres)
For many nomads looking for an everyday backpack that is perfect for business, 20 litres will be enough. But the fact the bag can expand up to 24 litres makes it even better. However, the pack isn't as big as some others on the list – but the organised design perfectly makes up for it.
– Weight – 4 lbs
The bag is heavier than others on the list, and 4 pounds isn't the world's lightest backpack. However, the great design and ample storage space do compensate for that.
– Price
The price of the pack is around $250, which is on the pricier side. But it has to be said that Nomatic pride themselves on the highest quality travel bags and their prices always reflect that.
Nomatic bags never fail in the comfort department; the company strives for the best comfort possible. We don't believe they are as comfortable as AER products, but that doesn't mean this bag doesn't tick the comfort boxes on this list. We believe the backpack is quite comfortable, and enough for most nomads.
The bag uses some tremendous materials. The tarpaulin is sleek and leather, and it looks great too. And even better, the bag is water-resistant. If you're in Southeast Asia, you know how heavily it can rain!
Can you think of anything worse than water ruining your electronics? We can't, but that's no issue, as this bag is water-resistant and can withstand wet environments.
Nomatic Backpack Pros
The bag offers great organisation
If you want a bag that is organised and built for ease, then this is ideal for you. The organisation is fantastic for any digital nomad or traveller who takes their business on the road. You will feel organised and ready to work with this sleek, well-designed, and perfectly organised backpack.

A high level of expandability
The back has plenty of space anyway, and that's without mentioning the expandability options from 20 to 24 litres. If you want an organised and spacious bag that includes the opportunity to expand, this is for you.

Accessibility
This backpack is very accessible. It has a sleek design which is perfect for those that are looking for effortless and easy use.
Nomatic Backpack Cons
It's very heavy
The weight is 4 lbs, which is considerably heavier than some of the others on this list. That might be an issue if you're always travelling, or you need to carry many things in the bag.

The bag has a scratchable exterior
Although the Nomatic brand designed the backpack to be water-resistant, they didn't make it scratchproof. That feels a bit of a disappointment when you consider that it's a bag designed for business and professional use. The fact that it is scratchable means you should probably avoid taking it on a hike.

It's not easy to convert to a duffle bag
Yes, it is possible to convert to a duffle bag. But it takes ages and a lot of messing around. The bag might have great storage options, but it lacks efficiency in some ways.
If you like to go on long walks, hike along beautiful trails, or just go on crazy adventures, then we have found the perfect bag for you. The Boundary Supply Errant is the ideal backpack for active people who want to carry their stuff to remote places.
One of the best aspects of this backpack is the design, it looks like a great adventure backpack, and that's because it is.
If you compare this backpack to the others on the list, it's by far the standout backpack for anyone looking to go outdoors. And better still, the greatness of this backpack doesn't just stop at the outdoorsy design.
It has many excellent features, such as an array of pockets all around the bag, which give it an air of comfort. And you can find this bag for just $170, which is the best value on this list.
– Size – 24 litres
If you're looking for a bag that has ample space, then 24 litres is ideal. Twenty-four litres is enough to carry all your daily essentials, laptop, and much more. And if you want to take this bag hiking and store your camera gear and some food for the day, this is enough space for you.
– Design
The backpack has a straightforward yet effective design. And better still, it comes in blue and black. It even has a tan colour which looks fantastic. So, if you're looking for a variety of designs, unlike the Nomatic backpack, this one gives you variety.
– Weight – 2.9 lbs
At a weight of 2.9 lbs, this bag will never feel overly heavy. If you compare it to the Nomatic backpack, it has a much lighter weight and will feel more comfortable and easier to use.
This bag is very comfortable, which has to be one of the main benefits of this pack. The designers used an array of excellent materials which include sleek tarpaulin on the outside. Furthermore, the interior has extensive quality.
They have used silky soft materials which feel incredibly comfortable. This is an excellent backpack for hiking, but we wouldn't want to destroy the lavish interior.
Boundary Supply Errant Pros
Value for money
We all love value, don't we? And this backpack offers fantastic value for money. For $200, this backpack is a steal. It has an array of comfort, pockets, and a sleek design that suggests it should be worth a lot more.

It has so many features
This backpack has so many features. It includes everything from a laptop case, to magnetic pockets. It offers users so many features, and they will not be disappointed.

It's a great design
The backpacks come in many different colours, and each shade looks superb. Furthermore, the overall design of the bag is fantastic and is aesthetically pleasing.
Boundary Supply Errant Cons
Lacks user-friendliness
We will start by saying that it's not a bad user experience, but it could be better. Some of the compartments can be a little tricky to open. One example is the main compartment with magnets that hold it together, and it can be tricky to navigate this.

Not very comfortable
This con is likely to be a significant problem for many, but it lacks comfort. The shoulder straps are a little hard on the shoulders and could dig in if you have many things in your bag at once.

The top lid
The bag is a top-loader, which is predictable for an adventure bag. However, the top lid is a bit small, and at times it can be tricky to fit things in.
Are you a photographer or videographer? If so, I'm glad that we've caught your attention, because this backpack is a gem for you. Photographers know Peak Design for their photography friendly bags which are ideal for those who carry a lot of camera equipment.
It has space for lenses, bodies, and microphones, and is an all-round belter for camera fans. Furthermore, it has a unique design. The top-loader style makes it perfect for cameras, and the side pockets are great for storing your camera between shots.
We also have to comment on the incredible design, which is ideal for professional and business surroundings. And at a price of around $200, this is a great price for an everyday backpack.
– Sizes – 17-22 litres or 22-30 litres
The size that you choose depends on how you're going to use it. But the option of up to 30 litres makes it a fantastic choice for those that need space. Furthermore, if you need to store lots of camera equipment, you might benefit from the bigger size.
– Design
The pack has a superb design that will catch many people's eye, and it is perfect for all surroundings. The bag also comes in different colours such as grey, black, dark grey, and midnight blue. So, if you like to look stylish, then this is the bag for you.
– Weight – 3.6 lbs
The bag is a little heavier than some of the others, but it's still reasonably light. If you have camera gear, it might become a little heavier though.
The bag is generally comfortable and does use some fantastic materials. Users will enjoy the recycled nylon material on the exterior, which looks and feels great. Furthermore, users know Peak Design for their superb interiors. This bag has a refined interior with a whole host of pockets, compartments, and soft materials that make it very comfortable.
Unlike the other bags on this list, this bag comes with dividers which make the bag perfect for camera users. The ability to spread your equipment out is ideal for those looking to store lots of camera gear.
P.D. Everyday Backpack Pros
The design
The bag comes in a variety of colours, but one thing they all have in common is a sleek aesthetic look. It is perfect for those who like a well-designed stylish bag that will stand out from the crowd.

The dividers
A considerable benefit of this bag is the flex fold dividers. You can use these to separate all of your camera goods, including everything else you use daily.

The cool magnet latch
The bag also comes with an excellent magnet latch. And not only does it look cool, but it also gives the bag a real high-quality feel.
P.D. Everyday Backpack Cons
Some of the compartments are tight.
One of the most unfortunate cons about this bag is the tight compartments. And the laptop compartment is relatively small, and if you have many things in the bag, it could get rather tight.

The top isn't secure if you use the top mag latch.
If you use the top compartment, then you might struggle to keep the mag latch secure. That is an issue because it can compromise security, and let's be honest, you do not want your photographer equipment to fall out.

The sternum strap is hard to adjust.
The sternum strap is tough to adjust, which is a shame because the bag is very user-friendly in other ways.
If you're looking for an easy-to-use backpack, then this one is ideal. The pack can do pretty much anything. If you want to use it for hiking, cycling, or even to the beach, then this bag is perfect.
Unlike many other backpacks, it isn't explicitly designed for one user type because any user will reap this pack's benefits.
The backpack has a 270-degree zipper, which is excellent for accessibility. Furthermore, this bag's interior is ideal for photographers or people who like to carry many things. Oh, and we have to mention the backpack's water resistance, which is a significant bonus of this pack.
At a price of around 220 USD, we would say that this is excellent value for money. You will get an all-round backpack for a great price.
– Size – 20 litres.
The backpack only comes in one size, which is 20 litres. However, that should be ample room for many nomads. It will give you the space to store clothes, technology equipment and your camera gear if you need to.
– Design
The matte black design of this backpack is one of the sleekest designs out of the five. It is a smart-casual design and is perfect for professional environments.
– Weight – 2.6lbs
Weighing a total of 2.6lbs makes this bag one of the lightest on the list. And it will feel very lightweight and easy to use when you carry it.
This bag is one of the most comfortable backpacks on the market. The bag comes with an array of features, which include YKK zippers that are water-resistant. So, you don't have to worry about getting caught in the rain. 
It also has fantastic modern tarpaulin which gives a comfortable feel and the gorgeous slick design that many users love.
Wandrd Duo Daypack Pros
Durability
This bag is the most durable out of the list. You can take it into many different environments without any issues. It's durable and will stand the test of time in any weather conditions.

Materials
The backpack has the best materials out of the five. And better still, the materials are of such high quality; it makes the pack more rigid and more robust. Inevitably, it will last longer in the future because of the high quality materials.

Multiple uses
If you want a backpack to use for everything from hiking to professional meetings with clients, this backpack is versatile for every environment.
Wandrd Duo Daypack Cons
It isn't the most comfortable.
If you are looking for a backpack that offers the best comfort, this isn't the one. However, it's comfortable enough for most nomads; it's just not as comfortable as some of the others on this list.

The bag gets very hot
This backpack gets extremely hot if you're in the sun, and the inside can feel like a sauna. It's an issue if you have expensive electronics in the bag, such as laptops, tablets, and camera gear.

It has a cheap keyring
Like many bags, it feels like the creators forgot to create a well-designed keyring in the bag. It feels like cheap material that could break at any time.
Looking for more great Digital Nomad content?