21 KICKASS Remote Year Alternatives [Jan 2023]
While Remote Year is far and away the leading travel program for Digital Nomads, there are some amazing Remote Year alternatives that you should consider as well!
As today's millennial generation lead their professional lives in a totally new and unique way, one that's still developing, so to are entirely new markets being created.
One of these is Remote Work Retreats. Some are similar to remote year, whereas others are quite different.
There's remote work getaways for surfers, remote learning experiences for online students and even remote year programmes tailored for people in specific career fields like web designers.
Let's take a look at the 21 COOLEST Remote Year Alternatives…
More Remote Year articles…
Cheaper option for those wanting to stay grounded.
In the tranquil Spanish Surf Town of Javea.

$ – One of the Cheapest Remote Year Alternatives available.

Provide Professional and Social activities.
Why Sun and Co is Awesome
At just $673 a month for a shared room or $1345 a month for a private room, they offer exceptionally low prices.
They're also the only co-living & co-working space on the Mediterranean Coast, perfect if you're a lover of the big MC or have family and friends nearby you'd prefer to stay close to.  The location – Jeave, a historic seaside town in Spain makes for great exploration, watersports and nightlife.
With a mixture of professional and social events including Masterminds, Trekking, Surfing, BBQ's, SkillShares, Movie Nights and more, you'll never run out of things to do.
→ Sun and Co is for YOU if you're seeking a cheap Remote Year alternative, that stays in one beautiful, chilled place and has prearranged social & professional events.
Adrenaline Pumped Retreat for the Sporty Entrepreneur
Insane Activities in a range of countries.




$

Perfect for networking with like minded entrepreneurs / adrenaline junkies.
Kitesurfing and Yoga in Tarifa anyone? How about epic castle retreats in Hungary? Fjiord Escapes in Norway, surley!
Flaks proudly boasts that their participants are connected by more than just a shared love of freedom and remote working.
They're also people who are seriously into their excitement. If that's your jam, then Flaks could be the one for you.
As a result of bringing like-minded individuals together, Flaks focuses on providing them with the opportunity not only to revel in adrenaline addiction together but also to network, inspire and skill share.
→ Flaks is for YOU if you're hungry for excitement whilst improving your professional skills, particularly in the online marketing sector.
For Luxury Lovers in Search of Knowledge Empowerment
$$$ – The most luxurious remote work experience money can buy.

Extensive mentoring and workshops focused towards entrepreneurial success.

On epic Bali!
What makes Wifly Nomads Awesome
If you like the sound of soaking in the beautiful scenes of Bali, a coconut cocktail in hand as the pool shimmers besides you; you're in luck.
You'll stay on Reunion Island in a luxury 5* villa decked out with fine art, stone pillars, a gym, huge pool and surrounded by lush vegetation, steep cliffs, volcanoes and waterfalls.
Wifly Nomads place a huge emphasis on teaching it's participants vital skills for transforming online businesses and mastering the nomadic work lifestyle, using personal & professional development activities, course materials, one on one tutorials, excursions and more.
→ Wifly Nomads is for YOU if you want to embark on an intense, professional knowledge empowering course, whilst living in movie star luxury.
For Shattering Routine and Gaining Inspiration
A truly alternative and unique Remote Work Experience.

$$

Operate in multiple countries.
Why Unsettled are Awesome
Unsettled describe themselves as: "a community for those who embrace uncertainty and value meaningful human connection".
In today's generation, many young people's routines and lifestyles are rapidly changing as work opportunities and methods of carrying them out also change.
Unsettled aim to turn that change into a positive thing, from which strengths and inspiration can evolve.
Thus, the entire style of the experiences they offer, are aimed to break your routine and inspire personal and professional growth.
They operate in over a dozen exciting locations including Bali, Medellin, Tuscany, the Amazon and Mexico City.
In addition to holding social, professional and freethinking events, they also offer local cultural experiences and adventures.
→ Unsettled is for YOU if You are a location independent freelancer, entrepreneur or creative who thrives in movement and change.
Perfect for finding your Dream Remote Work Location
Flexible Booking Times and Stay Duration

Great Range of Different Locations

$$
They have a range of locations catering for different needs and preferences.
You can surf in between work at one of their beach side locations, go Alpine in a ski lodge or immerse yourself in the skyscrapers of one of their Urban bases.
They offer comfortable rooms that are worthy of the working professional, 24/7 WiFi, social and private workspaces, furnished kitchens, free laundry & cleaning as well as five star service from a community manager who is on hand to help with anything and everything.
With an immense variety of locations including Bali, Santiago, California, Hawaii, Lisbon, the Alps and Costa Rica to name but a few, Outsite will help you find your dream working location and pace of life.
→ Outsite are for YOU if Destination is everything and you want to find the location and pace of life that is just right for you.
Similar Alternative to Remote Year but with Different Locations and a Small Group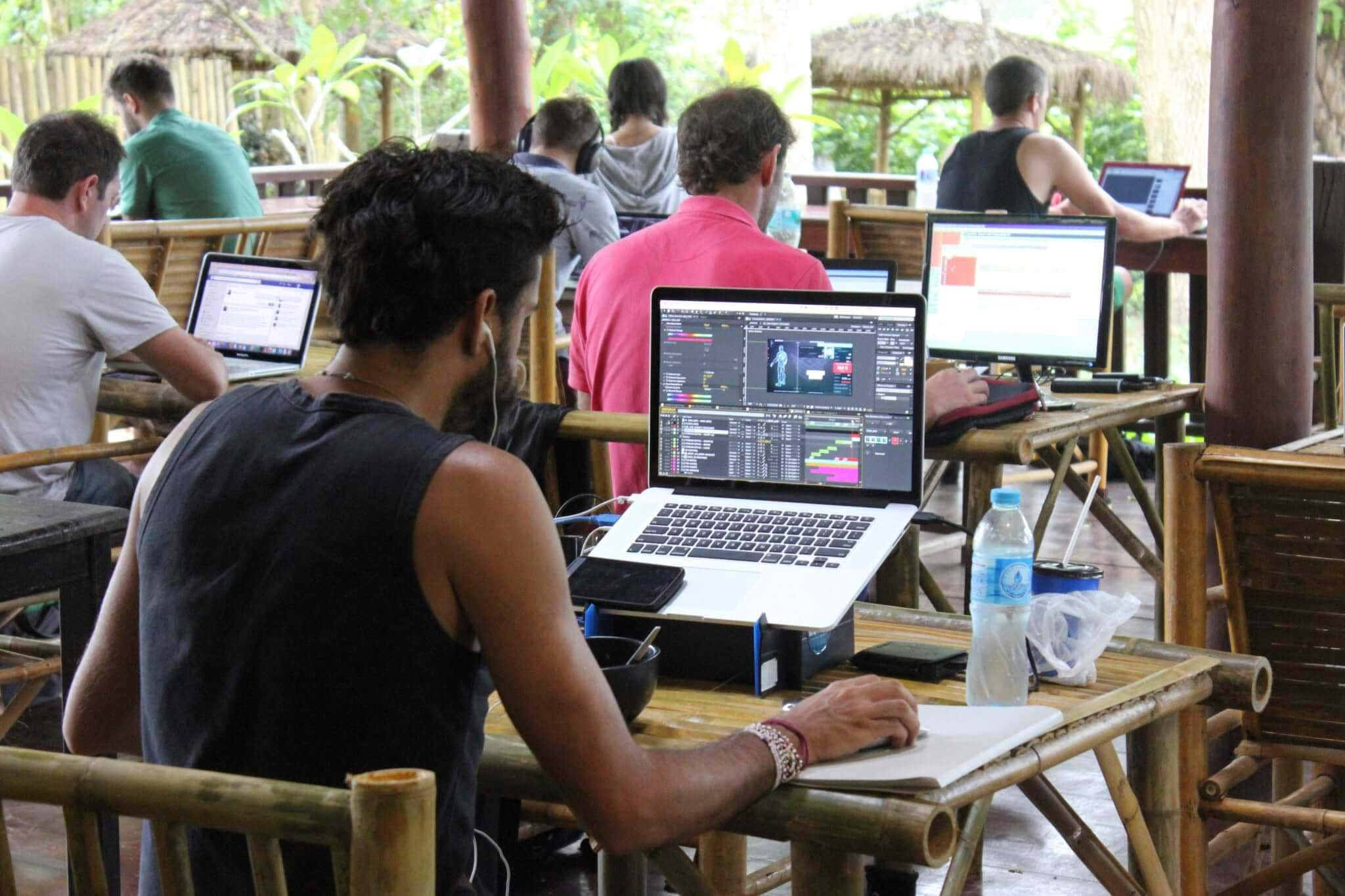 Different destinations to Remote Year, including Koh Lanta, Siem Reap, Rie De Janeiro & more!

$$. Same price as Remote Year.

3 month long trips but subject to flexibility. Groups of 15 max.
Why Remote Life are Awesome
Similar to Remote Year, they allow you to travel the world and work in style, whilst arranging all of the travel logistics and work spaces for you and also arranging events.
They typically hold 3 month programmes, however to provide their clients with flexibility it's possible to join on any week or month of an ongoing trip.
They strive to build a strong, closely knit community of just 10 – 15 people from a range of backgrounds and experiences, with whom you'll participate in impact projects, group workshops, dinners, community events and more.
→ Remote Life are for YOU if You want a similar work and travel combining experience to Remote Year, but in a smaller group and in different locations.
Ultimate Travel Freedom whilst Remote Working
Series of hostels and working spaces with the digital nomad in mind.

Professional and Social Events

Retain the freedom of solo travel.




Mixed Price Range depending on options and location selected.
What makes Selina Awesome
Selina CoWork are a series of hostels and co-working spaces hidden all around the World, on beachfronts, city centers and even jungles.
Their fully furnished coworking spaces are designed with the #getshitdone mentality, but there's so much more to them than that.
You can take a break from your work to unwind at one of the yoga sessions or find some headspace in one of the meditation rooms.
You can schedule a professional skill sharing event, knowing that just an hour after it finishes you'll be at the head of the congo line in the Selina restaurant/bar where everyone goes for drinks.
Selina CoWork Hostel has been designed for the remote worker in mind but you'll rub shoulders with travellers and wanderers from other walks of life to.
→ Selina is for YOU if You want all the facilities for Professional & Social Remote Working at your disposal, but prefer not to stick to any kind of itinerary or schedule.
Ultimate Remote Work Programme Flexibility
WiFi Tribe is awesome because
Over each 12 month story, you get to pick how many chapters you want to embark on – it can be anywhere from 1 to the full 12 months.
You also get to choose the first location where you'll join and whether or not you want to take all your chapters together or spread them across the year.
WiFi Tribes itinerary covers four continents, including Asia, Europe, Africa and Latin America. Each month they find an ideal working and luxury accommodation in each city, so you don't have to.
They run small groups of under 25 people, with diverse backgrounds, to avoid the big group splitting up into cliques. This maintains a stronger sense of community bond across the entire tribe.
A range of activities are organised such as island escapes, road trips, hiking and other adventurous experiences.
→ WiFi Tribe is for YOU if You want to be part of the ultimate remote working tribe whilst still having great freedom of choice for how you experience this.
Perfect for doing Remote Work with a Techy Community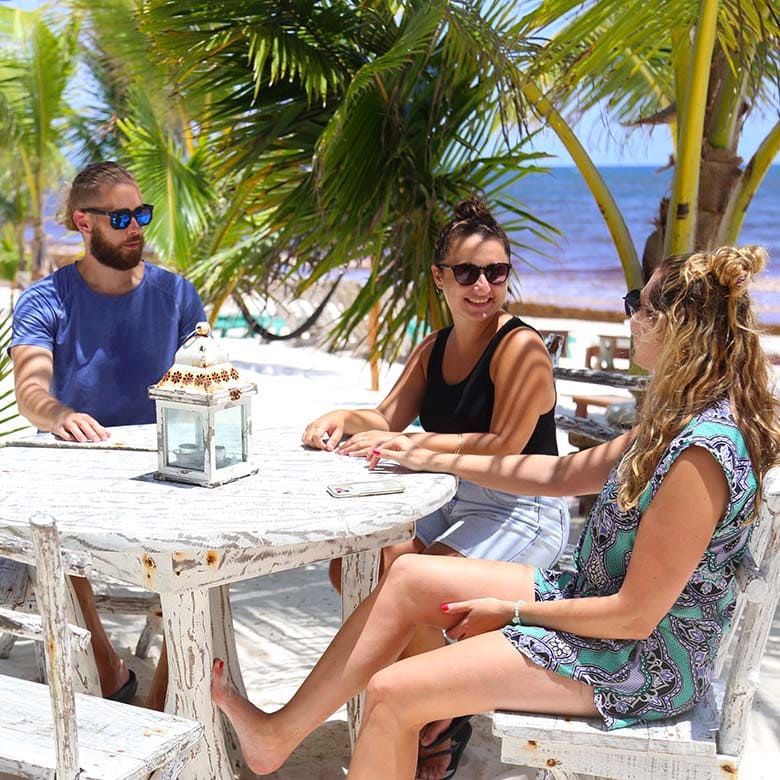 Specially catered with the tech wizard in mind.

Pre-organized itineraries to amazing destination.

$$
Why Hackers Paradise is awesome
If you're a techy and want to combine travel with remote work, you need look no further than Hacker Paradise.
The participants largely consist of web developers, web designers and other tech wizards.
For those who want to develop their skills further in this field, Hacker Paradise even offer code remote programs, to teach and accelerate your understanding of code over six weeks.
They also hold talks, networking events, goal setting sessions and more to ensure that professional development soars.
And then there's the travel side. You'll be working in locations like Mexico, Italy, South Korea, Morocco, Argentina, Budapest, Morocco and South Africa.
There's a new destination every month and participants have the ultimate flexibility by being able to choose to participate for as little as two weeks all the way up to the entire year.
→ YOU should join Hacker Paradise if You are passionate about combining Travel with Remote Work and are a Techy looking to live, collaborate and learn alongside like minded people.
Check out our full Hackers Paradise Review!
For combining travel with Professional Skills Improvement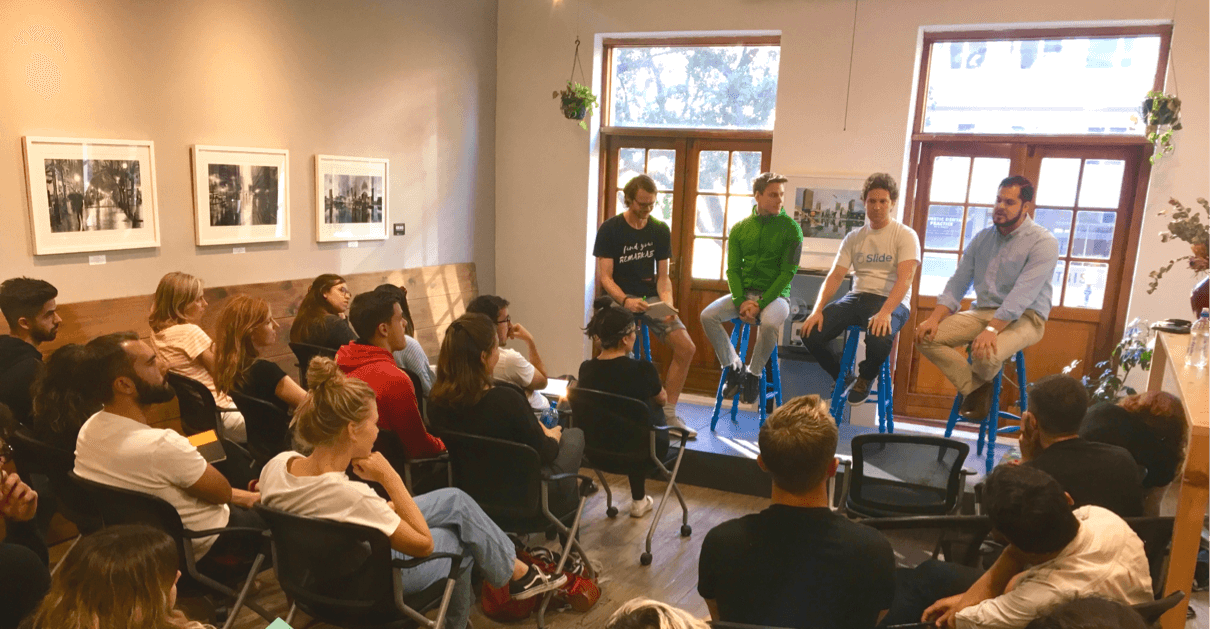 For those seeking personal growth through challenge and new discovery.

Travel the World whilst keeping fit, throughout the fitness month!

$$
Nomad MBA is awesome because
They're a 3 month course with just 24 other carefully selected professionals all of whom want the same thing: to travel and learn.
Only participants with extreme drive, business acumen and curiosity are selected.
Participants take an online course to help kickstart a remarkable career of their choosing. The three studies included are Marketing, UX Design and Entrepreneur.
Nomad MBA visit a new exciting destination every month, with destinations such as Kuala Lumpur, Bali, Chiang Mai as well as South America, Africa and Europe.
But it's not all work. There will be plenty of time to explore and take detours from the cities to. Each three month itinerary is broken down into a fitness month, a focus month and a careers month.
→ Nomad MBA is for YOU if You love change, challenge and personal growth. You want to be taught vital new skills to enhance your professional career.
For those wanting to Remote Work in India & Get Help Finding their Dream Job
$. One of the Cheapest Remote Work options available.

Helps participants secure a remote work job.

Travel around the Indian subcontinent.
Knomadic are awesome because
Unlike most other remote programs, which require that you come with a full location independent job already, Knomadic will actually you find remote work opportunities.
They're an ideal support group for people looking to dive into remote working or maybe even make a career switch.
With their 3 month travels, centering around destinations such as Nepal, India and Sri Lanka and catering to groups of just 15 participants, anyone who is enthralled by the combined mystery and beauty of the Indian subcontinent is sure to love this itinerary.
There's a new city each month, with pre arranged travel and cultural excursions in addition to professional events.
→ Knomadic are for YOU if You love the idea of Remote Work in India and/or you'd like help finding your dream, location independent job.
1 Month Advanced Business Coaching in Luxurious Paradise
$$

For High Level Entrepreneurs.

Have all travel logistics arranged whilst you rub shoulders with similar minded individuals.
CoWorkParadise is Awesome because
Each year they take just 12 highly successful entrepreneurs to a luxury location in an incredible part of the world. In 2018 it was Bali, whereas for 2019 it's all about Cape Town.
Everything for your month's stay in paradise is prearranged – airport pick up, 5* accomodation, Scooters, SIM card, breakfast & dinner, adventure activities, professional events and more.
This course is tailored for professional entrepreneurs who've already made it, with a minimal revenue of $250,000+.
As such, the daily 2 hour business coaching workshops, skip all that nooby shit and dive straight into the hardcore alumni level insights.
→ CoWorkParadise is for YOU if You're a high level entrepreneur looking for a 1 month break in paradise, where you'll combine luxury living with die hard business skills improvement.
1 Month Tropical Getaway with a Healthy Balance of Professional and Fun events.
$$

Great locations like Bali and Mauritius

All travel logistics, professional and social events arranged.
Project Getaway is awesome because
it's a not-for-profit initiative that brings together 20 adventures & successful entrepreneurs for 4 weeks, to combine 2 things –  skills sharing and adventure.
With all meals provided, on-site coworking spaces, laundry, cleaning, massages and unlimited access to… the pool, participants will enjoy a health balance of professional and social events.
There's also the option to choose between group or private accommodation or to opt for a chalet or lodge – depending on what kind of experience you're looking to have and your budget.
Being held in breathtakingly stunning locations such as Bali and Mauritius, in many ways it's similar to CoWorkParadise, but perhaps with a slightly more relaxed pace and vibe.
1 month Crash Course for Launching your Idea
You'll be just ten minutes from Bali's beach.

$$

Step by step programme for getting your vision off the ground and into the sky.
Nomad House is awesome because
they focus on creating an energizing and inspiring work environment to launch your idea in just 30 days.
It's specially for those in the relatively early days of pursuing an alternative, location independent lifestyle and whom until now, may have been doing this alone.
By creating a supportive and friendly social group of like minded individuals, it allows participants to overcome the difficulties of anxiety, loneliness and self doubt that inevitably accompany entrepreneurs in their early days of self fulfillment.
At the same time, participants get to treat themselves for their hard work and vision, by living it up in Bali; surfing, climbing volcanoes and watching epic sunsets across the glistening rice paddies.
→ Nomad House is for YOU if you are in the early days of realizing your entrepreneurial vision and want to be around a supportive and inspiring group in a beautiful part of the world.
Combine Remote Work with Making a Positive Impact in the World
Get involved in local charitable projects using your personal skills.

$$




Choose from a range of exciting locations.
Venture with Impact is Awesome because
Unlike other Remote Work Alternatives, it engages professionals on a skills based volunteering project throughout the duration of the trip.
This means participants get to use the skills they already have to make a real difference to the location that they visit.
For example, visual artists, bloggers, musicians and photographers might use their skills to help charitable organizations spread their message across the world
Business professionals on the other hand can use their management talent to help charitable foundations solve organizational challenges.
It's the ultimate way to experience – and give back to, the local culture.
As for Remote Working, it's a 30 day retreat that combines remote work with awesome getaways, in locations such as Colombia, Mexico, Thailand or Portugal.
→ Venture with Impact is for YOU if you want to work remotely & travel, whilst making a positive difference to your surroundings.
Combine Remote Work with Making a Positive Impact in the World
$$

Combine Travel with Online Learning or Startup Projects

You choose what you learn
Edumadic is awesome because
Rather than focus on combining travel with remote work, they instead combine it with that which preludes remote work – remote learning.
You choose an educational course, creative project or entrepreneurial idea that you want to work on for the 6 – 12 week duration of Edumadic. It can be anything you like so long as it can be pursued entirely online.
Edumadic arrange all accommodation, coworking spaces, events and logistics on the programm, giving participants the freedom to work without distraction alongside similarly minded folks.  
They offer truly kickass activities like kayaking, trekking and motorbike riding in locations such as Bali, Chiang Mai and Koh Lanta. It's the ultimate environment for travelling and learning.
→ Edunamic are for YOU if you're more interested in combining learning, rather than working, with the ultimate teacher of them all: travel.
Cheap Remote Year Alternative with heavy focus on Positive Impact Initiatives.
$ – One of the cheapest Remote Year Alternatives.

Get involved in charitable schemes.

All travel logistics arranged so you can get shit done.
B- Digital Nomad are Amazing because
The programme places a strong emphasis on its participants being able to get involved in positive impact initiatives.
For example, participants might help local communities with educational schemes or hold social events with local business owners.
It's one of the cheapest remote work options available, with prices starting at just $1,250 as well as the option to travel 1 month, 4 months or 12 months.
They visit one new country a month, featuring incredible destinations like Santa Monica, Madrid, Bali and Quebic City; and services provided include accommodation, workspace, logistics assistance and activities.
→ B-Digital Nomad is for YOU if you want a cheaper Remote Year alternative and to get involved in local positive impact initiatives.
For Mixing Experienced Entrepreneurs with Eager Newcomers
$

For working professionals and university graduates

Great flexibility when booking length of time or location
Digital Outposts are awesome because
They host remote groups of working professionals and university graduates who want to work remotely & network and who have a passion for travel.
You have the option to stay for 2 weeks, 1 month or 2 months in exciting locations like Bali, Thailand, Mexico or Colombia, where you'll work alongside similarly minded professionals in distinct coworking spaces.
With a starting price of $1,295, it's also one of the less expensive Remote Year alternatives out there.
→ Digital Outposts is for YOU if you want to embark on a relatively cheaper Remote Year alternative, in a group that features digital nomads from a mixed range of experiences and professions.
For Shorter Remote Work in Off the Grid Countries
$

Heavy emphasis placed on the travel aspect of each trip.

Discuss, inspire and collaborate with other professionals.
Refuga is awesome because
Participants get to visit some insane destinations that are far more off the grid than many of those visited by other Remote Year alternatives.
Countries such as such as Russia, North Korea, Nepal and Morocco are all on the cards.
As well as this, trips are much shorter, lasting between just 5 and 15 days, which is perfect for those with busy schedules, who can't make time for longer trips.
Prices vary depending on location, but start at just $1,700 which also makes this one of the cheapest Remote Year experiences out there.
Although coworking and networking are a part of the Refuga Experience ,it also places heavy emphasis on adventure activities – whether it's climbing mount kilimanjaro or surfing in Italy.
→ Refuga is for YOU if you are looking to experience incredible locations and gain professional inspiration, discussion and idea pitching within just a few weeks.
For Co-Working Holidays in Beautiful Southern Europe
$$

7 Locations in Spain and Portugal

Combine relaxation with optimal remote working lifestyle.
Sun Office is Awesome because
They offer tranquil and enjoyable coworking holidays in sunny locations throughout Southern Europe, within 7 different locations across Spain and Portugal
Each place is chosen at the optimal time of year to ensure that when it's visited, it's climate is at its best.
Soaking in those rays, you'll stay in fully decked out accommodation with optimal wifi and infrastructure as well as surrounded by breathtaking views for inspiration.
Sunny Office usually attracts freelancers and entrepreneurs, with participants being carefully selected to ensure groups are composed of individuals with a range of insights and backgrounds.
The overall goal of this program is to bring exceptional people to stunning places where they can connect with each other and maximise upon the full potential of their location independent careers.
→ Sunny office is for YOU if you want to go on a remote work experience in a beautiful part of Southern Europe with a fantastically selected group.
Perfect for the Surfing Digital Nomad
Itineraries from 2 weeks to 3 months.




$$




This is the ultimate destination to combine remote work and surfing lifestyle.
Unleash Surf are awesome because
It's set in Huanchaco, Peru; a laid back surfer town (the 5000 year old birthplace of surfing!) with ultra reliable waves, a centuries old sustainable fishery and countless adventures for history geeks.
You can surf with just a handful of people from morning till noon or join the locals to get more involved! More than that, participants even get one on one surfing tuition, included in the price.
The custom designed workspace has fast internet, natural details and a terrace with an insane view of the surf.
Everything is within a 3 minute walk of your luxury private apartment – restaurants, the beach, coworking space, market and of course, the yoga studio.
→ Unleash Surf is for YOU if you want to work remotely at the ultimate getaway for surfers.
Remote Year Alternatives Conclusion
And there you have it! 21 of the hands down best alternatives to Remote Year, laid lavishly at your feet!
It's truly exciting to see such a fast rate of development for remote work experiences. It means that, as ever more specialised and precisely tailored remote work operations emerge, digital nomads are sure to find exactly what they are looking for.
Make no mistake…we still love Remote Year and honestly consider it to be one of the best remote work experiences available.
And perhaps you do to. Perhaps you've read all these Remote Year alternatives and thought "Bah! No – It's the Remote Year for me"!
In which case we salute you and point you back to our extensive resources telling you Everything you need to Know about Remote Year.
Additional reading…