TORTUGA SETOUT Review [Jan 2023]
Tortuga Setout Backpack Video Review
Check out our epic video review of the Tortuga Setout!
Tortuga Setout Backpack Overall Score
Our Take – A lighter alternative to the Tortuga Outbreaker, the Tortuga Setout Backpack is another stellar backpack from the Tortuga Lineup. 
This backpack is simple, functional, and can pack a TON of stuff. If you are in the market for a badass backpack that packs like a suitcase – look no further. 
Ultimately, this is one of the best large backpacks on the market. 
Overall we give it a 4.3 out of 5
* Available as 35 or 45 Liter *
* Available in Men's or Women's *
The Setout has two versions – one for men and one for women. 
And each version has a 35 liter or a 45 liter option.
Here are the specs…
Weight: 1.54kg / 3.4 lbs
Dimensions: 21.5" x 13.5" x 7.5"
Laptop: 17" 
Tablet: 9.7"
Weight: 1.72kg / 3.6 lbs
Dimensions: 21.5" x 13.5" x 7.5"
Laptop: 17" 
Tablet: 9.7"
Pros of 35L – If you are a minimalist traveler, a 35L can handle a 5-7 day trip no problemo – all while being carry on compliant. And while a bit large, it can also be used as a daypack.
Cons of a 35L – 35 liters is a bit of an awkward size. This is because for most people 35 liters is just a bit too big to be a daypack and just a bit too small to be a long-term travel pack. 35 liters is best used as a size that fits a very specific need (3-7 day trips). 
Weight: 1.76kg /3.9 lbs
Dimensions: 22″ x 14″ x 9"
Laptop: 17" 
Tablet: 9.7"
Weight: 1.72kg /3.8 lbs
Dimensions: 22″ x 14″ x 9"
Laptop: 17" 
Tablet: 9.7"
Pros of 45L – 45 liters is a perfect size backpack for long term travel or for someone who needs to pack a ton of stuff in general. 45 liters will also pass the carry on test… most of the time. 
Cons of a 45L – Heed our words – 45 liters is HUGE! This is not an everyday carry backpack, nor is it a backpack for weekend trips.
The Tortuga Setout Backpack
is PERFECT
for you if
...
No matter if you get the 35 liter or the 45 liter – both options are large and both options are amazing. This backpack is built to fit a ton of stuff. 
We don't think that Tortuga makes the sexiest looking backpacks on the market – and that's OK! Tortuga makes functionality their #1 mission, and we think that the Setout perfectly embodies that mission. 
While the shoulder straps are not stellar, the back panel and waist straps are basically mini-mattresses of comfort that will delight your body for years to come. 
The 45 liter Tortuga Outbreaker is a perfect backpack to travel the world long-term with. Not only will it be large enough to fit all of your stuff, depending on the airline it may be carry on compliant. 
As opposed to the more organizational-heavy Tortuga Outbreaker, The Setout Backpack is a lighter alternative, and true minimalist backpack (which we love!)
The Tortuga Setout Backpack
is
NOT for you if...
The 35 liters is a bit too big and the 45 liters is wayyyy too big to be an EDC. If you are looking for a backpack to use in your day to day life – look in the 15-30 liter range. 
→ Here are a few of our favorite everyday backpacks….
While the Setout offers a decent amount of organization, if you are the type of traveler who loves pockets in your backpack, then there are better options.
Although, yes, 'Tortuga' does technically mean 'Turtle', this is a city backpack and is not meant for the great outdoors. 
→ These are our top recommendations for outdoor and hiking backpacks…
While many backpack companies limit their backpack colors, Tortuga does the opposite – we've got options baby!
As of writing, the Setout Backpack comes in three color options – Navy, Black and Heather Gray.
We opted to go with the Heather Gray, but we also think the black looks classy. 
To be honest, we aren't as crazy about the blue though. It's not that it's a bad blue, it's just that it's a lot of blue. 
And it also reminds us of that one girl from Willy Wonka who turned into a blueberry, which is scarring. 
The Tortuga Setout Backpack has a nice, classic, round shape. 
Which we love!
Round = curves and curves = sexy. 
In contrast, look at some of the boxy-type backpacks below. 
This sort of box-like shape is great for your Digital Nomad packing list (you can fit more stuff) but bad for aesthetics (you are basically carrying a box on your back).
In contrast the Setout has rounded corners, which give it a nicer, classier look. 
Tortuga Outbreaker Materials
Exterior Materials
Tortuga is a company that is committed to using eco-friendly products, and this backpack is a perfect example of that commitment. 
The Setout Backpack uses 900D polyester – all from recycled bottles!
Polyester is a great choice for a backpack material. It looks great, feels great and (most importantly) it is durable and will last for years.
And the fact that it is also eco-friendly is a HUGE plus. 
But!
While we really love the feel of the exterior materials, they do have a tendency to get a bit wrinkled. 
For some, this won't matter at all.
But for others (like us – we hate wrinkles) this definitely screws with the aesthetic of the pack.
Interior Materials
Here's a Nomads Nation hot take. Out of ALL of the backpack companies we review – Tortuga consistently uses the best interior materials.
The. Best. 
Why is this?
Because when it comes to the world of materials, a lot of backpack companies have a similar strategy. The strategy is to splurge heavily on the exterior materials, but then to cut costs and settle for crappy interior materials. 
But not Tortuga…. No, no, no. 
Tortuga consistently sets themselves apart by selecting amazing materials for the interior of their packs. 
And this is a big BIG deal!
Think about it. Every time you open your pack you will be touching and interacting with these materials.
And when the materials suck – that interaction is a consistent bummer. Or at best – not memorable. 
But when those materials are awesome – the experience is also awesome, and you are constantly reminded that life is freaking sweet.
Clap emoji for Tortuga for reminding us that life is freaking sweet 👏🏻
Tortuga doesn't just splurge on their fabrics though.
They also splurge on their zippers.
Tortuag utilizes the ever-amazing YKK for every zipper on the Setout, and they work amazingly.
Not really much to say here. 10/10 for zippers. 
For comfort, we gave the Tortuga Setout a score of 4 out of 5.
Because it's really comfy!
But this should come as no surprise. When it comes to comfort, Tortuga backpacks always get high scores from us  🙂
We'll get deeper into the comfort of the Setout when we review the back of the pack.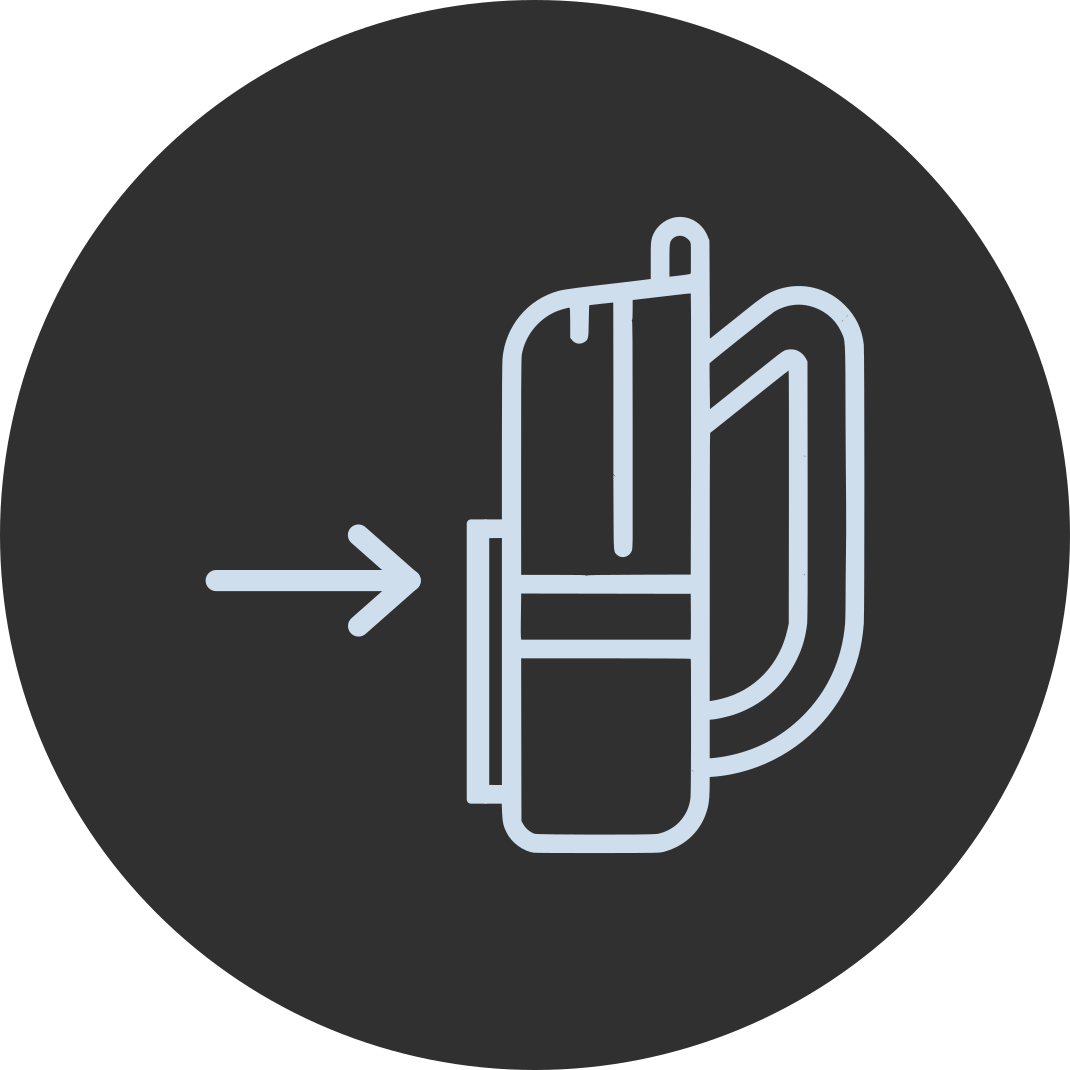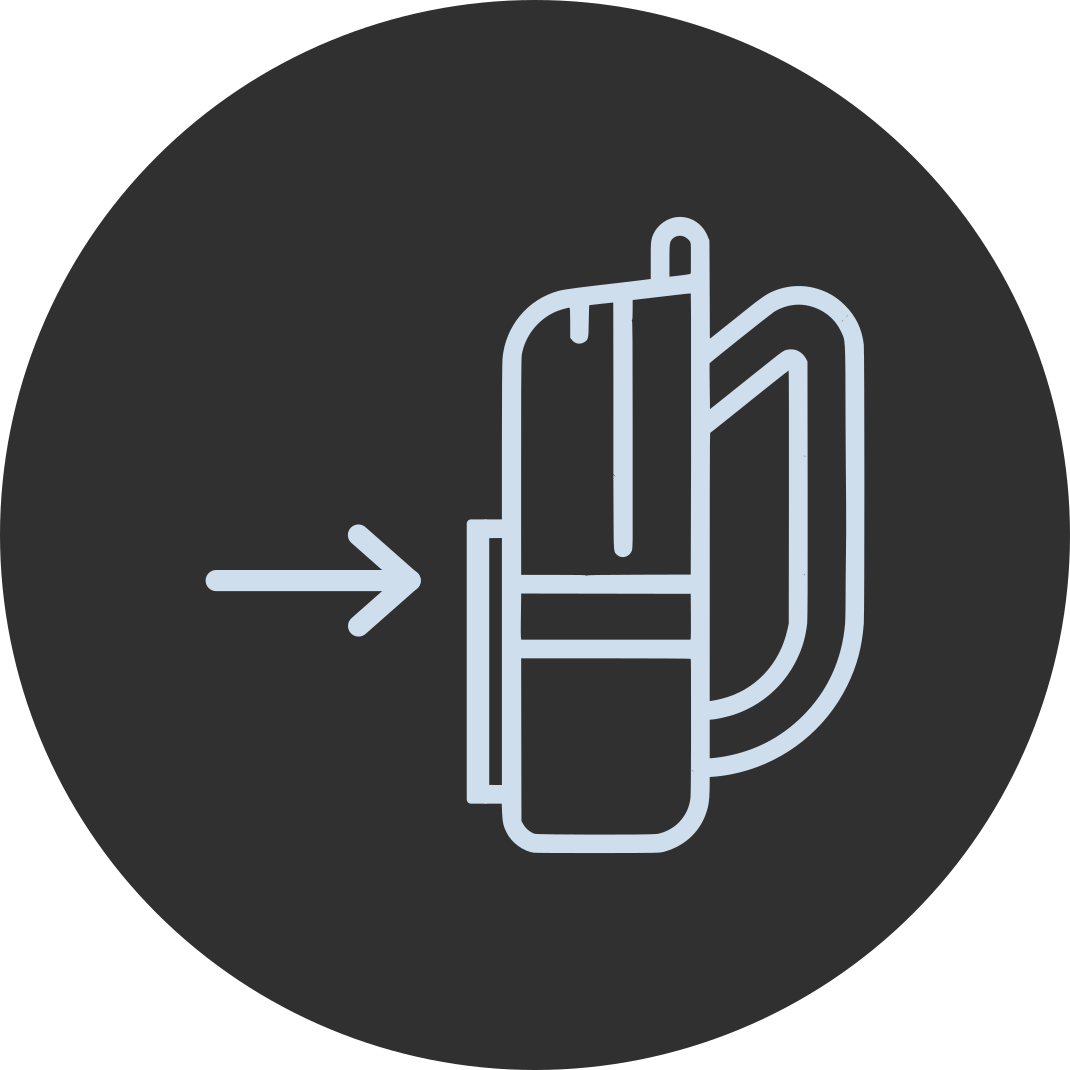 Let's jump into the first big section of this Tortuga Setout Backpack review – the front of the pack. 
Overall, being a minimal backpack, there isn't too much to discuss…
Logos are important, and for better or for worse, lots of apparel companies are have loud branding. 
Think of 'SUPREME' as an example. It's very loud and very in your face. 
In contrast, we greatly prefer it when the logos are nice and subtle.
Which Tortuga does masterfully. 
Just a tasteful rubber stamp on the front of the pack. Simple, discrete, and effective – very appreciated.
This pocket is the only pocket on the front panel of the backpack. 
Overall we love the simplicity of this pocket. 
It has a great ZIP to it, and has the capacity to fit a ton of stuff.
This is an ideal pocket for your Digital Nomad gear that you want to access quickly. This would be a great spot for your cell phone, boarding pass, passport or ear pods. 
Are you the type of traveler who loves a place to organize all of your smaller travel gear?
Then you will love this pocket…
Made from those impressive Tortuga interior materials, this pocket looks and feels great, and most importantly it functions really well. This pocket is one of the defining characteristics of the Setout, and a big reason why we love it so much. 
Inside this compartment are a few things that are important to know about.
Keyring holders are imperative in any backpack, and in the world of keyring holders, this is in the top 10%.
Here's why…
Pros of the keyring holder
Strong and durable
Intuitively designed and easy to access
Easy to buckle/unbuckle
BUT! There is always room for improvement with everything in life, and here is where we think there could be some improvement on the Setout Backpack keyring holder. 
Cons of the keyring holder
Retractable key-leashes are preferable
Magnetic keyrings are also preferable 
Ultimately though, we are just splitting hairs. It's a strong keyring. 
A nice pocket to have. This is a great place to put more secure items like your wallet, passport, or maybe even some spare cash.
This is where the front compartment really shines – there's tons of pockets and places for all of your travel gear.
Pens, notebooks, passports, spare batteries, chargers, tablets, you name it!
This is the area of the pack that you can really customize to your heart's desire. 
But as much as we love this pocket, there is something about it we don't love that we need to point out…
This pocket runs deep, which is good because you can fit more stuff.
But unfortunately the zippers do not extend all of the way to the bottom of the pack, meaning it compromises your ability to fully access the bottom of the pocket. 
It should be noted that this isn't a terrible thing – everything is still grab-able. It just sometimes takes a bit more effort, especially if your gear is buried at the bottom. 
Normally when we are reviewing a backpack, the middle section is a MASSIVE part of the review!
But the Setout is a true minimalist backpack, and compared to its competitors, there isn't as much to discuss, which means we have to write less words, which means we can get off work earlier, which is appreciated. 
Let's quickly chat about the most important features of the middle of the backpack…
Compression straps help compress your backpacks. There are two on each side. 
And that's all we have to say about the compression straps. Next!
Many backpacks will have two side handles and two water bottles (which we'll cover in a moment).
But in true minimalist style, the Tortuga Setout Backpack only has one side handle and one water bottle holder – on opposite ends of the bag. 
And the handle feels great! Here are a few of our favorite things about the handle…
It's soft and nice to the touch
Yet it is also stern and feels strong and durable
It's easy to grab
It's not too big
Like we said, in true minimalist style, the Setout Backpack only has one water bottle holder. 
And let us tell you… it's a big one!
This is possibly one of the biggest water bottle holders we have ever seen.
Such a large water bottle holder will come with its own set of pros and cons.
Pros of the water bottle holder…
Can fit a huge water bottle – maybe even as big as a 1 liter!
Elastic and stretchy
Made from nice materials
Cons of the water bottle holder…
Because of its large size, smaller bottles feel less secure in there
This con is worth taking into consideration. If you have a larger water bottle (up to 1 liter) then this backpack was made for you!
But if you carry a 500/700 ml water bottle (like us) then you might want to keep an eye on the bottle as it won't feel as secure or tight as it would on other backpacks. 
The top handle is the exact same as the side handle. This means that it's comfortable, durable, and easy to grab. 
🤙🏼
Enormous Main Compartment
Out of all of the defining characteristics of the Tortuga Setout Backpack – we think this is the most important. 
Because.
It.
Is.
Absolutely.
Massive….
The pictures have a difficult time conveying just how enormous this main compartment is, but mark our words, if this thing were waterproof you could fill it with water and take a swim in it, the main compartment is that big.
There are a few things to take note of with this main compartment.
#1 – It's minimal
As we've mentioned, Tortuga did a great job staying on brand with this pack, and the main compartment is a great example as to why.
Why?
Because one side of the main compartment has two mesh pockets, and the other side is just a large, barren crater. 
And that's it!
And you know what? It works perfectly.
Not everyone needs a pocket for everything. This just gives you the simplicity of a large area to do whatever you please with. 
#2 – It's massive
We've said it about 5 times now, but we just want you to be aware that this thing is big.
This is why it's a PERFECT backpack for long-term world travel as you can pack everything you need in here (and then some). 
It's big. You have been warned. 
As mentioned, the interior materials of the Setout are stunning, and this mesh area is one of our favorites.
Tortuga always brings their A-game with their mesh. This is no exception. It is great to touch, and feels like it could survive an apocalypse. 
You will also be surprised as to how much they can fit. Both pockets are deeper than you'd think (especially the bottom one) and can hold an impressive amount of gear. 
It just needs to be said (one last time – we promise!) that the interior materials are some of the best we've ever felt. 
Look at them again. They are beautiful. 
Seriously, most other backpacks really, really skimp on this.
Tortuga didn't, they came to play. 
Now, while the Tortuga Setout is mostly a minimalist backpack… the minimalism stops when we get to the back of the pack. 
When it comes to the back, Tortuga put an emphasis on comfort and customizability over minimalism, but we think everything worked out just fine…
This is quite an uncommon feature. 
We think it's to be able to hang your backpack up… if you.. you know… want to hang it up?
This feature left us scratching our heads a bit, but it's so small an unnoticeable that while it's confusing, it doesn't take any points away from the pack. 
If we were to criticize one aspect of this backpack, it's that when it comes to comfort… the shoulder straps are just OK.
The shoulder straps themselves are a bit thin for Tortuga, as we are used to the larger/comfier straps of the Tortuga Outbreaker. 
Truth be told it's not that these straps are uncomfortable – they just seem like they received a lot less love than the back panel and the waist straps (which have TONS of padding).
The sternum strap on the Setout isn't anything special, but that's fine – as long as it works!
The strap is strong, has a great buckle, and most importantly is removable if sternum straps just aren't your thing!
It should also be noted that this isn't our favorite removable sternum strap mechanism. Sometimes it can get annoying to clip/unclip. 
When we say thick we mean like 'that waist strap bad' thick. 
Check it out…
This back panel is truly on another level of comfort. The padding is incredibly comfortable, and will keep your back very secure and protected.
Pros of the back panel…
Next level comfort
Great ventilation (say no to back sweat kids!)
High quality mesh and materials
Cons of the back panel…
You have to understand that with backpacks, everything is a give and take. 
So if you want the most comfortable back panel ever invented by human beings then you will love this back panel.
But you are going to pay for it in additional weight. 
Just like the back panel we have a stage-5, next-level thickness on the waist strap.
It's honestly the thickest waist strap that we have ever seen. 
These waist straps are big, wide, thick, and heavy… honestly they are pretty remarkable. 
Similar to the back panel, this is going to be both a pro and a con.
Pro? Comfy as hell.
Con? Heavy as hell. 
But here's the good news. Unlike the back panel (which cannot be removed), the waist straps are removable.
Speaking of which…
So let's say you DON'T like the waist straps. Maybe you don't find them comfy. Or maybe you don't like the additional weight.
Whatever the reason – we have good news! The waist straps are 100% removable. 
Simply un-velcro the straps from the main compartment, pull them off, and voila! You have shed a good pound from your backpack, and have to deal with them no more. 
But before you take them off!
Just know that each of the waist straps has their own super cool pocket. 
We like waist strap pockets for two reasons…
#1 – Because they are an easy place to store and access your valuables. 
#2 – Because they are surprisingly rare! Not all waist straps have pockets, so we really like it when they do  🙂
The last awesome feature about the back of the Setout Backpack is that the shoulder straps can be stowed away…
Being able to stow away your shoulder straps is a truly amazing feature. 
Every backpack that does have this feature does it differently – but we think the Tortuga system is one of our favorites.
Or as we call it, the 'tuck away' system. Simply unclip the straps from the bottom of the pack, and tuck them into the designated pouch. 
This feature is awesome to have. Even if you don't use it often, every now and then the backpack will make more sense to use in 'duffel-mode', and you'll be very thankful to have it. 
And speaking of duffel-mode, once you stow away those straps you can really take the duffel-mode to the next level with the…
Note – this is sold separately!
But if you are really into the idea of going full on duffel-mode (and believe us, you should be) then it is worth noting that you should also pick one of these bad boys up. 
It's only an extra $15. 
All modern travel packs of this size have some sort of tech compartment. 
This is not our favorite tech compartment. 
Nor is it our least favorite. 
But we will say, it is definitely a solid tech compartment.
This tech compartment can hold up to a 17 inch laptop as well as a 9.7 inch tablet. 
Both the laptop and tablet compartments feel safe and secure – which is really all you need from this compartment. 
But it is also worth noting that the pocket runs very deep, and because the zipper only covers 1/4 the width of the pack…
it makes it a bit difficult to get to the bottom of this. compartment.
Just like the large front pocket. It's not the end of the world, just something to be aware of.
Overall Pros and Cons of the
Tortuga Setout Backpack
Tortuga has a line of travel backpacks, and they are all pretty damn amazing. 
Here are a few of our favorites…
The first Tortuga backpack we ever tried – and one of our all time favorites!
The Tortuga Outbreaker is the brother to the Setout, but it's made of more durable materials (so it's heavier) and has more pockets/organization (so it's also heavier).
Overall we prefer the Setout, but if you want a backpack that will last through about anything, you should check out our Tortuga Outbreaker review. 
Seeing double?
The smaller sibling to the Outbreaker, the Tortuga Outbreaker daypack is a smaller version that meant for everyday carry. 
This backpack is particularly cool for travelers because it compresses down which makes it great for international travel. 
Seeing double again?
The Tortuga Setout Divide takes the original Setout, but adds a few twists of its own. 
First difference – it expands. The backpack clocks in at 26 liters, but can expand to 34 liters if you need to store more gear. 
Second difference – it also has a divider that will help you further organize your life.
What rating did Nomads Nation give the Tortuga Setout Backpack?
Given its minimalist design, and use of great materials, we gave the Tortuga Setout Backpack a 4.3/5.
Where should I buy the Tortuga Backpack?
There are a few places you can buy Tortuga Backpacks. Check the links in our review for the best prices.
How much can you fit in a Tortuga Backpack?
We have reviewed hundreds of backpacks and we can say that Tortuga makes some of the biggest we've ever see. If you are looking to pack a lot – this could be the backpack for you!
How should I pack the Tortuga Setout Backpack?
This will vary based on what you are bringing. Check out our full review for ideas of how to best pack any Tortuga pack!
That's all people! Now concludes the best Tortuga Setout review on the web!
If you've made it this far, then it's clear the Tortuga Setout is perfect for you, so please do yourself a favor and click on the button below and unite yourself with your dream pack!
Travel on nomads…
***Disclaimer*** Some of the links in this post are affiliate links. This means that if you use our links, Nomads Nation will earn a small commission at no extra cost to you. Thanks for the love and support!