7 BEST Places to Live in Ecuador (Updated 2023)
7 BEST Places to Live in Ecuador (Updated 2023)
Named after the equator, the South American gem that is Ecuador has some incredible natural credentials. Not only is it home to the Galapagos Islands, but also stretches of the Amazon and the Andes!
Alongside its incredible natural attractions, this Spanish-speaking nation has a whole lot of culture and history – from the Inca Empire to Spanish colonisation, the latter of which has led to some beautifully well preserved historic buildings in its cities. Combine this with a coastline strung with beaches, delicious food, and friendly people, and it's an attractive destination.
There are many places you could base yourself depending on which side of the country you'd like to experience, which is why we've created this guide on the best places to live in Ecuador!
You might want to live in the mountains or beside the beach – whichever it is, our guide will help you make that decision.
Staying Safe in the Ecuador
Ecuador may not be up there with the safest countries in the world, but you shouldn't be worried.
The best thing you can do with staying safe in Ecuador – as with many places around the world – is be cautious and remain aware of your surroundings.
Cautious behavior – however – does not prevent you entirely from emergencies, for example breaking your ankle on a run, getting food poisoning, or being involved in an accident. 
To feel safe – healthwise AND financially, we strongly recommend you sign up for worldwide travel health insurance. Genki offers two health insurance types, one travel health insurance, and one international health insurance. 
Genki Explorer is your travel health insurance that covers you in Ecuador and in all countries in the world. Monthly subscriptions start as little as €39.30 and cover emergencies and medically necessary treatments while traveling. 
Genki Resident is your holistic international health insurance that includes everything from emergencies, medically necessary treatments, preventive care, as well as alternative treatments, and much more. 
Don't take any risks – be sure to get a quote from Genki insurance today.
"Cuenca is the cool and cultural highland city."
Monthly cost of living in Cuenca
Sitting at 2,560 feet above sea level, Cuenca is the third-largest city in Ecuador and the capital of Azuya Province. It's a historical gem of a place that has a UNESCO-recognised centre, awash with culture and entertainment options. Living here also means you'll be on the doorstep of the Andes.
Cuenca was settled by the Spanish in 1557. Accordingly, it's here where you'll find charming colonial-era streets and plenty of historic buildings to marvel at. Couple that with a decidedly laid back atmosphere, and the fact that it's also pretty clean and pretty safe, and it stacks up to be a liveable city.
Cons of Living in Cuenca
The internet speed isn't great

There isn't a huge nomad community

The traffic can be awful and dangerous
Cuenca has a fairly mild climate all year round, never getting too hot or too cold. This is just one of the reasons that Cuenca is becoming more and more popular to live in.
It feels open-minded and easygoing compared to many other Ecuadorian cities, which probably has something to do with its university.
Public transport is also on the move, with a tram system in the works that will make getting around this Andean gem a veritable breeze.
If you're looking for coworking spots in Cuenca, there are a few to choose from. First of all, you may want to check out the riverside Coworking Cuenca, a friendly place with outdoor spaces to boot. Chakana Coworking is another good spot.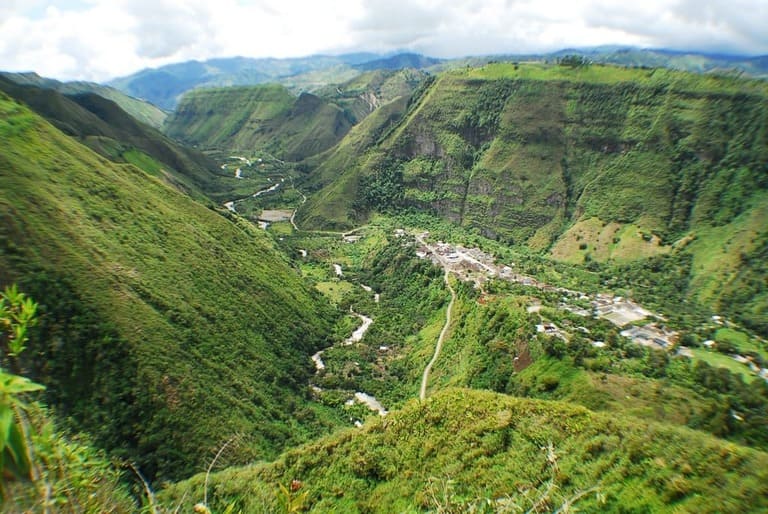 "Nature-loving nomads should make a beeline for the Intag Valley."
Monthly cost of living in Intag Valley
cost of rent
in Intag Valley
Set along the Intag River, the lush Intag Valley is a remote area famous for coffee and tourism. It also has a lot of flora and fauna and boasts the Intag Cloud Forest Reserve. As a whole, the area has one of the highest levels of biodiversity in the world.
This region sits at 1,800 metres above sea level and is home to numerous endangered species, as well as several Intag communities, numbering around 17,000 in population. It's a sparsely populated valley that is going to suit anybody who really wants an adventure in a far-flung part of Ecuador.
Pros of Living in Intag Valley
Easy to meet other people and make friends
Cons of Living in Intag Valley
Quality of medical care not great

Not many coworking spaces
Let's be real: Intag isn't the sort of place where you're going to find a lot of restaurants, cafes, coworking spaces or any kind of urban entertainment. What you do get, however, is nature – and lots of it.
That said, it's probably best to base yourself somewhere like Apeuela, which is the most central town of the area. It's tiny, but it's also the centre of Intag's coffee industry.
That's right: coffee lovers may want to pay a visit to this area of Ecuador to see just how their cup of Joe gets made – and to taste some of the best coffee the country has to offer.
There are not a whole lot of coworking spaces in the Intag Valley, but there are a number of establishments that you can visit (or stay at) to get some work done. Pacheco Farmhouse has scenic views, a great cafe, and decent wi-fi. You won't want to leave.
"Ecuador's capital has everything a nomad could need."
Monthly cost of living in Quito
The capital of Ecuador, Quito is located high in the Andes and was founded in the 16th century on the ruins of an Inca city. Today, this UNESCO-recognised city has one of the best-preserved historic centres in Latin America, with a wealth of beautiful buildings, residences and churches making up its storied cityscape.
Quito is situated at 2,818 metres above sea level nestled between mountain peaks. Since it's located so high up, you can expect that mist and chilly weather is going to be a part of life in the city. Despite all that history, there is more modernity in Quito than you may be expecting.
Pros of Living in Quito
Good level of English spoken

Great place to meet other people
Cons of Living in Quito
The internet speed is not great

Not many coworking spaces
Quito may have Baroque churches and cobbled streets, but it also has other things that capital cities all over the world have – skyscrapers, commercial hubs, and traffic jams.
It also has some pretty hip neighbourhoods to explore. One particularly fun area to check out is La Mariscal. Popular with visitors and locals alike, the bars hot up here on weekend nights.
Further out of the city is Cumbayá, which is warmer and drier than central Quito. Here, you'll find big shopping malls and even some biking trails, making it a good spot for chilled days off out of the busy city.
Not surprisingly, Quito has some cool coworking spots to check out. Coworking ConQuito is a bright, modern space that's also pretty affordable. IMPAQTO Quito is cool, on the other hand, and offers a great working environment.
"The compact coastal town of Montanita is for nomads who like good times."
Monthly cost of living in Montanita
cost of rent in Montanita
Montanita – meaning "Little Hill" – has grown out of being a sleepy seaside town into the laid-back hotspot it is today. Developed from the 1960s onwards, this town attracts travellers from around the world who want to spend a few weeks – or months – kicking back on the beach, surfing and partying.
There's a real hippie atmosphere here that has enticed many travellers to settle permanently; however, a steady flow of backpackers means cheap places to stay, plenty of food options, a ton of bars, and a good party-time atmosphere.
Pros of Living in Montanita
Affordable cost of living
Cons of Living in Montanita
Not a large community of nomads

Roads and traffic are bad

Not a lot of amenities or places to work
Montanita is the ideal spot for surfers, who flock to the beach for its famous breaks. Even when there's not good surfing to be had, the beach is where it's at.
Because Montanita has become the tourist destination that it is today, it's reasonably well connected by bus to other hotspots around Ecuador, meaning travelling around the country is relatively easy.
Many ex-pats now choose to base themselves in Manglaralto and Olon, which are much quieter than Montanita – but both with beautiful beaches.
There aren't a whole lot of coworking spaces in Montanita, but there is one in particular that's worth a visit. The beachside Selina Montañita CoWork boasts yoga lessons as a perk, as well as speedy wi-fi and a chill atmosphere.
"Find a home in one of the world's most famous archipelagos."
Monthly cost of living in Galapagos Islands
cost of rent
in Galapagos Islands
Around 600 miles from the coast of Ecuador, it goes without saying that the Galapagos Islands are a bucket list destination. That makes the thought of actually living there a somewhat crazy notion, but it's true: it is possible to join the many creatures who call this group of islands home.
The Galapagos is not a glamorous tropical destination by any means. This ain't Hawaii. Most of the islands are far from lush, lacking in vegetation. Surprisingly, more humans live here than you'd think, and – for better or worse – there is development on the islands, built mainly to serve the tourism industry.
Pros of Living in Galapagos Islands
An incredible amount of nature

Decent amount of parks and beaches
Cons of Living in Galapagos Islands
Concern about the effect on nature

It's not a prime spot for nomads
The Galapagos is a fragile ecosystem and is an absolute bastion of the world's wildlife. It's known for its high level of endemic species. After all, Charles Darwin cemented his theory of evolution here.
There are 18 islands in total, home to around 25,000 people, but only a few of the islands are permanently inhabited by humans.
Most people live in Puerto Ayora on the island of Santa Cruz, and in Puerto Baquerizo Morno on Isla de San Cristobal. These spots are most likely where intrepid nomads will end up.
For a place to get some work done, 1835 Coffee Lab on Isla de Santa Cruz has excellent wi-fi, excellent coffee and tasty snacks. On the less populated Isabela Island, Sun & Coffee is a good spot – especially for breakfast. It's got strong coffee and strong wi-fi.
"Experience beachside living and city convenience in the diverse Guayaquil."
Monthly cost of living in Guayaquil
cost of rent
in Guayaquil
The commercial hub of Ecuador, Guayaquil is the country's second-largest city and the main port. Situated on the banks of the Guayas River, this coastal settlement was founded in 1538 and has been an important urban centre ever since. It may not be a tourist town, but there's a lot going on here.
With a metro area spanning a thousand square miles and a population of around three million people, Guayaquil is certainly on the rise and has grown rapidly over the decades. It's got everything from lively bars and several universities to imposing skyscrapers and colourful favelas.
Pros of Living in Guayaquil
Quality of hospitals is good

Easy to make friends and meet people
Cons of Living in Guayaquil
English isn't widely known

Lack of entertainment options
Guayaquil is a cool city. Outsiders are generally quite welcome, there's some great seafood on offer, an exciting music scene, and a growing cultural landscape defining the city's modern-day identity.
It's also a hotspot for wider exploring, being a jumping-off point for the Galapagos. It is well connected with other destinations by bus and plane.
The city is not short of interesting neighbourhoods: Las Penas, for example, is the artistic heart of the city, with art galleries located inside 400-year-old houses.
Guayaquil Business Central Coworking is a calm place to get work done in the city. It's also a great spot to meet likeminded people and develop ideas. Elsewhere, Guayaquil has a ton of cool cafes, with good wi-fi where you can rock up with a laptop.
"Sun, sea and sand await nomads in vacation-friendly Bahia de Caraquez."
Monthly cost of living in Bahia de Caraquez
cost of rent in Bahia de Caraquez
Bahia de Caraquez, set on a sandy peninsula at the mouth of the Rio Chone, is a resort town that's developed rapidly over the past 20 years. Popular as a vacation spot for Ecuadorians, this city sadly felt the effects of an earthquake in 2016, which devastated many of its buildings.
However, it's slowly beginning to recover. It could be a very interesting place to base yourself, especially for nomads who enjoy wildlife – the Isla Corazon Wildlife Refuge, comprising around 100 hectares of mangrove forest a few kilometres from San Vincent Bridge, is a hotspot for ecotourism.
Pros of Living in Bahia de Caraquez
Compact enough to walk around
Cons of Living in Bahia de Caraquez
It might be too quiet for some
Bahia de Caraquez is also home to one of the best archaeological museums in the country – the Museo de Bahia de Caraquez, which has around 600 pieces on display showcasing Ecuador's long history.
The food in Bahia de Caraquez is also very good: peanut soup is a tasty local dish, while the city's take on ceviche is one of the most well known in the country.
Sights abound in and around the city, such as the Mirador La Cruz, a hill just behind the city with fantastic views out over the ocean.
There aren't coworking spaces in Bahia de Caraquez, but there are some great places to work in. A super friendly place to start is Hostel CoCo Bongo, with an onsite cafe boasting good wi-fi near the beach. Another option is San Antonio de Caraquez Coffee; casual and with great views, it's an excellent place to meet other people (great coffee, too).
Final Thoughts on the Best Places to live in all of Ecuador
Those were the best of the best destinations in Ecuador for digital nomads.
There are so many cool places to live in this South American nation. The chance to live on the actual Galapagos Islands could be a dream come true for so many people, or living high in the Andes in Ecuador's beautiful capital city – Quito – could be what you dream of. Then again, coastal Guayaquil could be a fit for you.
If you're the restless type, you could spend a few months in each of these amazing towns and cities.
How cool is it going to be to live basically on the equator, too? Count yourself lucky!
Looking for more great Digital Nomad content?
***Disclaimer*** Some of the links in this post are affiliate links. This means that if you use our links, Nomads Nation will earn a small commission at no extra cost to you. Thanks for the love and support!