7 BEST Places to Live in Greece (Updated 2023)
7 BEST Places to Live in Greece (Updated 2023)
Greece is an incredible destination. Packed full of history and dotted with an endless supply of beautiful islands, there's a lot going on here.
Being a popular destination, it's fairly easy to get around Greece. Amenities and entertainment generally abound, and chances are you won't ever be short of places to eat, drink and make merry.
But since there are so many different places to choose to live as a digital nomad in Greece, it can be hard to pick one that's going to be right for you. For one thing, is the wi-fi on Greek islands even good enough?
That's where we come in. Whether you're looking for a classic island getaway or want to base yourself in one of Greece's buzzing cities, there are some great places to choose from.
Now, let's take a look at some of the best places to live in Greece (our favourites)!
Staying Safe in the Greece
Greece is a pretty safe place and is a popular tourist destination. Just be cautious like you would anywhere else in the world
Cautious behavior – however – does not prevent you entirely from emergencies, for example breaking your ankle on a run, getting food poisoning, or being involved in an accident.
To feel safe – healthwise AND financially, we strongly recommend you sign up for worldwide travel health insurance. Genki offers two health insurance types, one travel health insurance, and one international health insurance.
Genki Explorer is your travel health insurance that covers you in Greece and in all countries in the world. Monthly subscriptions start as little as €39.30 and cover emergencies and medically necessary treatments while traveling.
Genki Resident is your holistic international health insurance that includes everything from emergencies, medically necessary treatments, preventive care, as well as alternative treatments, and much more.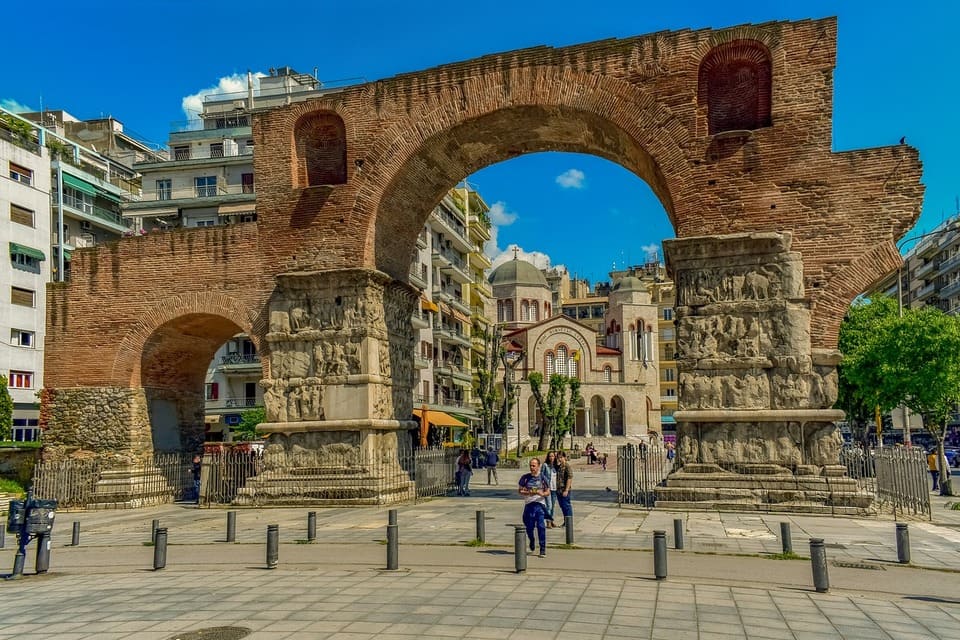 "The Greek second city is all about good times and gourmet food."
Monthly cost of living in Thessaloniki
cost of rent
in Thessaloniki
Thessaloniki is the sort of place you could really find yourself getting into the local culture. It's a seaside city that's equal parts modern metropolis and historic cityscape. Home to the Ancient Forum and the 4th century Rotunda, spending time here means commuting past some pretty incredible monuments.
But in modern times, Thessaloniki is also very well known for its waterfront. It's newly developed and makes for a picturesque place to wander: think bike-riding and promenading on warm afternoons, and cocktails and music when night falls – and that's without evening mentioning the incredible food!
Pros of Living in Thessaloniki
One of the more affordable spots in Greece
Cons of Living in Thessaloniki
Could seem a little quiet for some

Not many nomads to hang out with
Thessaloniki boasts a world-class food scene that runs the gamut from local tavernas with traditional food on offer to fancy restaurants along the waterfront.
There are a number of areas that you could base yourself in. Ladadika, for example, is a historical area close to the port, giving it a central location – the nightlife is also pretty good.
If coffee shops and live music are your things, then Valaoritou is a cool option. Many establishments are set in repurposed industrial buildings, really showing the flair of the creatives and student population in the city.
Looking for a coworking space in Thessaloniki? You may want to swing by Office Club. Its smart, professional spaces are good for a nomad with things to do and places to be. Otherwise, the cool Coho will suit creative types.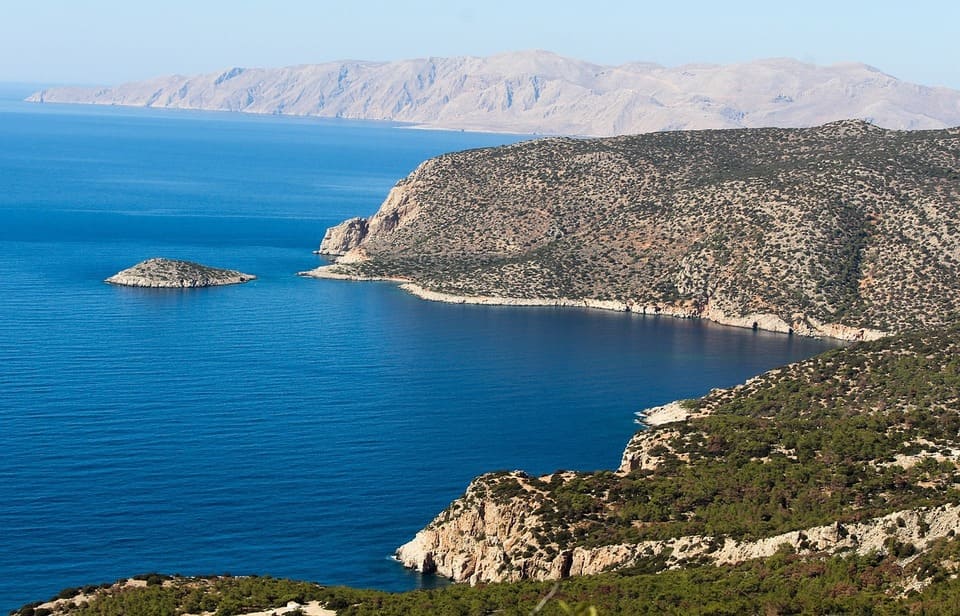 "A popular holiday resort, Rhodes is all about laid-back vibes and history."
Monthly cost of living in Rhodes
Situated in southeastern Greece, Rhodes is one of the country's many islands. Being situated so far south means Rhodes lays claim to having the longest summer of any of the Greek islands. This long summer is a good thing for nomads who like energy, crowds, and partying (the tourist season is longer, basically).
As you may expect, there's buzzing nightlife to be had on the island. But it's not just the nightlife that draws and keeps the tourists coming: Rhodes is steeped in history – ancient history, in fact. The Old Town of Rhodes, with its cobbled lanes, retains much of the atmosphere of the Byzantine Empire.
Pros of Living in Rhodes
It's fairly easy to meet people

A lot of warm days and sunshine

The internet connection is decent
Cons of Living in Rhodes
Summer can also get pretty hot

Healthcare options not so great
Elsewhere on Rhodes, there's much more history to be had than in its main town. Lindos, further along the coast, is crowned by its ancient Acropolis.
Although Rhodes may get busy in the summer, that doesn't mean there's no space to move. There are plenty of spots to hit up and beautiful beaches to discover away from the tourist hubs like Faliraki.
One such place is Tsambika. With its lack of development and shallow waters, this could very easily become your favourite beach. Further to the south is Prasonissi, a hotspot for windsurfing and kitesurfing.
You won't find a load of dedicated coworking spaces in Rhodes, but there are some great cafes that make for a good working environment. Try Finn Cafe – it's got great coffee and fresh food, as well as pretty good wi-fi.
"The port city of Patras is a hub of all things for the Peloponnese."
Monthly cost of living in Patras
Patras is a busy port city that has been a centre of trade for centuries. It may not be as beautiful as other destinations in Greece, since it's quite industrial, but there is still a pretty side to the city that can be uncovered with ease. There are squares with lively bars to frequent, and a pretty hip restaurant scene.
That may have something to do with its population of university students – around 20,000 call Patras their temporary home. This gives Greece's third city a youthful, energetic vibe. But don't worry – if you're looking for history, there are still a fair few sights to see here.
Pros of Living in Patras
Student town (and the vibe that comes with it)

Some great beaches close by
Cons of Living in Patras
Travel in/out of Patras by plane is a pain (no airport)

Maybe not enough to do for some

Small if you want a big city feel
Patras is divided into two parts. The upper section is where you'll find its Old Town, complete with cobbled streets and charming squares. Here, you'll also find its medieval castle, which points to the city's glorious past.
The lower part of the city is where you'll find its more modern-day heritage, with plenty of restaurants, cafes, and bars to explore, as well as top shopping.
Patras is also less touristed than many other places in Greece, which means it's somewhat easier to slide into local life. If you're into nightlife, you may want to set your sights on Patras (it's awesome here).
Patras Tiny Coworking Space is an excellent spot in Patras if you need somewhere to work. The wi-fi is fast, there's an open-plan office space to use, as well as a meeting room and lounge. The bonus is the free coffee.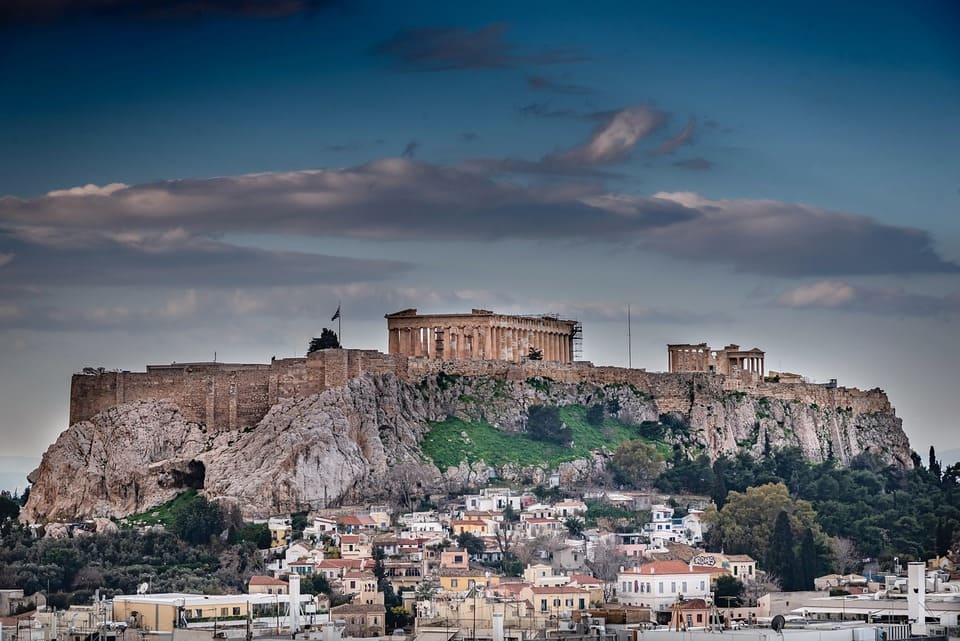 "Athens is where it's at for first-time digital nomads in Greece."
Monthly cost of living in Athens
One of the world's oldest cities, and the birthplace of actual democracy itself, Athens boasts a history spanning over 3,400 years. It's a global city and a major transit hub – not just for Greece but for Europe as a whole, making it a great place to base yourself for exploring further afield.
The city is famously overflowing with ancient monuments, not least in the form of its two UNESCO World Heritage Sites – The Acropolis of Athens and the medieval Daphni Monastery. There are plenty of museums, art galleries and bastions of culture sprinkled throughout the city.
Pros of Living in Athens
No shortage of nightlife, entertainment, food, etc.

The metro is pretty damn great

You'll have access to basically everything
Cons of Living in Athens
Could be too much of a big city for some
But Athens isn't all about history. This Mediterranean city is made up of 58 bustling municipalities, all with varying flavours and atmospheres.
One of the coolest neighbourhoods in Athens is Kypseli. It's a multicultural district where artists and creatives mix with migrants and longstanding locals. There are endless places to eat and a lot of cool cafes to try out.
Next door is Exarchis, the traditional home of anarchist politics in Athens; this part of town is also known for its street art. Separating Kypseli and Exarchis is Pedion Areos, an ample green space suitable for strolling.
Athens has a selection of coworking space for just about any kind of nomad. One is Stone Soup. Centrally located, it's a flexible workspace with good amenities. Elsewhere, Impact Hub Athens is stylish and has a ton of stuff going on.
"Everyone comes to Santorini: the Instagram influencer of Greece."
Monthly cost of living in Santorini
cost of rent
in Santorini
With its ubiquitous blue domes and whitewashed walls, Santorini is the quintessential Cycladic island. It's a volcanic paradise of a place, dominated by the half-submerged caldera, views of which are nothing short of breathtaking. It's beautiful, which is part of the reason it draws so many tourists.
But it is not cheap at all. If you plan to spend a few months in Santorini, you're going to want to stay away from any kind of tourist site, as accommodation and amenities will sap your budget fairly quickly. The east coast, for example – with its black sand beaches – is much more affordable, or you could head for the interior.
Pros of Living in Santorini
Never feels too busy or crowded
Cons of Living in Santorini
Healthcare options aren't great

Island life could feel isolating
Santorini isn't all luxury; there are some surprisingly traditional villages in the interior of the island, away from the tourist crowds. Vineyards and charming backstreets will be at your fingertips.
In winter, the crowds all but disappear, and Santorini becomes a pretty quiet island. Being able to explore somewhere that can see a fair number of visitors is extra cool.
You might want to find yourself your own pair of wheels, too, as the only other option is a bus service. A moped will really open up the place for you and allow you the freedom to get from A to B minus the timetables.
Santorini may lack coworking options, but it does have some great cafes. Home All Day Cafe, for example, has reasonable prices and fast wi-fi, while CoffeeLab Santorini is a stylish spot perfect for coffee-lovers.
"The capital of Crete, Chania is a great base for island-loving nomads."
Monthly cost of living in Chania
Chania is the capital and second-biggest city on Greece's largest island of Crete. It's a very picturesque city with a charming Old Town and is also ideal for foodies looking to get a taste of some delicious Greek cuisine. Away from its modern-day credentials, however, there is a lot of history to discover for yourself in Chania.
The Old Town displays evidence of many civilisations throughout the ages, from Turks and Byzantines to Arabs and Venetians. It's the sort of place that will completely enchant you, with plenty of old city streets to explore and historical sites to stumble upon.
Pros of Living in Chania
The internet is pretty fast

Tends to be LGBTQ+ friendly

Good base to explore the rest of Crete
Cons of Living in Chania
Can be hard to meet other people
Even though Chania is a relatively popular tourist spot with a fair few luxury resorts, there are still plenty of authentic and traditional villages nearby that you can visit.
There are also plenty of beaches; these include Balos, Falassarna and Elafonissi, all of which are stunning and perfect if you're a nomad who likes soaking up some sun, sea and sand.
Most locals in Chania live in and work around the modern part of the city, as opposed to the Old Town. Although it's less traditional, it has its own history, with narrow lanes and heritage buildings all of its own.
For coworking spaces in Chania, head to Workhub Chania. It's set in a beautiful area of the city, has high-speed wi-fi, boasts a selection of hot desks and seminar rooms, and often has stuff going on. Clean and professional, too.
"Nomads who want to party go to glamourous Mykonos."
Monthly cost of living in Mykonos
Another Cycladian island, Mykonos is a popular place to party. There are two famous beaches in particular – Paradise Beach and Super Paradise Beach – where world-famous DJs spin tunes for revellers on the sand until the early hours of the morning. The somewhat upscale nightlife on Mykonos is all about good times.
Mykonos is known for being a gay-friendly destination, and there are a lot of LGBTQ+ establishments where you can hang out. A lot of places on the island aren't the most affordable, however, so nomads will have to budget accordingly!
Pros of Living in Mykonos
The beaches are beautiful

Well known for being LGBTQ+ friendly
Cons of Living in Mykonos
Not much to do if you don't know people
If partying all summer long isn't your thing, don't worry – Mykonos will probably still have something for you. There's a quieter side to this island, which itself boasts over 25 gorgeous beaches.
In the island's interior, you'll find small, traditional villages, complete with authentic tavernas and historic buildings, all in a polished yet rustic environment. Ano Mera is one such place.
There's also diving, mountain biking, hiking and swimming here, as well as action-packed water sports like windsurfing to enjoy in Mykonos. Plenty for just about any sort of nomad.
Central Cafe is a decent place to get some work done in Mykonos. It's a bright, stylish space with awesome views. You could also opt for Mikel Coffee Company – reasonable prices, cool space, and easy to get work done.
Final Thoughts on the Best Places to live in all of Greece
There you go, people – the very best places in Greece for digital nomads.
Living in Greece means you're going to be living in a beautiful, fun country with a good climate and a ton of history. There are enough monuments and heritage sites to keep you endlessly entertained. There are some great places to base yourself, from the bustling capital of Athens to the blissful island of Santorini.
If you can't choose, why not travel around Greece and try them all out!
You'll get to enjoy laid-back living, great food, good weather… and let's not forget how friendly people are.
Greece and its many, many wonders await!
Looking for more great Digital Nomad content?
***Disclaimer*** Some of the links in this post are affiliate links. This means that if you use our links, Nomads Nation will earn a small commission at no extra cost to you. Thanks for the love and support!