11 BEST Places to Live in Germany (Updated 2023)
11 BEST Places to Live in Germany (Updated 2023)
Beer, music, history, food, mountains, more beer and – sure – maybe some more food. This is Germany.
If you're thinking of staying put in Germany as a digital nomad, we're all for it. This is a cool country to be in, with hubs of creativity, exciting prospects, and some super fun ways to blow off steam.
But with so many towns and cities to choose from, it can be tricky to figure out where to base yourself. And you know what? The cost of living between them all really fluctuates.
That's why we've written this guide to the best places to live in Germany! We've got just about everything you need to know so you can choose the place that sounds like it could be your new home.
Ready? Let's do this!
Staying Safe in the Germany
Germany is by no means unsafe. It's a stable, developed country with not much in the way of serious crime that's going to affect you.
But no matter where you live or travel, you always wanted to be protected in the case of an emergency.
To feel safe – healthwise AND financially, we strongly recommend you sign up for worldwide travel health insurance from Genki.
Genki offers two health insurance types…
Genki Explorer is your travel health insurance that covers you in Germany and in all countries in the world. Monthly subscriptions start as little as €39.30 and cover emergencies and medically necessary treatments while traveling. 
Genki Resident is your holistic international health insurance that includes everything from emergencies, medically necessary treatments, preventive care, as well as alternative treatments, and much more. 
Be sure to get a quote from Genki to stay protected when you are traveling or living in Germany. 
"Berlin is the cool, modern capital of Germany – a sprawling wonderland, equal parts fancy and no-frills."
Monthly cost of living in berlin
Berlin is hip and happening, historic and hardy. It attracts a bunch of people from all over the world, who move here to lap it all up. There's a hugely creative, artistic community that feeds into and reflects the city's hipster credentials.
Pair that with an absolutely thriving nightlife, and you're sorted. Berlin is the kind of place where you can dance all day and all night, any day of the week. 
But if you're not into that, there's a ton of other stuff for you to enjoy: parks, museums, cafes, world-class dining, and less techno-oriented places to drink and make merry.
Pros of Living in Berlin
Cheaper than other, similar European capitals (i.e. London)

It's a very cycle-able city

Always loads of stuff going on - flea markets here are great
Cons of Living in Berlin
Not the most beautiful city going

It can be hard to actually find a place to live

The big city life might be too much for some
Berlin is super cool, but there's history here, too. You can parts of the infamous Berlin Wall still intact, now complete with street art and museums.
It's a trend-setting sort of place at the same time. There are loads of creatives here; Berlin could be considered the startup capital of Europe.
There's also a ton of cool areas: Kreuzberg, for example, is known for its countercultural vibe and design-friendly eateries and bars.
There's a cool co-working space in Kreuzberg called Betahaus. There are quiet working corners and cool design, a decent balance between professionalism and friendliness, and a load of community events going on now and then.
"Beer and bratwurst in the storied Bavarian capital make Munich one heck of a base."
Monthly cost of living in Munich
If you were to think of an iconic German city, chances are that Munich might spring to mind first. Munich is the centre point of the southern German state of Bavaria – a cultural region as famous for its beer and cuisine as it is for its Alpine credentials and historic vibes.
Basing yourself in Munich means having easy access to this unique area of Germany. The city itself is pretty awesome: you could be chilling out in the centuries-old Marienplatz one moment, then exploring the maze of little streets known as Bahnhofsviertel just south of the central train station the next.
Pros of Living in Munich
Public transport is efficient, clean, well organised

Christmas markets in winter; warm in summer

Delicious food everywhere
Cons of Living in Munich
Loads of tourists during Oktoberfest
Though there are a lot of people visiting Munich for Oktoberfest, it's still a fun time to be in the city if you like beer and sausages.
If not, there are tons of beer halls and beer gardens located around the city for a much more local experience.
And if you like your cities with parks and greenery, you're in luck: Munich has plenty of that. You'll never be short of somewhere to stroll or chill on a sunny afternoon.
There are loads of co-working spaces to check out; there's something for everyone. BASE Co-Working is super friendly and youthful, while Werk1 is set up specifically for digital creatives, complete with cafe and event space.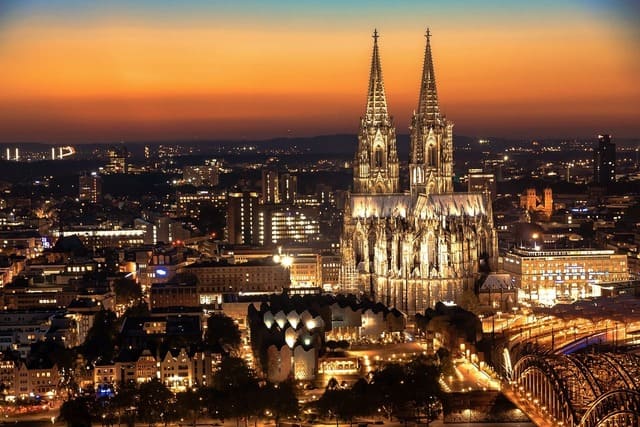 "Founded by the Romans, Cologne is so cool, cosmopolitan, and casual that it's sometimes called the northernmost Italian city."
Monthly cost of living in Cologne
Called Köln in German, Cologne is the largest city in the River Rhine. Once a Roman city, this ancient settlement has just about everything you could ask for in a city – beautiful architecture, museums and galleries, universities, and loads more. It's also famous for it's Karneval (yep, that's basically Mardi Gras).
Cologne grew as a trading centre, and this is something still upheld by the city today: it's the cultural and financial hub of the Rhineland region. It's also this that led to the RAF in WWII dropping 35,268 tonnes on the city, completely destroying the centre. Miraculously, it's been rebuilt and then some.
Pros of Living in Cologne
Tons of ex-pats to meet and greet

There's a lot of English spoken

Students bring a youthful vibe to the city
Cons of Living in Cologne
Some areas can get really crowded with tourists (i.e. the cathedral)

Not always easy to find somewhere to live
Cologne is an intriguing place to spend time exploring. The vibe, the galleries and museums here make it a different sort of creative hub from Berlin.
It's easy to fall in love with Cologne. You'll be walking along and suddenly stumble across some Roman ruins. And you could never NOT be impressed with the epic Cologne Cathedral.
Not only that, but the multicultural atmosphere just adds the cherry on top of this already cool city.
Want a co-working space? THE 9TH is a bright, modern place for freelancers and startups alike. An award-winning venue with a central location, it's also a great place to connect with other people. Highly recommended.
"Dresden has risen from the ashes as a beautiful, well-rounded city to base yourself."
Monthly cost of living in Dresden
The capital of Saxony, Dresden may have been practically wiped from the map due to WWII bombings, but it was incredibly rebuilt. Today, it's surprisingly beautiful – and beautifully rich in history, art, culture, and just about everything that makes a city interesting.
In opposition to the Aldstadt – or the (rebuilt) "Old Town" – the Neustadt, or "New Town", is where you'll find the cool kids. There's an alternative vibe here, with street art and graffiti more of a fixture. Louisenstrasse is a popular area here, home to young families, hipsters, and vegan/vegetarian cafes.
Pros of Living in Dresden
Lower cost of living than other German cities

No extreme weather/temperatures to worry about

Proximity to the Czech/Polish border makes bus/train travel around Europe a breeze
Cons of Living in Dresden
Not many co-working spaces for digital nomads

May not be for you if you like your cities big

Can be quiet at night time
Dresden has a beautiful silhouette. Even if many of these old buildings aren't actually as old as they look, they're still super cool. Dresden Frauenkirche, for example, is a stunner.
You can get a good view of the old town from the banks of the River Elbe if you head to Elbewiesen. In summer, this place hots up with outdoor screenings, BBQs, and beer gardens.
Fans of classical music will love the Dresden Music Festival, one of the best of its kind in Europe.
Though Dresden doesn't have many co-working spaces, they still have one or two. There's Impact Hub, for example, with a pleasant atmosphere, and TSH Collab Dresden, which boasts super-fast wi-fi and a variety of spaces to work in.
"Leipzig is the up-and-coming city that might just be primed for greatness."
Monthly cost of living in Leipzig
Formerly the second-biggest city in East Germany (after Berlin), Leipzig is home to around 600,000 people. It is a compact city with a lot going for it. There's an energy here that suggests things could really take off, and an atmosphere and amenities that have previously earned it the title of "most liveable city in Germany" in the past.
As with many German cities, there's a ton of history here. Leipzig was once at the crossroads of two major Roman roads – the Via Regia and the Via Imperii. In the middle ages, it was a walled city, something evidenced today by the placement of its ring road. Historic sights, naturally, abound.
Pros of Living in Leipzig
Very affordable place to live

Small enough to explore by bike, big enough to be interesting

A convenient hub for further European travel
Cons of Living in Leipzig
Work isn't always easy to come by

It's hard to get things off the ground if you've got a project

Can be a bit conservative
Leipzig is excellent for music fans. It's a centre for music in Germany – from classical to modern, alternative electronic sounds – it's home to one of the oldest symphony orchestras in the world.
A city in decline at the start of the 2000s, Leipzig has since cleaned up its act. Restoration projects for historic buildings, demolition of derelict ones, and the development of public transport have created a happening feel.
To embrace your inner hipster, head to Plagwitz – an old industrial quarter with a now creative soul.
Spend some time working at Basislager Coworking. These guys claim to be a place for "adventurous startups", so there's the opportunity to meet other people and exchange ideas – all in a central location. Great!
"Nuremberg is the cute and compact Bavarian city that's secretly a cultural powerhouse."
Monthly cost of living in Nuremberg
cost of rent in Nuremberg
Nuremberg may, unfortunately, be more synonymous with World War II, but focusing on that would mean completely missing out on centuries of culture and history. 
The second-largest city in Bavaria after Munich, Nuremberg is awash with fairytale buildings and famous residents of the past. It was once the unofficial capital of the Holy Roman Empire.
With more architectural gems than you could ever discover, this city is a haven for curious people who love to wander. It's great if you're creative: imagine living in a place that was once home to German kings, painters, and composers, that also has an intriguing injection of culture from its healthy immigrant population. Awesome.
Pros of Living in Nuremberg
Culture: there are 54 museums and galleries

Just how charming everything looks

If you're not here long-term, there are over 300 registered Airbnbs to choose from
Cons of Living in Nuremberg
Quite small and not much like a "city"

So many tourists at certain times of year

Can be hard to mix with locals
If you're a fan of the holiday season, pay attention. Nuremberg's Christmas market is the largest in Germany and plays host to year-round Christmas-themed stores.
People are also drawn here for the food; notably, gingerbread and lebkuchen, as well as a selection of local beer and sausage.
Other than that, this place is charming beyond belief.
Design Offices Nuremberg City, situated at the entrance to the Aldstadt and right near the main train station, is a great co-working option. Think swish interiors and plenty of space to find a spot to work.
"Advertising and finance, as much as fashion and design, make Dusseldorf a deserving option for digital nomads."
Monthly cost of living in Dusseldorf
cost of rent in Dusseldorf
The seventh-largest city in Germany – and the second largest in the Rhineland after Cologne – Dusseldorf is a liveable place. So liveable, in fact, that Mercer in 2012 ranked it as the sixth most-liveable city in the world! That's quite an accolade, and one that Dusseldorf deserves.
The capital of Rhine-Westphalia, Dusseldorf is more than its administrative buildings and business centres lets on. The nightlife here crackles and pops; the art scene is thriving, and there are tons of galleries and a chic aesthetic that's put it on the map in terms of fashion.
Pros of Living in Dusseldorf
Surprisingly - and richly - diverse

A lot of arts and culture going on

Fantastic if you want to get around by bicycle
Cons of Living in Dusseldorf
People can seem cold (but don't take it personally)

The city can feel sleepy after dark
Even though it's a big city today, there's still a quiet, residential feel to Dusseldorf – something that points back to its history as a handful of villages in the early 20th century.
It's diverse, too, with at least 18% of its population (as of 2008) coming from immigrant backgrounds. It's home, for example, to the largest Japanese community in Europe (third-largest in Europe).
You can get great views of it all from the top of the Rhineturm – a concrete telecommunications tower that's a landmark of the city.
Looking for a co-working space in Dusseldorf? Try Regus. This professional outfit has a selection of spots around the city, each with a different vibe. Think plenty of space, an office-like atmosphere, and smart interiors.
"Surrounded by nature, Stuttgart is a centre for business in the middle of a valley."
Monthly cost of living in Stuttgart
cost of rent in Stuttgart
The area that is now Stuttgart was conquered by the Romans in 83 AD. That's when it first became a regional centre, something that been developing for centuries every since. The city proper was founded in the 10th century and grew to become a prosperous powerhouse – mainly because of its connection with cars.
Known as the "Cradle of the Automobile", Stuttgart is home to Mercedes-Benz and Porsche, with museums dedicated to both. Away from the industry, business, and finance, Stuttgart is a hilly city, home to valleys, vineyards, and parks.
Pros of Living in Stuttgart
Nature is just on the doorstep

Numerous fun events, like beer festivals

It's got a growing ex-pat community
Cons of Living in Stuttgart
Accommodation can be expensive

You'll almost certainly have to learn German

Could be too business-minded for some
Marienplatz, in the south of the city, is known for its bars and easygoing, pleasant atmosphere. Great for an afternoon chill.
Scattered around the city, you'll find pretty squares and streets, as well as the occasional flea market for bargain finds.
Stuttgart is also surprisingly close to nature. It's situated on the banks of the River Neckar, just an hour's drive away from the beauty of the Black Forest.
For co-working in Stuttgart, check out the very cool wizemann.space. With funky, hipster-friendly interiors, this award-winning space mixes work-life with sustainable themes, and it packs a great atmosphere.
"Dortmund is the football-loving city that's dripping with greenery."
Monthly cost of living in Dortmund
Dortmund was founded way back in 882 AD, so as you can imagine, there's a lot in the way of history here. In the 19th century, this was a massive centre for coal, steel, and beer (yes). 
During WWII, 98% of the city centre was destroyed by Allied bombing. Combine that with the collapse of its previous industries, and Dortmund has really come up.
The city is ranked highly: it's the most sustainable and digital city in Germany. Aside from that, the creative industries in Dortmund are also pretty huge, as are its transport credentials, acting as something of a hub for getting around the area. It's ripe for discovery – a green metropolis waiting to be explored.
Pros of Living in Dortmund
Plenty of city parks and lots of nature
Cons of Living in Dortmund
Lacks a strong international side

Not very pretty compared to other cities

The city gets (maybe too) busy on match days
Dortmund is big on football. Its team, Borussia Dortmund, have won the Bundesliga no less than eight times. Naturally, there's a huge football museum in the city.
Aside from football, there's a selection of sights to enjoy. There's the 1959 Florianturm, complete with a historic revolving restaurant, as well as older stuff like the Church of St. Reinold.
Recently, the former industrial buildings of Dortmund – such as the U Tower – have seen a new lease of life, turning the city centre into a lively spot.
Rent24 Hansahaus is a great option for co-working in Dortmund. New, cool-looking, and with common areas to hang out in, it hosts regular networking events to get to know other creatives and like-minded people in the city.
"The city that gave the world the Hamburger is possibly the coolest in Germany."
Monthly cost of living in Hamburg
Germany's second city, Hamburg is huge and a great option for any digital nomad looking to be exactly where it's at. Hamburg is a port (the third-largest in Europe) on the River Elbe and has been big in the trading game since the days of the Hanseatic in the 1100s.
All this wealth has rubbed off on Hamburg. Buildings from its past and present paint the city as a hub of commerce: it's home to the world's oldest merchant bank, Germany's first stock exchange, and tons of big, global companies call this place home.
Pros of Living in Hamburg
Super high quality of living

SO many areas to explore, things to do, etc.
Cons of Living in Hamburg
Big, busy city vibes may be too much for some

Hard to find suitable accommodation
There are some seriously cool areas to explore in Hamburg among its riverside and canals. For a start, there's the UNESCO-recognised Speicherstadt, the largest warehouse district in the world.
Then there's upscale Alster to the north of the city, with boutiques, loads of parks and green spaces, and canalside cafes.
For something totally hipster-friendly, there's always Sternschanze – or if you like to party, the Reeperbahn is the place for you.
There are countless co-working spaces in Hamburg. The friendly, community-oriented Cloudsters Hamburg and the very and spacious Mindspace are two of the best.
"Find a home among the skyscrapers of financially driven Frankfurt."
Monthly cost of living in Frankfurt
cost of rent in Frankfurt
Hamburg may have given the world the hamburger, but Frankfurt gave us the frankfurter. Apart from foodie credentials, Frankfurt is kind of a big deal. It's a huge financial hub, home of the European Bank and with a collection of skyscrapers to prove it.
Set close to the geographic centre of the European Union, Frankfurt was once a city-state – one of the most important of the Holy Roman Empire. It's a diverse city today. 
Half its population, and most of the young people who call the city home, have a background of migration, while a quarter are foreign nationals.
Pros of Living in Frankfurt
International; diverse; open to immigration

Transit hub for travel around Europe makes getting away easy

An array of different architecture
Cons of Living in Frankfurt
Everything can feel a bit new

Public transport isn't as great as other German cities

There's a housing shortage
The former Aldstadt quarter was redeveloped between 2012-18, reconstructing a load of historical buildings that were destroyed – including the fairytale-esque Romer – to really beautify the city.
On the other hand, Frankfurt is one of the few cities in Europe to actually boast a significant amount of skyscrapers. It makes for an impressive cityscape.
Looking for fun? Check out the nightlife centre of the former red-light district, Bahnhofsviertel, and head to Nordend for bohemian cafes and vintage shopping.
Make a beeline to BEEHIVE if you're looking for a co-working space in Frankfurt. With its creative, friendly atmosphere, it's got fast wi-fi, plenty of space, and boasts some pretty cool attention to detail and design.
Final Thoughts on the Best Places to Live in All of Germany
Those were Germany's top destinations for digital nomads. 
There's almost no end to the number of cool cities to base yourself in when you're in this European big-hitter – from green-laden cities close to nature to riverside hubs of industry. You're bound to find a place that suits your personality (and your budget).
Hamburg has some super cool neighbourhoods, but this huge city is much more pricey than somewhere like Dresden, which is more compact yet comes with a friendly atmosphere you can't help but fall in love with. And then there's Berlin if you want all-out city living.
You could choose one place, or you could even use this as a guide to hit up the hotspots as you travel around Germany long-term. You decide!
Looking for more great Digital Nomad content?
***Disclaimer*** Some of the links in this post are affiliate links. This means that if you use our links, Nomads Nation will earn a small commission at no extra cost to you. Thanks for the love and support!