7 Best Slings Bags (2023 Insider Guide)
If you're looking for the best sling bag that combines your perfect mixture of style, comfort, and practical design then you have come to the right place! 
One of the smallest types of everyday carry backpacks, slings come in all different shapes and sizes from small pocket relievers to larger sling-backpack fusions providing a little something for everyone.
After surfing the web, testing, and trying out all the different sling bags on offer we have created the ultimate list of the 7 best slings bags you can get on the market.
Best Fashionable Sling Bag
Watch our full review 👆🏼
Cost-

$$

Size- 2 liters
Key Feature –Awesome magnetic components including its Fidlock buckles and opening system
Why people love this sling bag…
Modern Dayfarer has made a sexy sling ride here with a sleek and cool exterior perfect for impressing your mates.
The bag is designed with a modern tarpaulin which creates a leather-style look that matches perfectly with the rib stock nylon creating an aesthetically appealing exterior.
This sling bag also has great functionality with no zippers to get into the main compartments which creates easy access if you need something on the go regularly.
Along with this, it has great magnetic components including easy-use buckles which is a sought-after component in most sling bags. 
Modern Dayfarer Active Sling Pros
The bag has both durable interior and exterior materials

Amazing magnetic components including excellent fidlock buckles 

Decent organization which includes a pretty nifty hidden zipper
Modern Dayfarer Active Cons
Has a clutch style look which not everyone will particularly like 

The bag has no key ring solution
Is the Modern Dayfarer Active Sling for you?
If you want a minimalistic yet stylish bag that has durable interior and exterior materials then you should definitely check out the Modern Dayfarer. 
If you are someone who needs great organization in a bag then you'll also love the interior pockets of this bag. 
The Best Everyday Sling Bag
Watch our full review 👆🏼
Cost-

$$$

Size- 4.5 liters
Key Feature –The 90-degree angle of the bag and adaptable straps that create an extra comfortable feel. 
Why people love this sling bag 
This is the ultimate all-rounder sling bag due to it incorporating arguably three of the most important characteristics in a sling bag. It's durable, comfortable, and has a very sleek style.
The Aer Day Sling 3 has extensive organization features which make it perfect for those who like to have everything perfectly positioned in their bag.
It has a front compartment with multiple durable pockets, a main compartment with zipper and elastic pockets along with an awesome back compartment that is perfect for grabbing things easily.
The way the bag is angled at 90 degrees along with adaptable straps creates an ultra-comfortable feel which fits perfectly on both the back and front of your body. 
Aer Day Sling 3 Pros
It has an impressive capacity which can leave you shocked with what you can fit inside

The bag is super comfortable with a light feel and adaptable straps 

The Aer Day Sling 2 has a sleek, modern, and anonymous look
Aer Day Sling 3 Cons
The front zipper is pretty tough to open which can be a tad irritating especially when you want to get things out of the bag in a rush

There are far too many pockets for a small everyday sling bag 
Is the Aer Day Sling 3 for you?
If you love a bag with extensive organizational features and are someone who loves plenty of compartments but also wants something super comfortable then you need to check out the Aer Day Sling 2. 
The Best Sling Bag for an Active Lifestyle
Cost-

$$

Size- 6 liters
Key Feature –Netted front mesh compartment which creates smooth and easy access to the bag
Why people love this sling bag…
Are you an active runner? Venture your way through the mountains as an avid hiker?
Or perhaps you're just always on the go on crazy adventures, we think we've found the perfect sling bag for you.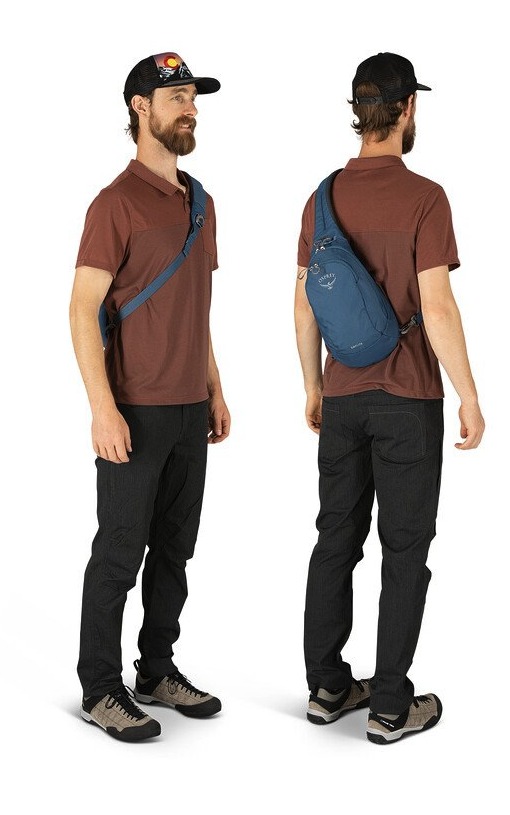 Some of the features of this bag that make it perfect for those who are living an active lifestyle include a netted front mesh compartment, a key ring holder, and a large main compartment where you can fit all the necessities including a small water bottle and your wallet. 
Not only does this bag have great features for those with an athletic lifestyle it also has an awesome sporty look to go with it too. 
Osprey Daylite Sling Pros
Accessible price point, for its decent quality the Osprey Daylite Sling bag, is extremely well priced.

The front mesh compartment is expandable and very handy

The bag comes with very handy zippers which create an ultra-smooth feel when opening and closing the bag.
Osprey Daylite Sling Cons
Uses the cheapest materials out of all the slings on our list

Only one way to wear the sling- not very adaptable

There is no camelback pass-through hole on the Osprey Daylite Sling which is a very sought-after feature in sling bags. 
Is the Osprey Daylite Sling for you?
This is the perfect option if you don't want to break the bank when selecting your sling bag.
It's very reasonably priced for what you get and has basic but very handy features which are easy to use. 
The Best Minimalist Sling Bag
Watch our full review 👆🏼
Cost-

$$$

Size- 7 Liters
Key Feature –The bag only has 3 pockets which is perfect for those minimalists
Why people love this sling bag…
The Australian company of Bellroy have arguably created the best sling for those who want something minimalistic but still has all the key features you would want in a sling.
The design of this bag is also pretty cool with them having a smart subtle exterior with a retro-old school look to them.
There are also 9 different color options available which means you can suit the bag to what best fits your style.
One of the coolest features of this bag is that all the materials used to make the bag were fully recycled. Not only are they recycled but they're also pretty durable meaning you have got yourself a pretty sturdy bag whilst also helping the environment.
Bellroy Sling Pros
Has a great compression technique! If your bag is full it expands, if it is empty it contracts.

The bag has great hardware with premium buckles.

The Bellroy sling has a sleek, minimalist and clean look 
Bellroy Sling Cons
There is limited access to the main compartment due to the zippers, which can be a little frustrating

The main compartment is quite dark which can make finding your stuff a little more difficult 
Is the Bellroy Sling for you?
Not looking for anything too fancy and just want an easy-use bag that looks modern and clean then we think the Bellroy Sling is the bag for you! 
Best Sling Bag for Photography
Watch our full review 👆🏼
Cost-

$$$

Size-3 size option (3L, 6L and 10L)
Key Feature –Adaptable flexible dividers which are perfect for organizing camera equipment
Why people love this sling bag…
Slightly larger than the usual sling bag but the perfect size for those who love getting behind the camera, the Peak Design Everyday Sling is our top pick for photographers.
Inside the bag, you will find several features which are perfect for storing your camera equipment including flexible dividers along with a smaller zip pocket that is perfect for carrying SD cards, batteries, and so on.
The exterior structure of this sling is also great for keeping that precious camera equipment safe with durable materials along with extra padding. 
Peak Design Everyday Sling Pros
The adaptable main compartment makes it perfect for those organized photographers and those minimalist travelers

High-quality materials throughout the bag

An epic swivel system that is both great for adjusting the bag for comfort and accessibility
Peak Design Everyday Sling Cons
Dividers are always included which can make the price of the bag a little steeper

Despite being advertised as a sling it is arguably not slingy enough
Is the Peak Design Everyday Sling for you?
The Peak Design Every Day Sling is perfect for those photographers who want to keep their camera equipment organized as well as well protected with sturdy materials along with an epic flexible divider.
Best Sling Bag for Laptop and Tech Gear
Watch our full review 👆🏼
Cost-

$$$

Size- 8 liters
Key Feature –Spacious and padded laptop compartment
Why people love this sling bag…
The second Aer Sling on our list but a very different design and style to this one the Aer Tech Sling 2 is our top pick for the best sling bag for laptop and tech gear.
The main compartment is perfectly designed to store your different tech pieces with multiple different pockets to slot the gear into.
It also has a separate laptop compartment which is extremely well padded with protective materials so you have less to worry about in terms of it being broken.
You'll also find multiple different colour options to choose from if you need a bag to fit a certain color scheme.
Aer Tech Sling 2 Pros
The innovative swing makes the bag extremely comfortable and is also very flexible in terms of how you want to wear it

The organization of the main compartment is excellent 

The bag is equipped with some of the most premium materials making it aesthetically pleasing as well as durable
Aer Tech Sling 2 Cons
Space in the bag can become extremely limited once carrying a laptop

The bag makes some interesting and creeky noises which can be a little irritating 
Is the Aer Tech Sling 2 for you?
If you want a small easy use bag to carry your laptop and tech gear in then the Aer Tech Sling 2 is definitely a great option.
It has great organization, has premium and protective materials, and is very comfortable!
The Best Sling/Backpack Hybrid
Watch our full review 👆🏼
Cost-

$$$$

Size- 16 liters
Key Feature –The back panel is very well ventilated and makes the bag super comfortable to wear
Why people love this sling bag 
The Boundary Supply Errant Sling is so popular amongst users due to its perfect fusion of a backpack and a sling.
It's a great bag for adventurers and people on the go who don't want to have to lug a heavy and uncomfortable backpack.
The sling also has a cool futuristic design and is equipped with awesome material including 2 Fidlocks, YKK waterproof zippers, and great interior and exterior materials.
One of the best features of this sling is the back panel! It is incredibly well ventilated and was built using ultra-comfortable materials which are perfect for long hikes. 
Boundary Supply Errant Sling Pros
The magnetic compression is great for comfortability and is very handy

The bag has an awesome futuristic 'Indiana Jones' style look which is very unique and very cool

Has great overall functionality and flexibility for everyday use
Boundary Supply Errant Sling Cons
You have to use two hands to open the Fidlock buckle which can be a tad inconvenient 

It's a top loader bag which means you can find it hard to organize and find your gear

The front pocket is a tad too small 
Is the Boundary Supply Errant Sling for you?
This bag is pretty good for a lot of customers especially those who are active and on the go. It's a great investment for a bag as it has multiple different uses and is very flexible largely due to its magnetic compression. 
So that rounds up this article of the best sling bags we can find on the market! 
We hope this article has helped pinpoint the bag with the best features for your wants and needs. 
If you're still struggling and aren't too fussed about specific features for your lifestyle then we'd have to recommend you grab yourself an Aerday Sling 2 bag which our top pick for the best everyday sling bag.  
***Disclaimer*** Some of the links in this post are affiliate links. This means that if you use our links, Nomads Nation will earn a small commission at no extra cost to you. Thanks for the love and support