10 COOLEST Places to Live in Italy (Updated 2023)
If you want a truly classic European destination then Italy is definitely the one for you. This place has it all, from world-famous cuisine to world famous history.
Of course, you want to base yourself in Italy for a few months, maybe longer – who doesn't? The problem is just where are you going to base yourself in this stunning country? How are you supposed to choose?
To help you narrow it down, we here at Nomads Nation have compiled a list of the best places to live in Italy – so you don't have to!
Let's see what's on offer.
While Italy can have its share of pickpockets and theft, truth be told Italy is fairly safe.
All that said, while Italy is safe, no matter where you are traveling in the world you NEED to be covered by quality travel insurance.
Thankfully Genki (our favorite provider) covers people who travel to AND who live in Italy.
Genki Explorer is your travel health insurance that covers you in Italy and in all countries in the world. Monthly subscriptions start as little as €39.30 and cover emergencies and medically necessary treatments while traveling.
Genki Resident is your holistic international health insurance that includes everything from emergencies, medically necessary treatments, preventive care, as well as alternative treatments, and much more.
Get a quote for your trip or relocation to Italy – you might be surprised how affordable the rates actually are!
"If the heart of Italy is Rome, then its soul is Naples: gritty and busy, but with a beauty all of its own – and totally authentic."
Monthly cost of living in Naples
A densely populated city with a ton of history, Naples is all winding narrow streets crisscrossed with washing, scooters zooming past, crumbling old buildings. 
It's hot and sluggish, but with an exciting energy in the air. As evening hits and the air cools, this is the time to sit out at a terrace with a glass of wine.
Where should you live here? The Quartieri Spagnoli (the old Spanish Quarter) is an affordable place to base to yourself and is packed with glimpses of real Neapolitan life. Around the historic centre of Piazza Dante is a decent place too, energetic and lively – and safe.
Pros of Naples
Proper authentic side to Italy

Lots of history to soak up
Cons of Naples
You'll probably have to learn Italian

Some areas are a bit unsafe (organised crime)

The traffic can be insane
There's a lot of history in the streets of Naples – around 2,000 years of it. Sandwiched between the coast and the looming spectre of Mt. Vesuvius, there are historic sights nearby, like the world-famous Pompeii, where you can go see what happened when Vesuvius erupted in 79 AD.
Aside from the ancient, there are some beautiful piazzas to stumble upon in Naples itself, as well as grand old palaces and hallowed churches. 
Combine with great shopping, quirky markets, street art, heavenly food, and you've got yourself a destination.
Looking for a coworking space in Naples? Then head to re.work. This is a stylish space, complete with handy onsite kitchen and a great, dynamic environment.
"The heart of the Italian Renaissance, Florence is a popular spot for culture lovers and art appreciators."
Monthly cost of living in Florence
Florence isn't just known for its art: the city is virtually a masterpiece in itself. The entire city is a UNESCO World Heritage Site. In a word, it's beautiful. Baroque buildings, centuries-old palazzi (palaces), charming lanes, sculptures, fountains – and that's without evening mentioning the museums, cathedrals and galleries.
The capital of Tuscany, Florence has a ton of places to base yourself. We recommend Santo Spirito, a trendy area with a good mix of locals and expats, and with a lively piazza to boot. 
There's also Santa Croce, a nice residential area which has an amazing market selling local produce. Take your pick.
Pros of Florence
Literally living in and amongst world heritage

Tons of cultural stuff to enjoy

Living here allows you to see past the "sights"
Cons of Florence
Winter: cold, rainy, some establishments close

Summer: very busy with tourists

You might want a more modern lifestyle
If you think you'll be relocating to a living museum, that's not necessarily true. Florence is alive and well. 
Situated on the banks of the Arno River, there are a ton of chic boutiques to explore, high quality, locally sourced food and wine to sample, all making for a good life of indulgence.
There are a few interesting cultural quirks of Florence. One of these is the Calcio Storico Fiorentino; dating back to the 16th century, it's a sport that mixes wrestling, rugby and football. 
There's also the fun celebrations surrounding St. John the Baptist's Saint Day – think parades and feasting.
There's a good amount of nomad-friendly cafes in Florence. La Vespe Cafe is one of them, with a fun sort of American diner vibe. More quiet and laid-back, News Cafe also boasts good coffee.
"With the Alps a stone's throw away, Turin combines stately boulevards and cafe culture with easy-to-reach mountainside antics."
Monthly cost of living in Turin
The capital of Italy's northwestern Piedmont region, Turin is a cosmopolitan city. It's a charming mix of 19th-century neo-gothic grandeur and old Baroque styles. 
Some of the best universities and colleges in Italy are located here, making for a sizeable student population that means a lot of cheap eats and awesome nightlife.
Vanchiglia is a quiet spot that's near the city centre of Turin, and a decent place for nomads to base themselves. It's easy to grab a beer with locals here and soak up the history. 
Alternatively, the Quadrilatero is a young neighbourhood filled with small streets, different shops and bars – a cool area to live.
Pros of Turin
There's a cool cafe culture

The city itself is very pretty

It's close to the mountains
Cons of Turin
There are some not-so-nice sides to the city

Can get pretty cold in winter

Public transport isn't so good
Turin may be famous for being the home of the religious relic the Shroud of Turin, as well as the hometown of renowned European superstar football team Juventus, but there's more here than what everybody already knows. 
Turin is home to some incredible historic cafes: ornate affairs with mirrored and gold-slathered interiors.
Aside from the classic Italian stuff, Turin has a surprising urban art scene. Here it's easy to stumble across large, subversive murals decorating old buildings. Check out the Museum of Urban Art for more on that. On hotter days spend time relaxing at Valentino Park and Castle, alongside the River Po.
Turin's stunning heritage cafes obviously aren't the place to rock up with your laptop, so try out Toolbox Coworking. It's a cool place to work for any digital nomad: quiet, comfy chairs, community feel, super fast wi-fi.
"Known around the world for being the Italian fashion capital, Milan is a chic, modern metropolis for style-conscious nomads."
Monthly cost of living in Milan
A fashionable city at the foot of the Alps, and the second most populous in Italy, Milan is where it's at. It's the most cosmopolitan city in the country, is home to its stock exchange, skyscrapers, a famous football team (AC Milan, of course), and is known as globally as a city on the fashion map, with its own well attended Fashion Week.
Finding a place to live in Milan definitely depends on your budget; it's one of the richest – and most expensive – cities in Italy. 
The Porta Venezia has a vibrant student population, boasts 19th-century buildings and a thriving LGBT community. The Navigli area is also a good option – if you like your nights lively, that is.
Pros of Milan
There's a cool cafe culture

The city itself is very pretty

It's close to the mountains
Cons of Milan
Very expensive place to live

Not exactly a pretty city
Away from the modern urban side of Milan, there's a pretty good amount of history and culture to see. 
The historical quarter, with its palazzi and dreamy courtyards, is where you'll find scores of art galleries, museums, and churches; you'll even be able to glimpse Leonardo da Vinci's The Last Supper at Santa Maria delle Grazie refectory.
Looking for something more lively and present-day? Then head to the canals of Navigli, where bars and bistros spill out into the evening air alongside historic waterways for a decidedly decadent (and very fun) way to spend a night in Milan.
YoRoom Coworking and Office is a hip space to get work done; it's clean, modern and bright. There's also Campus Coworking Milano, right near the main train station, relaxed and a good space to interact with others.
"Spilling down the side of a ravine and onto the seashore, Amalfi is the glittering Italian coastal destination of your dreams."
Monthly cost of living in Amalfi
Quite literally where you'll be able to experience la dolce vita, Amalfi is the principal town in the Amalfi Coast area of Salerno on the west coast of southern Italy. 
It's a tangle of charming lanes, local characters, white-washed buildings, and steps leading to beautiful beaches.
The best places to live in Amalfi are apartments and houses tucked away down quiet streets, away from the crowds but still near to the centre. 
Whilst not the cheapest way to live in Italy, it certainly is one of the most charming ways to spend your days in this country.
Pros of Amalfi
Get to know more about the Italian coast

Picturesque landscape, charming town

Beaches and hiking aplenty
Cons of Amalfi
Amalfi isn't exactly cheap

Summer is crazy with tourists

Perhaps a little isolating
Made up of a lot of Moorish-influenced architecture, Amalfi boasts a stunner of a 9th-century cathedral – the black and white tiled Duomo di Sant'Andrea. 
There's also a belltower and pretty piazza linked with a wide staircase. Local shops sell local crafts like painted pots, handmade sweets and leather purses.
You will definitely have to share all this charm with the hordes of visitors who visit Amalfi and the surrounding area every summer. 
However, there's enough space in the nearby hills for you to enjoy a spot of peaceful hiking; or get away from it all at some off the beaten track beaches of your own!
A classy cafe with a lot of character, Pasticcera Andrea Pansa is a perfect place for people-watching with a coffee. The Silver Moon, on the Piazza Duomo, has reasonable prices, beach views and decent wi-fi.
"Fair Verona is famous as the setting for Romeo & Juliet and is a small, beautiful city for nomads who love to wander."
Monthly cost of living in Verona
One of the most stunning cities in northern Italy, there's an abundance of a lot of things in store for you in Verona. These include bridges, delicious food and regional wine, top day trips (to places like Lake Garda) and a whole lot more besides.
When it comes to a neighbourhood to live in here, there are some pretty good ones. Veronetta, with its large influx of immigrants and students, have led it to be nicknamed "The Bronx"; cool bars and a bohemian atmosphere. 
Elsewhere San Zeno is more of a quiet, family-friendly area, with laid-back markets and mix of architecture.
Pros of Verona
Interesting events like flea markets

The cafe culture here is cool
Cons of Verona
People aren't as open as in southern Italy

Air pollution can be an issue

Can feel a bit provincial
Verona may not be a top tourist destination, like Venice or Florence, for instance, but there are still a fair share of sights to amuse yourself within this city. 
Its bustling Centro Storico is a charmer, the 1st-century AD Roman amphitheatre is nothing short of incredible and the city's main piazza is a hub of cafes and boutiques.
There's enough on offer for fans of history and culture here, but fans of good times and a lively nightlife are also going to find Verona a pretty cool place to be; there's a vibrant student population here.
There a number of coworking spaces in Verona. These include Officina 18, which is a cool place with loads of events, and Verona FabLab, a community-feeling space with plenty of courses and presentations going on.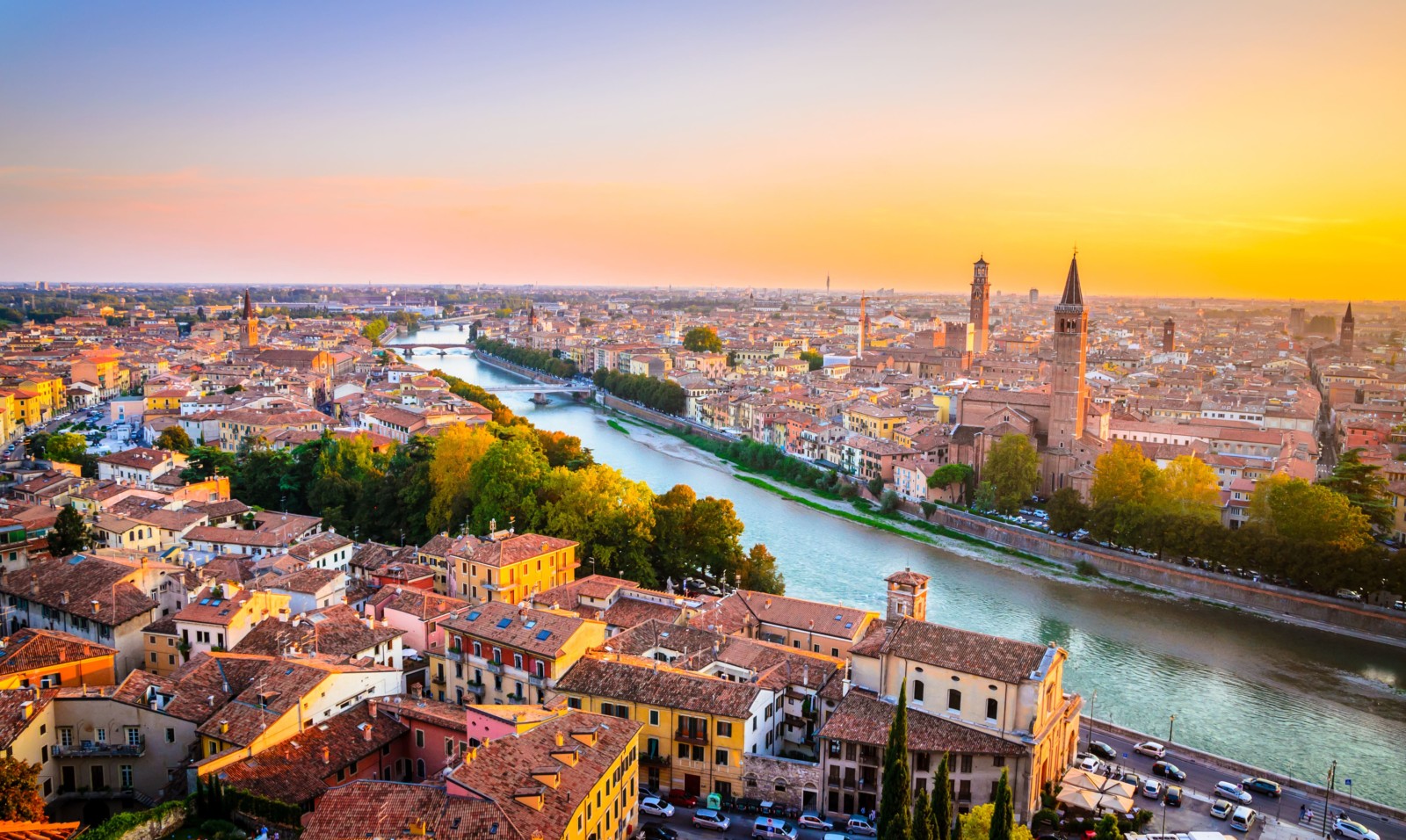 "With its capital city status, tons of history, international connections and exciting neighbourhoods, we ask: why not Rome?"
Monthly cost of living in Rome
Rome, the "Eternal City", boasts literal millennia of history, with layers upon layers of historic buildings making up the Italian capital today. 
Not only are there tons of museums and galleries paying tribute to its legacy, but famous landmarks like the Colosseum and the ruins of the Roman Forum also show how old this city is.
If you're looking for a cool, creative area to live in, then try Monti. Here you will find a load of independent businesses, as well as great eating and drinking. Hipsters should head to Pignetto, complete with all the trendy hang-outs you could ever wish for.
Pros of Rome
Local neighbourhoods to get lost in

Culture, culture and more culture
Cons of Rome
You'll always be seen as a tourist

Public transport isn't all that
There's some pretty cool stuff to be getting up to in Rome that doesn't involve being near the tourist sights.
However, places like the Piazza della Madonna dei Monti: where young people go to meet and chit-chat around the fountain here. Pigneto and San Lorenzo play host to some pretty cool live music venues and bars, too.
Rome is also home to a very tasty and very budget-friendly street food scene – get ready for delicious sandwiches, pizza (of course) and tasty desserts. And that's not even considering the top-class restaurants dotted around the city.
Rome isn't short of places for you to get work done. There's Impact Hub in San Lorenzo (all about community, exchanging ideas), COASTER (easy hourly rates) and CORTE (professional space), to name a few.
"A big, bustling university city full of young people who want to enjoy life, Bologna is on the up for fun-loving nomads."
Monthly cost of living in Bologna
Like most, if not all, Italian cities, Bologna comes complete with a whole load of culture, history and good food – mostly centred around the Piazza Maggiore. 
This is the city's historic core, with plenty of old buildings and terrace cafes surrounding the square, as well as the Basilico di San Petronio (built in 1393).
La Dotta is a cool place to base yourself in Bologna. This is where you will find many of the university's oldest buildings (it's the oldest university in the West, by the way, founded in 1088). For something more lively, Via Zamboni has an exciting student scene, with cool cafes and a fun atmosphere.
Pros of Bologna
Home of bolognese and other great food

Liberal, open, left-wing city

Good for lovers of nightlife
Cons of Bologna
Hard to know get to know real locals; so many students

There's a sizeable homeless community

Summer is sweltering, winter is freezing
You can take in views of the city from the Santuario di Madonna di San Luca, a beautiful spot constructed on a hillside in 1785. 
For something a little bit different that isn't looking at buildings, why not go in the buildings? Le Stanze is a bar set in a 17th-century chapel, for example.
For those who like their nightlife extra lively, there's Kinki. This is often cited as one of Italy's best clubs; even Jimi Hendrix played here back in the day.
Hit up Nuntiabo, a large coworking space with a professional atmosphere in the centre of the city; or cutely named Work in Progress Coworking Bologna – comfortable, positive, relaxed.
"Living in the medieval town of Siena, nomads will get to live out their very own dream of a laid-back life in Tuscany."
Monthly cost of living in Siena
Romance, brick-built medieval buildings, and a history dating back to the pre-Roman Etruscans, this city may not be one of the most exciting in Italy, but it's definitely up there as one of the more charming of Italy's urban centres. The weaving lanes are perfect for getting lost and discovering the city for yourself.
Siena is a small city where you'll get to live next door to locals and get into the rhythm of everyday life. 
Find a place to stay near the city centre in the old town, or at least in walking distance; living further out of the city you won't be able to soak up as much of the traditional life.
Pros of Siena
A very, very charming city

Tuscan treats to eat/drink

More chilled than other cities
Cons of Siena
Might be too chilled for some

Lots of tourists in summer
The Piazza del Campo is the centre of the city, as it has been for centuries. Facing the square is Siena's cathedral; built in a combination of architectural styles with marble and mosaic floor, it houses works from greats like Donatello and Michelangelo.
The city is also known for its biannual horse race, the Palio, which takes place every July and August. Otherwise spend time eating pici, thick spaghetti-like pasta, and wash down with a glass of wine from Montepulciano.
There's coworking in Siena; check out Multiverso Siena, an easygoing office space, and Centro Studi Pluriversum, a quiet place with a lot of charm set inside a historic building.
"Often overlooked, Lucca is a walled city with a lot of heart, Tuscan beauty and a great spot for exploring further afield."
Monthly cost of living in Lucca
The pedestrian-friendly city of Lucca is all cobbled streets and little lanes, with locals living out their life at a truly Italian pace. Keen cyclists will love it here: many locals do, and there is even a bike route that runs around the top of the old city walls, which is super cool.
Lucca is a great choice for excursions (to the coast, north to Cinque Terre; or to neighbouring Pisa, and Florence). Living here is all about choosing somewhere within the walls of the city itself if you really want to feel part of this charming old town.
Pros of Lucca
Fewer tourists than other cities

Great for walking and cycling

Beautifully maintained parks
Cons of Lucca
Can feel very old fashioned

It could get pretty boring

Not a lot of nomads to meet
To get a good view of the city from on high, head to one Lucca's two towers – either the Torre del Guinigi (14th-century, gothic, 45m high) or the Torre del Ore, a pretty magnificent clocktower dating back to 1390 and complete with a legend about a woman selling her soul to the devil. Spooky.
Photographers will be amazed with the never-ending gems of small streets, all painted in an array of yellow, orange and turquoise. The aesthetics here are on point.
For a good coworking space, go to the Spazio Libero, which is just outside the old city walls and has games rooms. Otherwise, Cafe Gabry is an affordable place in the Piazza del Salvatore: local, friendly, good wi-fi.
Final Thoughts on the Best Places to live in all of Italy
There you have it. We have finally come to the end, those were the best places to live in Italy.
There sure are some awesome places to base yourself in this storied nation: from your very own slice of the dolce vita by the sea, all the way to the frantic hustle and bustle of Rome, and charming medieval towns in between.
Choose the Tuscan lifestyle of Siena, or go where the fashionistas are in Milan – it's up to you. Wherever you choose, anywhere in Italy will be just fine lovers of food, culture, and wine.
Enjoy planning your Italian sojourn!
Looking for more great Digital Nomad content?
***Disclaimer*** Some of the links in this post are affiliate links. This means that if you use our links, Nomads Nation will earn a small commission at no extra cost to you. Thanks for the love and support!