Nomatic Backpack vs Travel Pack vs Travel Bag
There's a good chance you've already heard of Nomatic – they're the guys known for making AMAZING travel bags.
But did you know that Nomatic have made three distinct types of travel bags? 
Whilst these three products share some features and even look very similar, there are some huge differences between them that you need to know about. 
So how are you supposed to pick the best one?
Don't worry traveler! That's exactly why we made this Nomatic Backpack comparison review!
In this insider guide, we describe and compare every last feature of the four Nomatic Packs – so you can easily pick which one is best for you (and your budget!)
Which Nomatic Backpack
is best for you?
While all of the Nomatic Products are unique and posses features that the others don't…. which is reflected by the kind of trip they were built for (think how many nights), they also share a TON of similar features.
Combined, these shared features are largely what gives Nomatic the reputable function, usability and design for which they are so highly praised.
So, before we delve into the defining features of each individual Nomatic Pack, let's take a look at what they have in common. Here it be:
#1 - Digital Nomad Friendly:
Laptop and Electronic Device Compartments
One of the reasons we really dig Nomatic is because their products are designed for people who work online and all their awesome Digital Nomad gear.
Bag lay flat laptop and tab compartments make it extremely easy to access your devices – perfect for checkpoints and quick access.
The Nomatic Products all have a laptop sleeve for a 15-inch laptop, whilst the Nomatic Travel Pack and Nomatic Travel Bags also feature an additional pocket for a tablet. 
It's insanely handy to be able to keep your treasured electronic devices separate from the rest of your items – not just for ease of access, but also to protect your laptop from any bumps or scratches that it could receive if rubbing against other items. 
Because the electronic device compartment is at the back of each nomatic product (closest to your back), this also means that other items packed in front provide some level of padding protection, although we'd still recommend keeping your electronic devices in their own protective cases.
In addition to this, the laptop sleeves are all TSA (Transport Security Administration) Friendly.
What this means is you won't have to take your laptop out of the bag when you go through the X Ray Belt at Airports (Provided you've packed it correctly with nothing else in the laptop sleeve and nothing below or on top of it).
Ok, so maybe it feels like we're exaggerating when we say this…but this is an absolute life saver! Seriously, just you wait until next time you do have to go through an airport security check. 
The whole experience will be infinitely smoother. You won't have to hurriedly yank your laptop out and find a second basket to put in – then awkwardly race to get it back in the bag on the other side as countless other peoples bags come raining down on you like meteorites did to the dinosaurs. 
Simple. Check. Helpful. Check. Epic. Check. 
#2 - Additional Compartmentalisation
Sure Nomatic Packs all feature a dedicated compartment for your electronic devices…but there's so much more to the Nomatic Compartmentalisation than just that.
All the Nomatic Packs have a zipper around the side, which when opened allows clamshell access. 
This makes packing much more efficient as you can see everything you've so far packed and have great ease of accessibility – perfect for when you want to change the order of your packing around without starting from scratch.
The bags also have a traditionally orientated zipper at the front, absolutely loaded with pockets, folds and dividers – say hello ultimate belongings segregation. 
There is also a front access pocket for essential items that you need to access quickly and  both sizes of the Nomatic Travel Bag have a side pocket for your notebook and pens. 
With so many pockets, dividers and compartments it has never felt easier to divide and segregate your various categories of belongings such as clothing (clean/dirty), tech,  accessories and toiletries. 
This is a real selling feature of the Nomatic Bags. They've been designed with digital professionals in mind and as such it's essential they allow excellent ease and efficiency or organisation – which they excel at. 
#3 - Weather Resistant Materials
Picture this: you're on the road – just you and your trustworthy Nomatic Pack – you don't need friends because you have eachother. Then the sky rumbles and cracks apart. You start to get wet as it rains.
Rest assured that even if you don't, everything within your bag will stay totally dry!
Why? Because the exterior of all four Nomatic Products is 100% waterproof tarpaulin material (just like the Peak Design Everyday Backpack). This, combined with the fact they all have reinforced stitching, makes them extremely durable. 
We're not saying you should sink any of them to the bottom of the ocean or throw a grenade at them… not unless you have a submarine or explosion resistant armour anyway.
Ultimately, these products are designed for urban use and would not be as well suited to a hard outdoors camping excursion as other backpacks we've reviewed.
But for a multi-day, all weather urban venture in which you find yourself simultaniously living out of the Nomatics clothing and toiletry compartments whilst also working from it's tech compartments and getting about, these products are immensely reliable. 
#4 - Lifetime Warranties:
Still not convinced on the reliability of the Nomatic Travel Products? Never fear! Nomatic offer a full 100% customer satisfaction guarantee. What does this mean? It means they will fix any defects of their responsibility free of charge!
Or if you're simply not satisfied with the product (spoiler alert, we doubt this is going to happen, so long as you've used our guide to make sure it's the right one for you), you can send it back and get a 100% full refund! Not bad eh?
The two smaller products – the Nomatic Backpack and Nomatic Travel Pack are both great for daytime use due to their conveniently slim dimensions.
The one downside of this otherwise great feature is limited space – but to counter this, the Nomatic Backpack and Travel Pack both have a really neat trick up their…bag…sleeve. They can expand!
Whilst both start at 20L Carrying Capacity the Backpack expands to 24L which is adequate for a couple of days, whereas the Travel Pack goes to 30L; which if you're tactical could serve your travel needs for 4-5 days.
Neither sizes of the Nomatic Travel Bag expand – but because they are already the larger Nomatic Products 30L and 40L, there really is no need. 
#6 - Cord Organizer for On-the-Go Charging
Digital Nomads and Tech Lovers; you're going to absolutely love this. The Nomatic Backpack, Travel Pack and Travel Bag 30L all feature Cord Pass Through holes between every one of their compartments allowing you to easily pass charging cables through them.
What this means is that you can keep your laptop safely in the computer pouch, while having it linked via a charging cable to a portable battery that you're storing in the accessories compartment! (More on that in just a moment).
This is an electronic professionals dream come true, because is means you can charge all of your electronic items with power devices while on the go!
Not bad when you realise that your device is out of charge and want to have it fully powered by the time you get to your work destination!
(Because you know Melvin will always be there just two minutes before you to get the last space by a charging port. God damn you Melvin. We hate you so, so much Melvin) 
#7 - Electronic Accessories Compartment
Maybe you're thinking: surely there's no other way a bag could be even more tailored towards the digital traveler – but you'd be wrong!
You see, all the Nomatic Products boast an entire compartment for storing your electronic accessories, located on the front. This consists of multiple mesh and elastic pockets for cords, power banks, and other small items.
We found this insanely useful especially when used in conjunction with the cord organiser. There are other compartments for your non-electronic devices to – more on that later. Alright, fine, we'll do them now:
#8 - Lockable RFID Safe Pocket
Located on the other side (the inner side) of the accessories compartment, this is the perfect place to keep scannable items.
What the hell is RFID safe, you ask? In today's age of ever increasing technology, it's actually possible for your credit cards to be scanned whilst still in your bag or pocket – allowing crooks to get their hands on your vital financial information.
Unless, of course, you keep your scannable items (credit cards, personal ID cards, etc.), in an RFID safe accessory – in which case, those criminal scanner jerks can't touch you!
This is a really reassuring feature to have on any kind of backpack, so we're stoked Nomatic has included this invaluable security in every one of the Nomatic Packs. 
Below the Lockable RFID safe pocket is a dedicated stash with yet more pockets to keep your notebook, pens, documents, and other stationery in multiple mesh and zip pockets.
Trust us – even if you're a tech junky, having an actual physical page to jot down quick notes can be a godsend, as it allows you to mentally separate different information sources and prioritize between them. So we're really glad Nomatic have included space for this to. 
As the Nomatic Products get bigger, there are increasingly more spare pockets interspersed throughout the various other comparments. 
#10 - Special Pocket for Other Quick Access Items
There is also a velvet lined pocket on the top of each Nomatic Pack where you can store your phone, keys, wallet, and other quick access items.
Having this located right at the top of the bag is definitely the right move in our opinion; the kinds of items you'll be keeping here are the ones you'll want to be able to get out as quickly as possible.
So, by keeping them in this pocket right by the bag handle, you can reach them in a flash. It might just be the difference between life and death! Hopefully not, but you see where we're coming from. 
#11 - Water Bottle Pocket
Both the Nomatic Backpack and Nomatic Travel Pack sport a Magnetic Water Bottle Pocket, which snaps shut when unfilled. This fits in really nicely with the compact, space efficient design of these two smaller nomatic products. 
The Nomatic Travel Bags have a water bottle pocket which is a waterproof zip compartment, again located on the lower side. 
Because Nomatic Products are designed for the on the go digital nomad, it's great to see that said digital nomad can also stay hydrated in order to keep smashing life!
Each Nomatic Pack has a Roller Bag Sleeve that allows you to effortlessly slide it over a roller, in order to connect it to larger luggage.  
This really is a lifesaver when you have more than one item of baggage – you'll have more free hands and reduce carrying strain on your back. Thankyou very much Nomatic.
#13 - Can be Carried as Backpack OR Duffel Bag
In addition to the customisable backstraps of each Nomatic Pack, they all also come with a side handle. This allows you to carry them like a duffel bag.
Sometimes a duffel bag carry just feels more appropriate – like when you're at the gym, whereas others – such as when you're on the train or walking to work, you most likely prefer a backpack.
Honestly; we discussed this feature amongst ourselves and several of the gang admitted to having two main bags – one a backpack and the other a duffel bag.
But with the simple addition of a side handle, the Nomatic Packs eliminate the need to splash out on a backpack and a duffel bag. This way, you only need one bag –  so long as it's a Nomatic one. 
Check out our EPIC Nomatic Backpack review below!
With 20 – 24L Carrying Capacity, the Nomatic Backpack is the smallest of the four Nomatic Bags.  This makes it the best bet for short excursions like going to the workspace or a day out in the City. 
Because it can expand by an additional 4 litres, it's also perfectly adequate for two day trips or even three when packed sensibly.
This expanding feature is shared by the Nomatic Travel Pack which also starts at 20L but can expand out to 30L. 
Quick Answers: The Nomatic Backpack is

PERFECT

for you if...
Quick Answers: The Nomatic Backpack is

NOT

for you if...
Unique Nomatic Backpack Features
Feature #1
A Removable Hard Protective Shell for sunglasses and other fragile items is included as a nice little freebie with the Nomatic Backpack. 
#2 – Removable Laptop Sleeve
Not only is the tech storage part of the nomatic backpack compartmentalised… it can also be removed which leads to excellent ease of access and organisation. 
Feature #3 – Cord Pass Throughs
Truly, the Nomatic Backpack was sculpted for digital nomads. Cord pass throughs connect every compartment within this epic bag, allowing for on the go charging of your electric devices no matter where in the pak they are. 
Check out our EPIC Nomatic Travel Pack video review below!
At 20 – 30L Carrying Capacity, the Nomatic Travel Pack is halfway in size between the Nomatic Backpack and the Nomatic Bag.
Its function: a digital professional's dream day bag that can expand to become a digital nomad's dream two-four day travel bag! 
The Nomatic Travel Pack is PACKED (sorry we couldn't resist) with a whole range of great features, which make it as convenient to live out of (think clothing, a bottle holder and toiletries compartments) as it is to work from (now think tech storage, cord pass throughs and weather resistance). It is the ultimate travel companion for Digital Nomads. 
Quick Answers: The Nomatic Travel Pack is

PERFECT

for you if...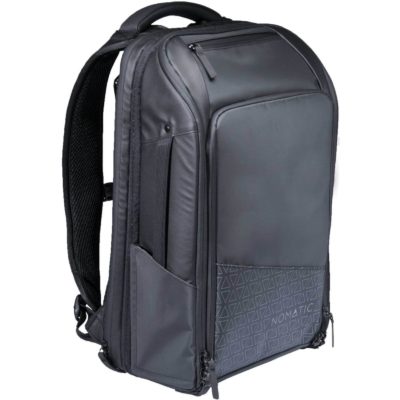 Wait, what!? We just totally contradicted ourselves there, right?! We said this bag was perfect for both four-day excursions and as a day bag! How can this be? Are we trying to cut corners and big up a bag as two things?
Of course not. It's actually way more fun to tear a backpack a new asshole (or should we say pocket?). But on this account, we cannot fault the Nomatic Travel Pack.
You see, this little pack has one of the hands-down coolest features we've ever seen on a backpack: the Nomatic Travel Pack changes it's carrying capacity.
That's right, you can actually increase the capacity from 20L (perfect size for day excursions) to 30L (for those four-day adventures)! This is why it's one of the COOLEST backpacks for Digital Nomads.
This gnarly trait is also seen on the even smaller Nomatic Backpack which expands from 20L to 24L.
Quick Answers: The Nomatic Travel Pack is

NOT

for you if...
Unique Nomatic Travel Pack Features
Feature #1 – Cord Pass Throughs
The Nomatic Backpack was sculpted especially for digital nomads and this particular feature is just for them.
Cord pass throughs connect every compartment within this epic bag, allowing on the go charging of your electronic devices no matter where they are. 
Feature #2
A Removable Hard Protective Shell for glasses and other fragile items is also included. 
How many times have your favorite sunnies been bent because you forgot or lost their case? Thanks to this neat little gift from the Nomatic Travel Pack, those days could well be over
Feature #3 – Mesh Dividing Wall in Main Compartment
Having a mesh dividing wall in the Nomatic Travel Packs main compartment achieves military level segregation and organisational layout. Basically, if you're a massive nerd and a sucker for time saving efficiency – you're going to fall in love with this handy feature. 
Coming in two sizes – 30L and a hefty 40L, the Nomatic Travel Bag is the largest of all the Nomatic Packs. Nomatic recommend the 30L for five to six day trips and the 40L for seven day trips.
However, as a group of die-hard travellers, we've found both to be capable of lasting for a much longer time, provided you apply a slightly minimalist approach when cramming stuff in.
Given it's size, it's no surprise that the Nomatic Travel Bag has the most features. Check them out in the blue "Why you should buy a Nomatic Travel Bag" section below. 
Quick Answers: The Nomatic Travel Bag is

PERFECT

for you if...
Quick Answers: The Nomatic Travel Bag is

NOT

for you if...
Unique Nomatic Travel Bag Features
Feature #1 – Ventilated Shoe Compartment
We love this. Both Nomatic Travel Bags have a Ventilated Shoe Compartment – you can let gear breathe with the ventilated pocket or keep it dry with the waterproof flap. 
Having an easy place to store a spare pair of shoes is a lifesaver at the gym or when you need a casual and a smart pair of shoes for one trip. 
Feature #2 – Laundry Bag (Nomatic Travel Bag 40L Only)
The Nomatic Travel Bag 40L version has it's own unique feature – and it's a very convenient one indeed: a laundry bag.
Being able to separate your clean and dirty clothing is an absolute godsend on the road.
In addition to ensuring you don't wear your pizza stained slop-bottoms to that vital meeting, you'll also find it much, much easier to stay organised. 
It's detachable and has a hook for hanging from the nearest door!
Feature #3 -Roller Pack Sleeve
The Nomatic Travel Bag's inbuilt roller pack sleeve means that you can effortlessly slide your bag over the top of the handle of your luggage.
This is seriously handy when you do have other luggage – especially for airport and taxi ques, as it frees up hands space and also stops you getting weighed down!
Designed with a single shoulder strap, the Nomatic Messenger Bag is an extremely light and minimalist day bag for the digital professional.
In terms of features and specs it's completely different to the other Nomatic Packs – so much so that we've created an entirely separate Nomatic Messenger Bag Review. 
Not so long ago, Nomatic was a nonsense word that meant nothing and was said on the tongues of no one (besides, perhaps, really drunk people trying to say "no matter").
Why? Because it didn't exist. And then – BAM! All of a sudden, Nomatic exploded out of the woodwork, to become one of the most critically acclaimed bag making brands out there. Why?
Because Nomatic have a truly admirable mission: to create Top Quality products that are as versatile as they are functional, without cutting corners. 
Nomatic's commitment to quality, originality, and their instantly recognisable sleek design has earned them a tremendous amount of respect on sites like IndieGoGo and Kickstarter. How much? How about three million!
Still reading!? Great, that means this is probably the perfect backpack for you – let's dive a bit deeper!
Features and Compartmentalization
 If you are the kind of chaotic traveler who easily loses stuff, sucks at organisation, or just need some kind of blueprint for how to sensibly pack your gear/life, than these Nomatic Packs are for you.
They have numerous of compartments for segregating your items, which, in addition to making it far easier to keep track of where everything you've packed actually is, also speeds up packing and unpacking time significantly.
By having dedicated compartments for technology, clothes, valuables, and accessories, this maximises packing efficiency and saves space, allowing you to cram as much in as humanly possible, without  the feeling that everything could come bursting out spectacularly from the faintest tug of a zip.
The range of options for the Nomatic Bags is staggering; both between different bag types and thanks to the customisable options within each bag like volume expansion, adjustable straps and the ability to attach it to a roller bag handle. 
Honestly, you don't see such versatility with a lot of other travel bags and in our opinion it's one of the best and most distinguishable features of the Nomatic Bags.
Digital Nomads are often people who work by their own schedules and life habits, which entails being able to mould life essentials – such as travel bags, around one's own unique lifestyle.
By carefully selecting the right Nomatic Bag for you and then tweaking it accordingly, you'll be able to customise the ultimate travel companion for your own specific need and preferences.
It's not just versatility and great internal organisation that makes the Nomatic Bags a Digital Nomads lifeline.
More specifically, the specialist features exhibited across the bags have been carefully designed with frequent tech storage and use in mind. 
With their dedicated technology compartments like the TSA Ready Laptop Sleeve, separate Technology Accessories Pockets; one of which is RIFD Safe and the amazing Cord Pass Throughs (found in all models besides the Nomatic Travel Bag 40L)…
…the Nomatic Bags make storing, organising, and charging your technology easier than ever before.
But the whole point of being a digital nomad, is that you do more than just work. You also live, baby!
That's why, the Nomatic bags continue to maintain exceptional internal organisation in the living and clothing sections of each bag. 
To ensure this, the Nomatic Packs increase in size with the length of duration for which they were intended – with larger bags also having more handy travel features.
Feature such as Mesh Dividing Walls (Nomatic Travel Pack), Vented Shoe Compartments (Nomatic Travel Bag 30 L & 40L) and Removable Laundry Bags (Nomatic Travel Bag 40L), 
Going away for more than a couple days – more than the Nomatic Backpack can support you for? No problem! Just take a bigger bag, with more clothing space; like the Nomatic Travel Bag. 
There's no denying it – these Nomatic Packs looks sexy as… (well, considering they are bags).
As we have already mentioned, whereas there is considerable internal variation between these four types of Nomatic Bag, externally they look very similar.  
All of them sport the instantly recognisable sleek dark grey, minimalist design of Nomatic Travel Bags. We're not guaranteeing this will get you laid, but it just might.
Slung down by your desk the Nomatic Bags maintain a classy, professional appearance whilst still looking rugged and tough enough to stop you from coming across as some kind of frilly bag dweeb. 
In todays society, first impressions really are important and even a tattered, impractical or overly casual bag can spoil this. With the Nomatic Bags however, you'll always look ready to make money and get shit done. 
The adjustable strap system featured on all the Nomatic Packs, allows you to customise the perfect fit for your body type.
This is insanely important considering that the overall comfort of your backpack, ultimately affects how much you'll really use it.
In addition to this, the back piece is designed to add extra back support. Even the material is soft and warm to run your fingers over.
Going further and taking into account the extra weight you'll have slung across your back with them, the Nomatic Travel Pack and Nomatic Bags (30L & 40L), also tote removable waist straps, which offers great additional support.
You can carry any Nomatic Pack on your back with the straps,  or opt to carry it like a duffel bag using the side handle or attach it to a roller bag. Three modes of carrying – nice!
The weight distribution and balance of these Nomatic Travel Products, when organised properly, is a thing of beauty. You can stand them upright and even unzip some of the front pockets without them falling over.
This really adds to the comfort when they're on your back, as well as making it easy to put down and store without it awkwardly toppling over like a sack of sad potatoes (yes, potatoes get sad too).
We've already discussed at length how much we love the main features of these bags – like the internal compartments, tech storage and mesh zip pockets for clothing. You can check out the full features list of each Nomatic bag in it's assigned review section, above. 
But something we want to add, is how all of the Nomatic Bags, in addition to their shared and unique features, are also brimming with countless additional pockets.
Pockets for notebooks, stationary, papers… pockets for cables, sunglasses and miscellaneous things.  It's all there and it's going to make organising your stuff a breeze. 
Laptop Sleeves are TSA Friendly
TSA stands for Transport Security Administration and being friendly to it basically means your backpack has a laptop designated region with no metal snappers, zips or buckles that you can lie flat on the X Ray Belt.
So long as it's packed properly, with nothing in the laptop compartment besides the laptop as well as nothing below or above it, you won't have to remove your laptop when it goes on the X Ray Belt at airport security. 
This is super handy for saving time and also looking incredibly slick as you smirk at all those poor fools fumbling to get their laptops out their bags at the security check. The utter buffoons!
Still Room for Improvement in the Comfort Department
 The backs of these bags do tend to get very hot, due to the material from which they are made, as well as the design of the back support. 
You'll notice this more when doing longer treks in hot environments, although in fairness that wasn't really the kind of activity these bags were designed for. 
Still, we hope that at some point, Nomatic will tackle this issue, as from a comfort perspective, it does detract from an otherwise perfect backpack.
Inefficient Bottle Holder on the Nomatic Bags
Ok, so the Magnetic Snap Shut Water Bottle Holder on the Nomatic Backpack and Nomatic Travel Pack is pretty straight forward to use and allows easy access.
However, for the Nomatic Bags, the water bottle holder is placed in such a way that it's not easy to grab your bottle from it on the go and even if you somehow manage, you still have to stop and flip the bag around in order to undo the zips.
This can be a little irritating when you want to swig from your bottle without stopping.
We are glad it's the smaller bags that have easy access bottle holders though – due to their intended use as day bags, it's more likely you will be wanting to drink on the go with these than you would for the Nomatic Travel Bags. 
Still, for future improvement, we'd like to see the easier access water bottle holder across all the Nomatic Packs. 
Technology Compartment Limits Size of Laptop
Don't get us wrong; we love the laptop sleeves, and so will you –  provided your laptop isn't much bigger than 15-inches. Otherwise, you won't get to use it. Simple as that. 
Because of their waterproof coating, the zippers do get a little sticky when wet, which can lead to some resistance when trying to zip up the bag. 
This really isn't a major hindrance and I've never been unable to open or close any of my own Nomatic Bags… but at NomadsNation we do love to criticise wherever possible and we just couldn't resist this small opportunity. Take that Nomatic!
Cord Pass Throughs could be More Efficient
In the cord organiser pouch, the direction of the zippers is backward, which is the opposite direction to the sections for threading on the bag. Ideally, they would be on the same side in order to minimise slack on the cords. 
But, this wont stop you from effectively utilising the Cord Organiser to charge your tech in your bag whilst on the go – which is still a huge advantage.
Because the Nomatic Packs were designed to be some of the best laptop backpacks ever made, this means that most of the weight needs to be distributed in the laptop section. No laptop = bag is likely to fall forwards. 
If you've got some external batteries and notepads in the front, don't even think about trying to stand the bag up on the ground. 
This can be a little frustrating, as it's not exactly easy to look smooth when you pop your bag down at your desk and it then keels over and trips up your coworker.
Especially when that tripped coworker then makes a snide comment, forcing you to have to pour the rest of your drink over them in front of everyone else and thump your chest like a gorilla in order to visibly maintain your dominance. Awkward.
Awesome Nomatic Accessories
We've already covered how these epic bags come with all manner of free accessories – like a sunglasses case for the Nomatic Backpack and Nomatic Travel Pack as well as the Laundry Bag for the Nomatic Travel Bag 40L. 
But, did you know that there's a whole range of other accessories made specially for the Nomatic Packs – that make living out of them even easier and more organised than before?
You can purchase these separately or, when buying your bag, buy it as part of a pack that includes the bag and the accessories. 
Let's take a look at what these Nomatic Accessories are as well as what we make of them:
This was designed specially to help you pack more clothes in less space. It fits perfectly in any Nomatic Pack and has two compartments – a side for clean clothes and a side for dirty ones.
When used in combination with the compartmentalised clothing pocket, you get insane organisational options for your clothing. 
The full perimeter zipper gives easy access from all sides, which is a neat feature for super-fast packing and unpacking on the go.
The compression packing cube also comes with a retractable key leash, perfect for making sure you are able to get back into your house when you return from your Nomatic Travel Pack excursion.
It's made from Rip Stop Nylon which is durable, strong and able to last the tests of time
Plus, a central parameter zipper actually allows you to compress the cube down to three and a half inches when it's not full. 
The Nomatic Toiletry Bags are made from tough and water-resistant materials and zippers. This is essential for ensuring there are no leaks and your toiletries stay protected, as well as for easily cleaning spills and toothpaste residue.
With a hook connected to an adjustable strap, you can hang it from nearly anywhere with great ease as you dive in and out to use your things.
There's also an exterior toothbrush pocket and a versatile interior pocket – it's never been more easy to keep your toiletrys so organised.
You can get the Nomatic Toiletry Bag in two sizes: small and regular. We recommend going with the small toiletry bag for Nomatic Backpack and Nomatic Travel Pack and the large one for Nomatic Travel Bags).
The Nomatic Vacuum Bag is designed to help you pack more in less space, similar to the Nomatic Cube or Laundry Bag.
However, it's even better at saving space than the cube or laundry bag! Why?
Firstly, it has an air valve which you can use to compress clothes and soft goods, thus condensing their overall volume. 
Secondly, when not in use, the Nomatic Vacuum Bag can be scrunched up so tight, that it barely takes up any space whatsoever. 
It also makes a really good place to store wet or dirty gear when travelling, in order to keep your other valuables separate and clean.
For those amongst you who need to look smart from time to time – whether for important work meetings, epic photo shoots or hot dates: Nomatic have the answer.
The Nomatic Shirt Organiser is designed to keep your shirts and pants organised and in doing so, help prevent wrinkles in them. 
You can use the included plastic folding guide in order to quickly and easily fold your shirts and pants so that they fit perfectly within your Nomatic pack. 
Characteristically Durable (as are all the Nomatic Products) and able to store up to 5 items, the Nomatic Shirt Organiser finally overcomes the backpackers dilemma of being unable to keep smart on the road.
Travelling and looking slick – previously an almost impossible combination, is here.
The Nomatic Laundry Bag was created to keep your dirty clothes organised so that you don't have to.
Made of Breathable Mesh and featuring a Collapsible Wire Frame, it's extremely easy to store away in your bag whilst taking up minimal space when empty. 
When it's unpacked you can expand it and use the Hanging Strap to attach it to a door knob. Then, when it's full simply fit it back in your bag, keeping your dirty and clean clothing separate. 
In essence, having the Nomatic Laundry Bag is like having an collapsible laundry basket that you can take with you on your travels and that's why this is one of our favourite Nomatic Travel Accessories of all time. 
This actually comes for free with the Nomatic Travel Bag 40L, but you'll have to buy it separately if you want to use it with the Nomatic Backpack, Travel Pack or Bag 30L. In our opinions, it's well worth it. 
Ok, so the Nomatic Travel Pack and the Nomatic Travel Bag 30L and 40L all come with the waist straps. 
However, the Nomatic Backpack does not…but the waist straps are totally compatible with it and can be bought separately. 
They are designed to support the weight of the backpack carry, helping the user to stay more comfortable on the go. 
The fact that these Waist Straps are padded really helps with the added comfort – plus they come with Zipper Pockets which are extremely useful for storing small items in a quick access and easy to remember location. 
Because the Waist Straps are Easily Removable, you are not limited to them after purchase. The sleek design and tough, water resistant materials used to make them, means that these Waist Straps make an excellent companion to any Nomatic Pack. 
Final Thoughts on Nomatic Products
There you have it!
There is no bigger Nomatic review on the internet – we guarantee it!
We know that with the help of this article you'll be able to easily pick which Nomatic Bag is perfect for you and your travel needs!
So … which one are you going to get? The Nomatic Backpack? The Travel Pack? The Travel Bag?
Let us know below in the comments which one you bought!
Travel on Nomads.
Looking for more great Digital Nomad content?
***Disclaimer*** Some of the links in this post are affiliate links. This means that if you use our links, Nomads Nation will earn a small commission at no extra cost to you. Thanks for the love and support