10 BEST Places to Live in Mexico (Updated 2023)
If there was a list of 'hot' countries where expats, and Digital Nomads are relocating to – Mexico would likely be at the top of that list!
But as the 14th largest country in the world Mexico is HUGE, and each city has its unique charm and vibe. Deciding where to set up camp can be a challenge.
So to help you we compiled this EPIC guide to the 10 best places to live in Mexico. 
Mexico has a reputation of being dangerous in certain areas, but truth be told it's an amazing country, and if you use due diligence, the chances of something happening to you are very low.
Cautious behavior – however – does not prevent you entirely from emergencies, for example breaking your ankle on a run, getting food poisoning, or being involved in an accident.
To feel safe – healthwise AND financially, we strongly recommend you sign up for worldwide travel health insurance. Genki offers two health insurance types, one travel health insurance, and one international health insurance.
Genki Explorer is your travel health insurance that covers you in Mexico and in all countries in the world. Monthly subscriptions start as little as €39.30 and cover emergencies and medically necessary treatments while traveling.
Genki Resident is your holistic international health insurance that includes everything from emergencies, medically necessary treatments, preventive care, as well as alternative treatments, and much more.
"Mesmerizingly vibrant Mexico City is the oldest city in the Americas and is bursting at the seams with cosmopolitan culture, amazing architecture, and vibrant nightlife, making it a top place to live in Mexico"
Monthly cost of living in mexico city
cost of rent in mexico City
For those of you who want to be immersed in the buzz of the city, Centro Histórico is the best place to live in Mexico City. Up to five million people visit the area every day to work and play.
Bohemian areas, like the tree-lined lanes of La Condesa and neighboring Roma, are where it's at for foodies and fans of fashion, and it is home to the beautiful Parque Mexico.
Pros of Mexico City
Huge amount of great food
Cons of Mexico City
More expensive than rest of Mexico

Some areas have high crime rates
Mexico City is home to 12 million people, and with a huge population comes a high level of crime – not everywhere in the city is safe.
The city has done a lot to curb crime and most places feature numerous cool hangouts, pretty parks, and social spaces, which make the city one of the best places to live in Mexico.
There's a multitude of workspaces for digital nomads across the city; a quick online search will bring up some top spots near you. The Facebook-owned Portaal Coworking Space in Roma is FREE (believe it or not), and a cool environment in which to get some work done.  
"The popular resort town of Puerto Vallarta on the Pacific coast is where you should head if you want to splash in the surf, drink in late night bars, and discover historic cobbled streets."
Monthly Costs of living in Puerto Vallarta
Cost of rent in Puerto Vallarta
With its warm climate and stunning beaches, this is a fun and friendly place to live. The Romantic Zone and Old Town might get busy with tourists, but a little further out of the center, you'll find local life and great accommodation choices.
The friendly Agua Azul area is a quick bus ride from the center; this is where you'll find a slower pace of life and beaches that are practically tourist free.
Pros of Puerto Vallarta
A whole host of beaches to laze on

Delicious local food to eat
Cons of Puerto Vallarta
Not so many places to work in

It can get busy with tourists

Have to rely on local bus network to get around
This is the ideal spot for people who want to enjoy their days off next to the sea, snacking on fresh seafood and chatting to friendly locals. The only downside is the hassle you might get in the more touristy parts of town.
There's plenty of affordable accommodation and a large expat community to get involved with.
The city isn't quite up to speed when it comes to getting online, but there is a selection of spots that are good to work from. Your best bet is to get yourself an Airbnb with internet included in the bills.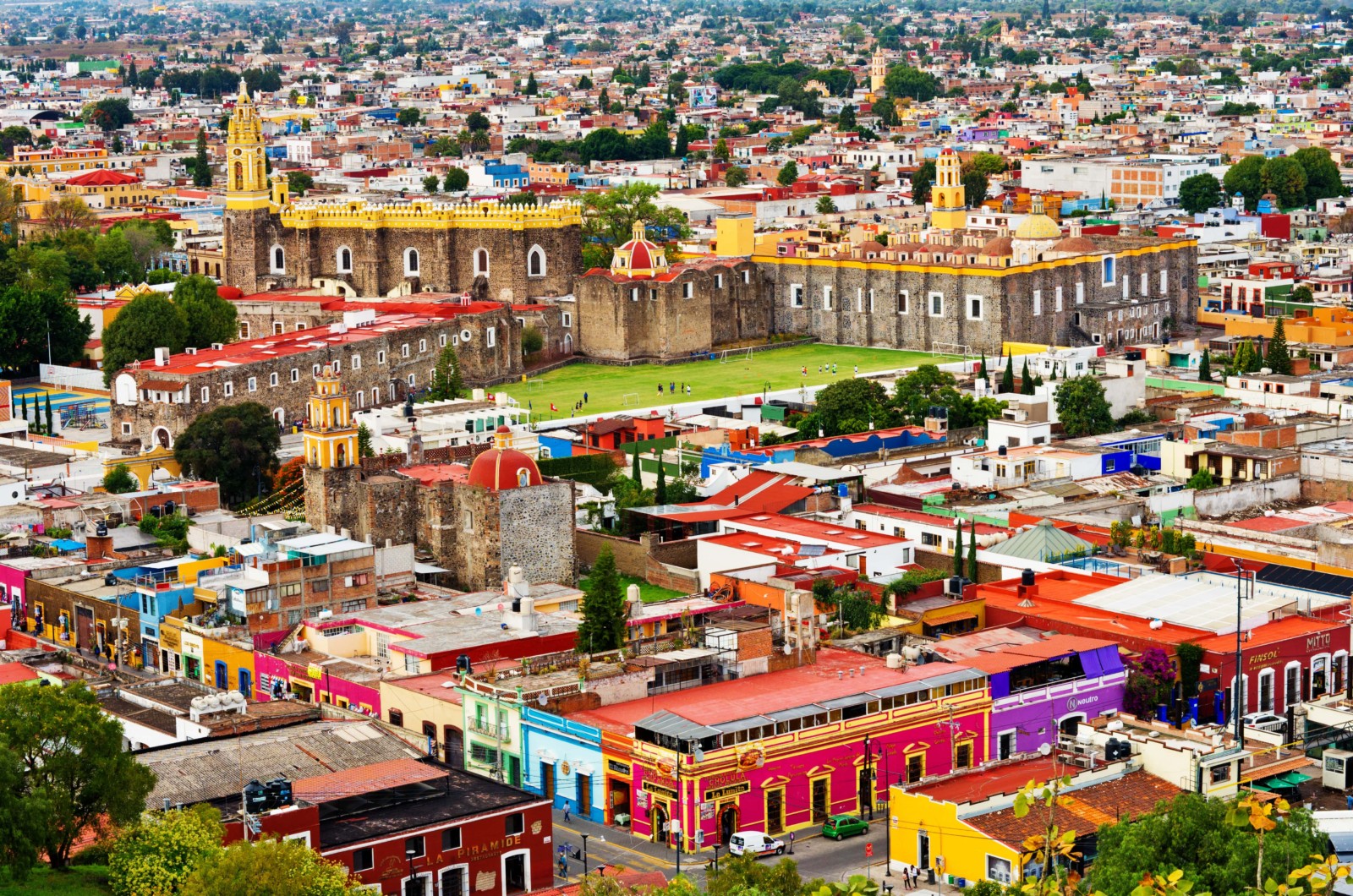 "The town of Puebla is a popular tourist destination and for good reason: it has a rich tradition of delicious food and pretty stunning colonial architecture, plus it's conveniently located just south of Mexico City itself."
Monthly cost of
living in Puebla
Foodie nomads should make a beeline for Puebla; there's a lot of famous food to be sampled in this town. Basing yourself near Calle de los Dulces will put sweet treats within walking distance any day of the week.
Choosing to stay closer to the town of Atlixco, in neighborhoods such as Las Animas and Bosques de Angelopolis, is a safe option. Touristed areas, like Downtown Puebla, will also suit the safety-minded nomad.
Pros of Pubela
Uber operates in Puebla (big plus)

You'll see some of Mexico's best colonial architecture.
Cons of Pubela
Often bustling with tourists

Can get colder than other places

Lots of American chain stores and restaurants
Very close to the famous twin volcanoes of Mexico, Iztaccíhuatl, and Popocatépetl, you'll witness pretty amazing sunsets and be able to take advantage of the many hiking opportunities. Fans of views (and fun) can head to the Ferris wheel Estrella de Puebla or catch the cable car.
Filled with art museums and overflowing with avocados, there are some cheap, modern, fully furnished apartments with volcano views to choose from in Puebla.
When it comes to getting online, there is a whole selection of coworking spaces available. These include The Box Coworking and Workosfera, which comes complete with meeting room space, too.
"Tulum is filled with ancient Maya archaeological sites, so if you're down with history, you're bound to have an amazing experience exploring like a true Tomb Raider on your days off. Couple that with Caribbean beaches and you're sorted."
Monthly cost of living in Tulum
This city on Mexico's Caribbean coast is perfect for anybody who loves a bit of nature. We're talking cenotes, beaches, and jungles. That means plenty of opportunities to get out and discover a world of natural beauty.
However, living in Tulum might be a bit more expensive than other Mexican cities. Staying in the pueblo (town) means you'll be away from the tourist action of the beach areas and have amenities like restaurants and supermarkets on your doorstep.
Pros of Tulum
It's got amazing natural beauty

Tulum boasts warm weather all year round.
Cons of Tulum
One of the most expensive areas to live in Mexico

Prices also increase during tourist season
It may be pricey, but if you're into being active, this is the place for you. Picture going cenote diving, snorkeling off the coast with turtles, and jungle trekking to get to rugged Mayan ruins. It doesn't get much better than this.
To save money, don't eat out all the time; there are plenty of shops to buy food from and cook at home. Tulum Art Club is a cool space to work, with reliable Wi-Fi, friendly staff, and plenty of room to find a spot to get down to business.
"The clue is in the name – beaches, beaches, and more beaches are what you'll be enjoying at this coastal town on the Yucatan Peninsula."
Monthly cost of living in Playa del Carmen
cost of rent in Playa del Carmen
Located on the River Maya, Playa del Carmen boasts and beautiful beaches and one of the most notorious party scenes in Mexico, but with that comes a whole horde of tourists. However, out of high season, you won't have to worry about that.
Most expats choose to base themselves in Playa Centro, which is close to both the beach and all the action of town. Playacar might be closer to the resorts, but the apartments here are nicer.
Pros of Playa del Carmen
Loads of places to eat and drink

Easy to use public transportation

Some of the best beaches you're likely to find in Mexico
Cons of Playa del Carmen
The central beaches can get busy

It's less cultural and beautiful than other towns
There's a growing community of digital nomads in town, plus a load of cool cafes with good Wi-Fi to frequent, meaning you'll have no trouble networking. As a side note, there are some great day trips from Playa del Carmen to be had, like wonder of the world Chichen Itza (just three hours away), as well as Valladolid with all its cenotes.
There are a ton of cafes to work at. The best ones are Chou Chou café – an eco-friendly space where you can spend hours on your laptop – plus a local chain of coffee shops, Cacao Chocolate Cafe.
"San Miguel de Allende is nothing short of a stunner when it comes to charming cobbled streets and crumbling buildings. The historic area here isn't just one or two blocks, it's the whole town."
Monthly cost of living in San Miguel de Allende
cost of rent in San Miguel de Allende
Living in San Miguel de Allende means getting to wander around your very own historic wonderland whenever you need a screen break. The center of town is UNESCO designated, so for better or worse, nothing here ever changes.
The closer you get to the colonial center, especially near El Jardin Plaza, the more expensive it will be. But that's the price you pay to live in a heritage building. 
Living on the outskirts of San Miguel de Allende means cheaper costs of living, cheaper rent, yet still being within walking distance of all the charm of the historic centro.
Pros of San Miguel de Allende
Milderm spring-like temperatures

Friendly locals to chat to

Interesting cultural traditions (including all that architecture)
Cons of San Miguel de Allende
Very high proportion of expats

It's hard to drive in town
There are often parades and art festivals, among other cultural events, happening in San Miguel de Allende, making it a great spot to soak up a slice of local tradition. But if making English-speaking friends is what you want to do, you'll find a lot of those to meet and mingle with on San Miguel's streets.
A few coworking spaces in town include Espacio Coworking and Smart Space Hub. These are both easygoing spaces with good internet where you can book your seat in advance. Perfect.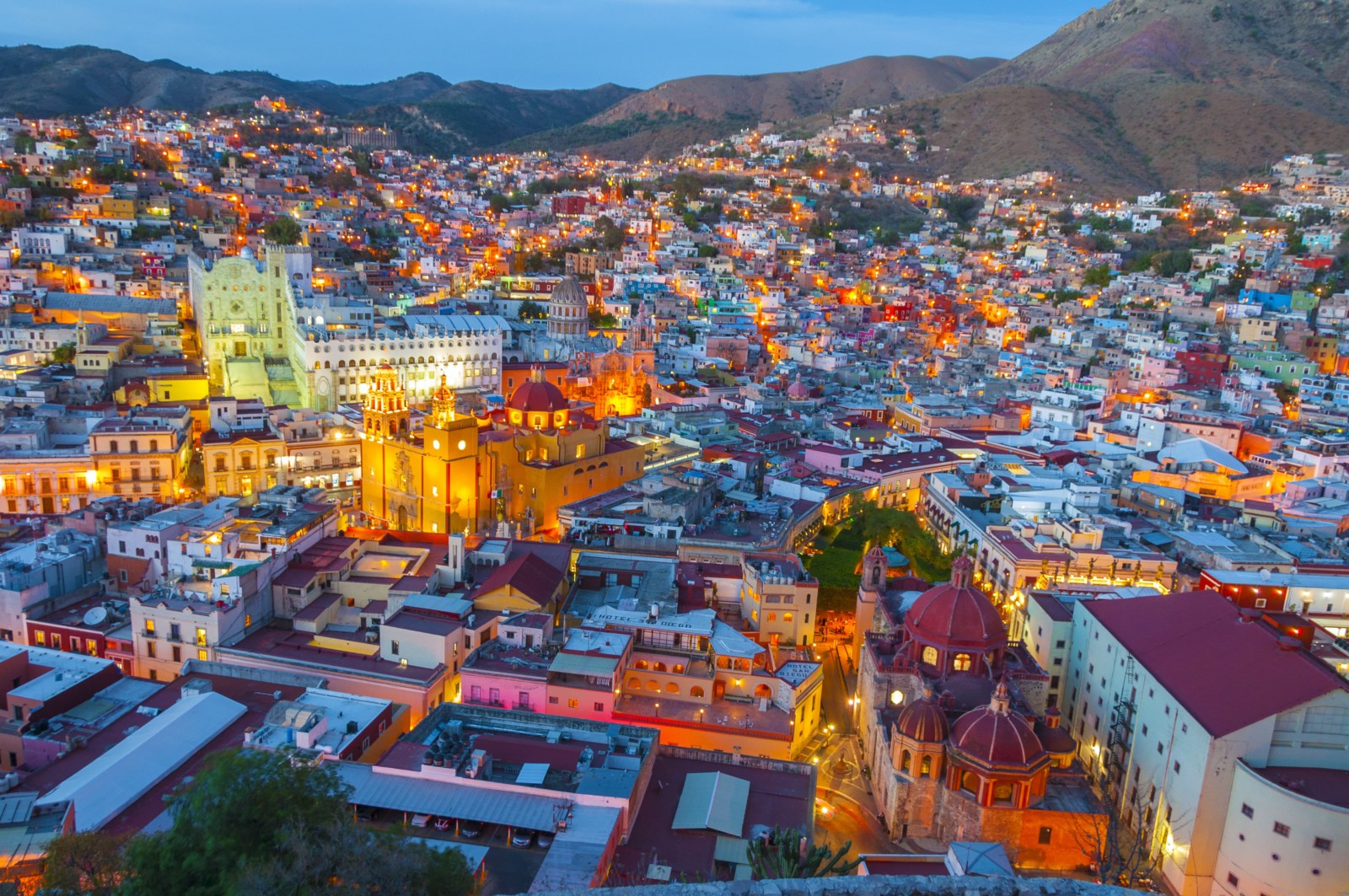 "A beautiful old silver-mining town full of color, history and a relaxed pace of life, the UNESCO town of Guanajuato is set in the picturesque central highlands of Mexico."
Monthly cost of living in Guanajuato
cost of rent in Guanajuato
Heading up the slopes of the hills in which Guanajuato is nestled means cheaper prices and amazing views out over the town below. Anything further down the hill, in the center of town, is going to be more expensive.
The tourists who do go to Guanajuato are more often than not Mexican, rather than foreign, and there aren't many expats here either. In fact, Guanajuato is a university town, which means that it can get pretty lively. There are many cheap places to be fed and watered – especially in Plaza de la Paz.
Pros of Guanajuato
Not many other nomads or Western tourists

There are plenty of museums
Cons of Guanajuato
Might need more Spanish under your belt

Higher crime rate than other locations

Confusing network of tunnels and alleys
The alleyways and tunnels in Guanajuato may be a little bit confusing, but when you aren't trying to get from A to B, simply wandering around can be magical. The charming Callejón del Beso is so narrow that people could actually lean out of the window and kiss each other (beso = kiss).
A few coworking spaces in town include Espacio Coworking and Smart Space Hub. These are both easygoing spaces with good internet where you can book your seat in advance. Perfect.
"The original Spring Break town is still where it's at for lively parties and a whole lot of good times – all with the backdrop of the awesome Caribbean coastline."
Monthly cost of living in Cancun
Set on the Yucatan Peninsula, Cancun is made up of two distinct districts. One of these is pretty much centered around the beachfront strip and high-rise hotels – the zona hotelera – and the other is a more traditional downtown district – centro.
As a general rule, it's cheaper to rent in centro than in the zona hotelera, for obvious reasons. Either way, you will never be too far from the beach. Couple that with a steadily increasing digital nomad community and some cheap places to eat and you've got a little slice of paradise.
Pros of Cancun
A great selection of modern places to live
Cons of Cancun
Spring Break is super busy

Lots of resorts and high-rises

Not a lot of culture to be found anywhere
Surprisingly, it's not all about the beach at Cancun. The area is high in biodiversity, there are Mayan ruins nearby, the underground rivers like Xcaret are very cool to explore and swim in, plus you can go snorkeling at the Great Mayan Reef.
Thanks to the growing number of digital nomads here, there are a few different places to choose from when it comes to working in town. Orbis Coworking Space or Venddo are both great choices.
"Oaxaca City is the colorful capital of the state, with colonial buildings made from volcanic stone lining the streets and charming city squares."
Monthly cost of living in Oaxaca City
cost of rent in Oaxaca City
Staying to the southeast of the Zocalo – or main square – means you'll get a lot more for your money in terms of property. It also means staying in a more local area, which is perfect if you like an authentic feel when you're staying in Mexico as a digital nomad.
North of the Zocalo, Xochimilco is the oldest district of Oaxaca City and boasts a sleepy, village-like feel. There's plenty of traditional food on offer in this area, though it may not feel as 'real' as staying south of the main square.
Pros of Oaxaca City
Beautiful colonial architecture

Interesting archaeological sites close by
Cons of Oaxaca City
Lots of traffic and pollution

The pavements aren't in the best condition
It isn't just about the colonial history of Oaxaca City, it's the modern day color that's added to the city in terms of street art and graffiti that make it super interesting to explore. Add to this a lot of arts and crafts shop and you've got yourself a pretty artsy place to explore.
Getting online is easy; just head to Convivo, one of the city's best coworking spaces. It's affordable, friendly and community-minded, making it a great place to meet others.
#10 San Cristóbal de las Casas
"Set in the highlands of the southern state of Chiapas, San Cristóbal de las Casas (also known by Jovel, its Tzotzil name) is awash with indigenous culture and open-air markets."
Monthly cost of living in San Cristóbal de las Casas
cost of rent in San Cristóbal de las
Casas
When it comes to living in San Cristóbal de las Casas, you might want to base yourself in San Ramon with all its local bakeries and confectioners. It's a cool and tasty neighborhood.
But it isn't all about food. Barrio de los Mexicanos, complete with art museums, galleries, and traditional woodworking shops, is an interesting place to wander around, whilst Merced is all about its festivals. Other than that, putting yourself in the zona centro means old architecture and cafes galore.
Pros of San Cristóbal de las Casas
Soaking up indigenous culture

Cool festivals to witness

Lots of history to learn about
Cons of San Cristóbal de las Casas
High altitude means it can get cold

High levels of poverty can feel uncomfortable

Hassle because of tourism.
2,200 meters above sea level, San Cristóbal de las Casas is definitely the place to go for culture. There are many museums to explore here, like Museo Mesoamericano del Jade and Museo de las Culturas Populares de Chiapas.
There are several cafes for digital nomads to frequent in San Cristóbal de las Casas, such as Amor Negro, featuring fast Wi-Fi and cool decor, and the popular Carajillo Cafe, with good Wi-Fi and power sockets.
Final thoughts on the Best Places to Live in Mexico
There it is! The 11 best places to live in Mexico! With so many cool cities and towns, Mexico is an absolute dream destination for any traveler – the only hard part will be choosing just ONE!
Did we miss any of the coolest areas in Mexico? Do you something was misplaced? Let us know in the comments below 🙂
Looking for more great Digital Nomad content?
***Disclaimer*** Some of the links in this post are affiliate links. This means that if you use our links, Nomads Nation will earn a small commission at no extra cost to you. Thanks for the love and support