5 Best Tech Backpacks [2023 Guide]
Many things are essential when looking to buy a great pack. It would be best if you had a bag that looks fantastic, as well as durable, versatile, comfortable, and full of features. But you should also have a bag that is exceptionally technology-friendly. You need a bag that adequately protects your technology equipment.
Maybe you love to take photos, and you need to carry your array of camera gear, or perhaps you travel a lot for work and need a bag with a laptop compartment. Whatever technology you like to have – this guide will help you find a bag that fits.
In the 21st century, travel has changed, and now that many of us make money whilst travelling, it's essential to have a technology-friendly backpack. We are a group of nomads, and we love to carry our tech around. So, we decided to create a guide to the best tech backpacks in 2023. And through our research, experience, and expertise, this is our guide to the best tech bags.
Size – 35 litres/45 litres
Weight – 35 litres (4.6 lbs) and 45 litres (5.1 lbs)
Colour – Black
Price – $299
The Tortuga Outbreaker is a fantastic choice for a long term traveler. If you're looking for a bag that will stand the test of time, then we have found a great one for you. 
And the creators built this bag to perfectly handle long-term travel and the damage the bag will incur from this.
Furthermore, the backpack is incredibly durable. If you're going to be carrying a lot of expensive technology, then it's paramount that you buy a durable backpack that can withstand any type of impact.
Are you someone who loves to carry camera equipment? If so, you will love the ample space in this pack. It has massive space that is ideal for anyone who needs to carry lots of technology. And you will want a pack that organises your tech gear, and this one has the variety of compartments to do just that.
This bag has ample size, and the 35 litre option is a great choice for nomads. However, the choice of getting a larger backpack at 45 litres is also great. A nomad who's looking to buy a long-term backpack, and carry a lot of tech, will benefit from this size.
The bag only comes one colour, but the colour black looks wonderfully sleek and smart.
At a price of $299, it's not one of the cheapest bags on the market. Having said that, you're getting a quality technology friendly bag, with great space and features.
The backpack is well-padded, so much so, it almost feels like a mattress. If you're looking for great comfort – and we recommend it – then this bag is a great option for you.
The external materials of the pack are fantastic. It includes a very unique material called sail cloth, which is used on sailboats. That only adds to the incredible durability that you want from a long-term backpack.
Tortuga Outbreaker Pros
Extremely durable
Any nomad who has travelled for a long period will know that your bag looks a shadow of its former self after a few months. Especially if you don't buy a durable pack, but you won't have that issue here.

Excellent materials
At a price point of $299, you might expect to see a variety of excellent materials. And this backpack isn't going to disappoint you here, with quality interior and exterior materials all around the pack.

User friendly
This pack is extremely user-friendly. It's very easy to access the pack, and with the vast array of compartments, this is a great thing.
Tortuga Outbreaker Cons
Expensive
Although you're getting a superb backpack, at a price point of nearly $300, it's expensive.

Heavy
The backpack weighs around 4.6 lbs at 35 litres, which is heavy for that size. You can get considerably lighter bags of the same size.
Size – 25 litres (can expand to 30 litres)
Weight – 3.75 lbs
Price – $250
The Boundary Supply Prima System is one of the most excellent backpacks that we have had the pleasure of reviewing. Do you love your bag to have many features? If so, you'll love this bag. 
We haven't seen a pack with so many features before. The pack's design is lovely, it almost looks like Indiana Jones' pack, with a super cool adventurous look.
The creators designed this pack for photographers, so if you're a photography lover or a movie creator – this review is for you. We ultimately believe that any nomad can use this pack. It's excellent for general travellers who love to go hiking around the world.
And it's fantastic for technology. Not only does it have the space to carry all of your photography equipment, but it also has a tremendous array of compartments which are ideal for storing things like USB chargers and many more. Oh, and there's a nifty laptop compartment which is suitable for digital nomads.
This bag's creativity is incredible, and one of the coolest parts is the field space that looks like a desk. It has storage compartments for stationery, technology, and anything else you can think of.
The size of the backpack is sufficient for most digital nomads. And with the capability to expand to 30 litres, this is ample space.
At a weight of 3.75 lbs, it's not the lightest bag on our list. And quite frankly, it's heavier than it could be. But it does have an array of superb features to make up for it.
And at a cost of $250, it's not the cheapest. But you are getting a tonne of cool features and extras which explain the price.
We're not generally huge fans of the Boundary Supply comfort levels, and we believe it could be more comfortable. The bag is very durable, which gives the materials a harsher, more rigid feel. So, it doesn't feel as comfortable as it could be.
However, a great benefit is the Codra Nylon exterior materials which are very water-resistant. And we never stop talking about the incredible importance of water-resistant materials when travelling.
Boundary Supply Prima Pros
Extensive features
We love this pack's features; it's probably the most feature-heavy pack that we have reviewed. If you love features and cool things, you are going to love this pack.

Camera friendly
The bag is very camera friendly, and the superb camera pouch makes sure of that.

Explorer design
Do you love Indiana Jones? I think most people do. With this pack, you will look and feel like an explorer. It has a superb design.
Boundary Supply Prima Cons
Feature overload
As much as we love this pack's features, we have to state that the average user will not use this many – it's feature overload for sure.

Top handle uncomfortable
Although the top handle looks super cool, it lacks comfort. And as you know by now, we love comfort.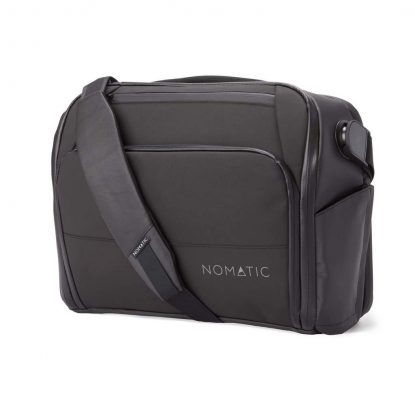 Size – 15 litres
Colour – Black
Weight – 3.8 lbs
Price – $220
This bag is a different style to the others on the list, but there are many reasons why this is a great option for tech lovers. It looks like a briefcase type of bag, and the creators designed it to be superb for technology lovers.
The messenger bag has spots for just about any type of technology that you could want. 
Do you like to carry a keyboard or a Bluetooth mouse? If so, there is a compartment in this bag for you. And you will never look out of place in an urban or professional environment.
Get the Nomatic Messenger Bag
Due to a trademark issue, Nomatic had to rebrand to 'Gomatic' in Europe and the UK. Although the brand name is technically different, both versions sell the exact same high-quality gear 🙂
It has a very smart business look to it, and if you're constantly travelling for work and business purposes, then this bag is for you. But if you're looking to take this bag on an adventure, it's not suitable. 
This bag is fantastic for nomads who love to carry technology equipment, but it's not the pack you want if you're looking for an adventurous style.
The size of this pack isn't going to suit all nomads, it doesn't have the space to carry an extra pair of clothes. It's great for those looking for a bag which is ideal for a coworking space.
At a weight of 3.8 lbs, the bag is on the heavier side. Although the bag is feature heavy and great for those who like technology, there are many cheaper options with much more space.
And at a cost of around $220, it's not the cheapest option. But it isn't the most expensive either, it's a decent price.
The materials of this bag include tarpaulin, which is great for water resistance. But this can be an issue for scratching and maintaining the design. However, the materials feel fantastic and give the bag a premium feel overall.
The bag isn't as comfortable as a backpack, and it certainly isn't as travel friendly as a backpack. The creators designed the bag to be superb for technology and business, comfort seems to have come second.
Nomatic Messenger Pros
Technology friendly
The best feature of this pack has to be the incredible technology friendly design of the backpack. It's organised to be business-friendly.

Professional style
If you travel for work purposes, or you're a digital nomad, you're going to love the professional business style. You don't get this with a standard backpack.

Versatility
You can transfer this bag between briefcase and messenger style which is an awesome pro.
Nomatic Messenger Cons
Comfort
It lags in the comfort department, especially in comparison to a backpack.

Heavy weight
The weight of the backpack is nearly 4 lbs, that is heavy when you consider it isn't as comfortable. There is no weight distribution with this pack.
Size – 17 litres
Colour – Black
Weight – 3.8 lbs.
Price – $240.
We love AER products because the designers create them for optimum comfort, and they look sleek and professional. But on the AER Tech Park 2, not only is it extremely comfortable, elegant, and durable, but it's also very technologically friendly.
The AER Tech Pack 2 has various features that benefit a nomad who needs to carry technology. And it's fantastic for those who are looking for an everyday carry. 
Despite being a small backpack, you have enough space to fit stuff like laptops, tablets, and camera equipment.
We love the AER Tech Pack 2 design because it has an all-black timeless style that is perfect for those looking for a bag that looks professional, but you can also use in adventurous environments.
At a capacity of 17 litres, this will be good for most nomads. But it is on the smaller end of the scale, so if you need to carry lots, there are other options.
The only colour is black, but that's not an issue because the all-black sleek look is epic.
It weighs 3.8 lbs, and this is heavy for its capacity. You can get backpacks with a larger capacity that are far less bulky.
And the price of around $240 is high, but you do get some great features for the price.
The best benefit of an AER product is the incredible comfort level that comes with all the bags, and this bag doesn't fall short. It has great padding that is ideal for anyone looking for comfort.
The materials are also top-quality, as you'd expect from the AER brand such as Cordura ballistic fabrics. That only improves the level of comfort that the bag offers.
Aer Tech Pack 2 Pros
The sleek design
The design of the pack is superb; it has that elegant look which can fit into any environment.

Front organisation pocket
The bag offers a superb front compartment which is ideal for storing things.

Comfort
The comfort of this bag is second to none and as brilliant as you'd expect from AER.
Aer Tech Pack 2 Cons
Lacks space
The bag lacks space. A capacity of only 17 litres may be too small for many nomads.

Expensive
$240 for a bag this big is quite costly, and you pay much less for a bigger bag.

Limited access
The zipper isn't the most user friendly, and at times it can be a little challenging to get into the bag.
Size – 20 litres (it can expand to 24 litres)
Colour – Black
Weight – 4lbs
Price – $250
The Nomatic Backpack is our personal favourite out of all the bags that are on this list. It is hugely tech-friendly and has a sleek style that remains unmatched. 
The Nomatic brand always likes to present their bags with various features, and this one is no different. It has an array of excellent tech-friendly features.
The tarpaulin materials make the bag very durable and water-resistant, which is massively important if you're looking for a pack to carry all your technology needs.
Due to a trademark issue, Nomatic had to rebrand to 'Gomatic' in Europe and the UK. Although the brand name is technically different, both versions sell the exact same high-quality gear 🙂
And we love the external and internal pockets that add a premium feel to the bag. It has space, functionality, and comfortable use, making it a great tech backpack for a nomad.
If you're looking for a pack with space, this is an excellent option for you. Although 20 litres is enough for many nomads, the chance to expand to 24 litres is a great addition.
The bag only comes in one colour, but the all-black style looks incredibly sleek.
It's quite heavy at a weight of 4 lbs, and you can find lighter bags with similar capacity.
The price is high, but you do get a high-quality tech bag which matches the cost.
The bag is relatively comfortable, and there are areas where designers can improve comfort. But most nomads will enjoy the level of comfort on offer from this backpack.
Nomatic Backpack Pros
Great organisation
The bag is well-organised and has an array of compartments and pockets which make it fantastic for tech lovers.

Expandability
We are big fans of bags with expandability options, and the fact that this bag can increase from 20 litres to 24 litres is a massive benefit of this pack.

User friendly
The designers created a bag that is easy to access and simple to use. The creators designed the bag for effortless use.
Nomatic Backpack Cons
Heavy
Although the bag has excellent features, it's also 4 lbs in weight. And you're probably going to notice the extra weight, especially if you have a huge amount of tech inside.

Scratchable
Unfortunately, the exterior tarpaulin materials are scratchable. If you want a bag that doesn't lose its style and class, be careful not to scratch the body.

The briefcase mode The bag isn't the cheapest on the list. If you're on a strict budget, you might be able to find a pack that offers better value for money at a lower price.
Looking for more great Digital Nomad content?