Boundary Supply Prima Review [BRUTALLY Honest]
Boundary Supply
Prima System review (UPDATED 2023)
The best Boundary Supply Prima System review on the web!
Written by Digital Nomads
Who the Boundary Supply Prima is perfect for
If it's not the pack for you – we'll show you which pack IS for you
Boundary Supply Prima Video Review
Check out our amazing video review below!
Boundary Supply Prima
Overall Score
Our Take – Boundary Supply has done a fantastic job creating a versatile backpack that has a memorable design… and it's truly a joy to use!
Even though we have (unpopular) qualms with some of the materials used, the next-level functionality of this pack gives it one of the highest scores we've ever given.  
We give it 4.5/5. 
The Boundary Supply Prima System is currently ranked #6 on our best laptop backpacks list.
Boundary Supply
Prima System Specs
Capacity: 31 litres
Pack Weight: 3 Pounds 12 Ounces/1.70kgs
Fieldspace Weight: 8 Ounces/0.23kgs
Verge Case Weight: 12.28 Ounces/0.38kgs
Dimensions: L: 20" W: 12" D: 8"
Laptop Size: 17″ in the backpack/ 13″ in the Fieldspace
Pros of 31L – For some, 31 liters is a great size because it can act as both a daypack AND a travel pack for weekend trips.
Cons of a 31L – But for others, 31 liters is an awkward size, as it might be too big for a daypack and too small for a larger travel backpack.
It all comes down to what you want to use the backpack for!
The Boundary Supply Prima System
is
PERFECT for you if...
If you are looking for a daypack and dig the look of the Prima Supply, then treat yourself and get one because it truly is that great of a product.
There are a ton of great photography gear companies out there – but Boundary Supply is easily a top 3. The side access pocket and Verge Case make the Prima Supply a perfect companion for anyone traveling with DSLR Gear. 
The look isn't for everyone, so if you love it – get it.
If you are a city-dweller who also loves the occasional outdoor adventure, then this is the bag is for you.
There's a TON of awesome things you can do with the Prima Supply. Next to the Nomatic Backpack, we think this is one of the most feature-heavy packs we've seen. 
The materials on this backpack are weatherproof and extremely durable. If you have fragile gear that you need protected (cough; like DSLR gear) we highly recommend the Boundary System Prima Supply. 
The Boundary Supply Prima System
is
NOT for you if...
At 31 liters, this backpack is going to be about 5-15 liters too small to be a world-travel backpack.
→ If you are in the market for a LARGE travel backpack, check out…
At the end of the day, while this pack can be enjoyed by anyone, the Boundary Supply Prima System will be most appreciated by photographers
→ Want a backpack designed for your Digital Nomad lifestyle?
While Boundary Supply products are weather resistant and are worthy of the great outdoors – they are NOT designed for hiking.
→ But these hiking backpacks are amazing…
The Prima Supply is very feature-heavy, so why pay for all of the bells and whistles if you aren't going to use them?
→ Looking for something more minimalistic?
31 liters is going to be way too big a daypack for some – especially if you are only looking to carry a few things around… 
→ If you want something smaller, these are the best options…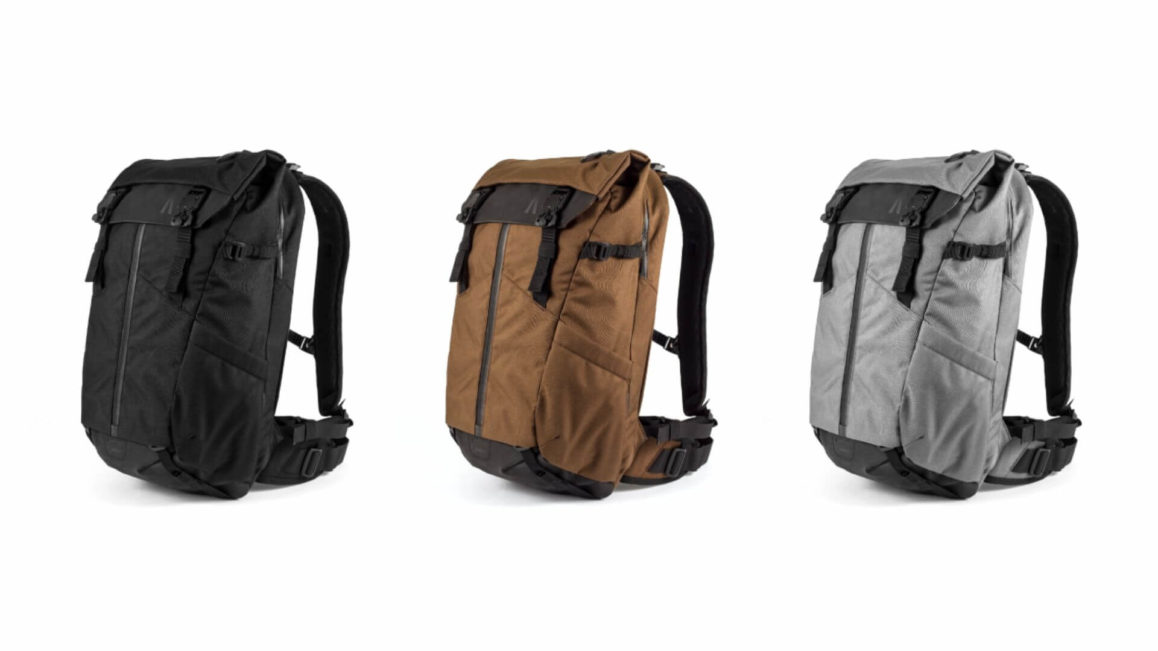 Style is always so subjective and a difficult thing to analyze – but here are our thoughts…
We picked the Mojave Tan for this our pack because we thought it looked bold and was easily the most memorable of the three. 
Plus black and brown are ALWAYS a classy combination. 
We also think the black on black looks great, but aren't as crazy about that Slate Grey…
The Boundary Supply Prima System is really well designed. It's obvios that the design team put a ton of thought into the style of this backpack – especially the shape.
The shape accomplishes a few things at once. It does a good job of having a modern and clean look, but at the same time it also has a more traditional feel to it. 
To us, the pack style and shape is reminiscent of a classic American adventure.
We would even be as bold to say that this pack gives us Indiana Jones vibes. 
Ultimately we think the shape, colors, and overall design give the Prima System a very memorable look.
A look that says 'hey, I can safely carry your MacBook Pro and Canon 5D Mark III – ALL WHILE helping you look like a badass adventurer at the same time!'
And for that, we thank you Boundary Supply.
Boundary Supply Materials
But, as high as we are on this pack… we aren't super stoked about the primary materials.
Why?
Two reasons.
Reason #1 we aren't stoked about the primary material = Our dumb expectations. 
When we were shopping around for the Prima Supply – we weren't sure what the materials would feel like. But their promotional photos made it look f-ing delicious!
Some photos made the materials looks almost like leather, and other photos made the materials more like a soft velvet…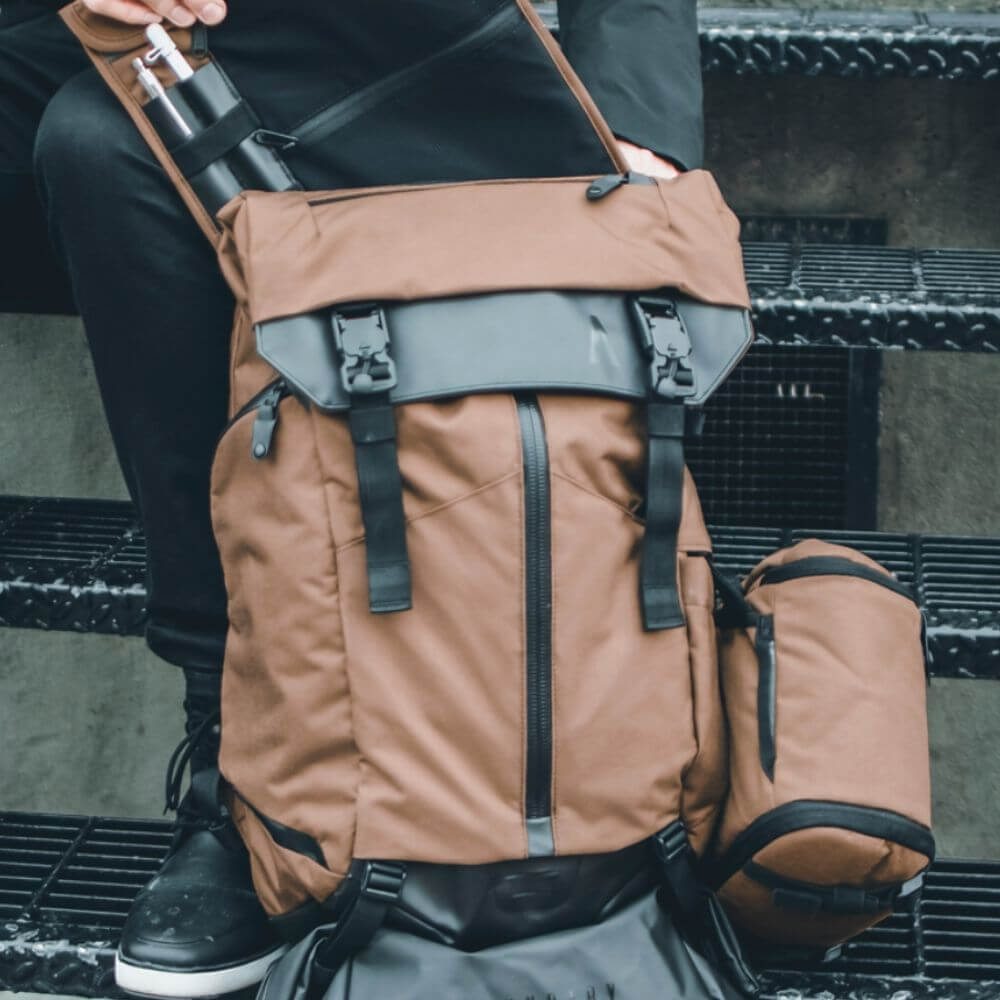 Spoiler alert – the materials are neither. 
Reason #2 we aren't stoked about the primary material = They aren't memorable. 
To some this won't matter, but we are backpack nerds, and we like our materials to tell a story damnitt!
Whether it's the smooth feeling Tarpaulin of the WANDRD PRVKE, the scratchy recycled plastics of the Peak Design Everyday Backpack, or the Tortuga Outbreaker which uses the same materials that make the sail-cloth on sail boats. 
We love a great, interesting, material on our backpacks. 
And the Boundary Supply Material is not very memorable. 
Now we should clarify – we aren't saying the materials are bad.
In fact quite the opposite – these materials are durable as hell! The guys at Boundary have woven a 500D Kodra with Nylon 6, which means that this material is as strong as an ox. 
But while it's extremely durable, it just sort of feels like every other backpack you wore in middle school or high school. 
Will it last for years to come? Yup!
It it our favorite primary material we've ever felt? Nah. 
Boundary Supply uses YKK Zippers which are some of the best zippers in the game. All of the zippers function great, and are 100% weatherproof with watertight sealing. 
Boundary Supply uses a creative tab system that folds into itself. This tab has a leathery feel to it, and is topped off with a metallic button that bares the Boundary Supply logo. 
Because of this, we found the zippers to be easy to locate, and smooth to zip. The leathery material of the tabs is satisfying to the touch, and the metallic button provides a noticeable amount of extra grip. 
Overall, we found the Boundary Supply to be very, very comfortable. 
This comfort is due to a ton of padding on the back panel, and some thoughtful padding on the shoulder straps.
We'll explain more about the comfort of the backpack in a bit…
OK now is the time in the Boundary Supply Prima System Review to get inside the backpack and explain its coolest features and functionalities…
When it comes to top loading backpacks – there are a variety of ways to get inside.
The WANDRD PRVKE uses a simple metal buckle, which is basic, but fashionable and you know… it works. 
The Peak Design Everyday Backpack uses their own patented MagLatch, which is a magnetized single latch. That thing is amazing.
Boundary Supply also uses a magnet-style latch, but instead of a single magnetic latch, they have two of them.
I'm sure you are wondering, do we like them?
We LOVE them.
The latches are durable, fashionable, strong, and most importantly – they are fun!
Don't underestimate the 'fun' factor. Do you want a backpack that you hate to open? Or do you want a backpack that makes you feel awesome every time you use its magnet latches to unlock access to all of your beloved gear?
Believe us – magnets go a long way in streamlining the backpack experience, and these are some of our favorites we've used. 
This is a top feature of the Boundary Supply Prima System. 
An interesting thing to note here…
We at Nomads Nation hate when our backpack have any 'dangle' to them. 
Nothing is worse than a flap, or nylon strap from your big flapping in the wind like an idiot, or worse, catching on something.
No one likes Lieutenant Dangle.  
Or so we thought…
Because the Boundary Supply Prima System has made us rethink our position. The front of this pack has a bit of dangle… and we like it!
For once Lieutenant Dangle has come through! We can't believe it. 
This pocket is really great, and there are a few things about it to make note of…
#1 – There are two sections to this pocket. The main section, then a section in the back, which is securely closed with a strong magnet. This back area is line with soft fabric, making it a solid area to store your sunglasses.
#2 – There is a magnet keyring! Yes, dreams really do come true, Boundary Supply has given the people what they want – and they want magnet keyrings!
Magnet keyrings are incredibly convenient as they allow you to seamlessly grab your keys, and to be able to seamlessly put them back in their designated location.
The only shitty part about this pocket is that Boundary may have gone a little too magnet crazy (can such a thing exist?!?) because the magnet keyring has a tendency stick to the magnet that holds the secondary section against the back panel.
It's not a huge deal, just worth noting. It's just magnets being magnets. 
A size 10 YKK zipper – this is the largest zipper in the backpack and let me tell you it is CHUNKY!
It's got a great feel to it and (along with the rest of the exterior zippers) is it sealed water-tight to make sure no pesky H2O makes its way to your delicate gear. 
It should be noted that while the placement of this zipper seems obvious – not all top-loading packs have this sort of access to the main compartment.
Plus while being a super-functional addition, we also like the way it looks! The black stripe running down the middle of the pack gives the Prima System a nice aesthetic. 
Wow, strap in, because this is the beefiest part of our Boundary Supply Prima System review – there's a TON to the middle of this backpack. 
Overall the water bottle holder is pretty solid. It lays fairly flush against the side of the pack while also having an elastic opening which can a fair-sized water bottle (but not quite a Nalgene 1 liter). 
Water Bottle Hidden Pocket
Laying discretely behind the water bottle holder is a small hidden pocket. 
This pocket can be used for a ton of things, but it was specifically designed for an external battery
This is because the pocket has a small hole built into it, which would allow you to easily pass a charger chord through.
Then, anytime that you need to charge your phone you can securely place it in the water bottle holder and let that baby charge!
While this feature is cool, we ALWAYS travel with a water bottle, so we never had the opportunity to use the pocket for anything else. 
But again, having the option is nice, especially for those who might not travel with a water bottle. 
Stoweable Compression Strap
We think that Boundary Supply nailed this feature…
Located directly above the water bottle holder is a single compression strap. The strap itself is nylon and completed with a nice buckle that you can easily hook and unhook.
But our favorite part?
You can stow it away!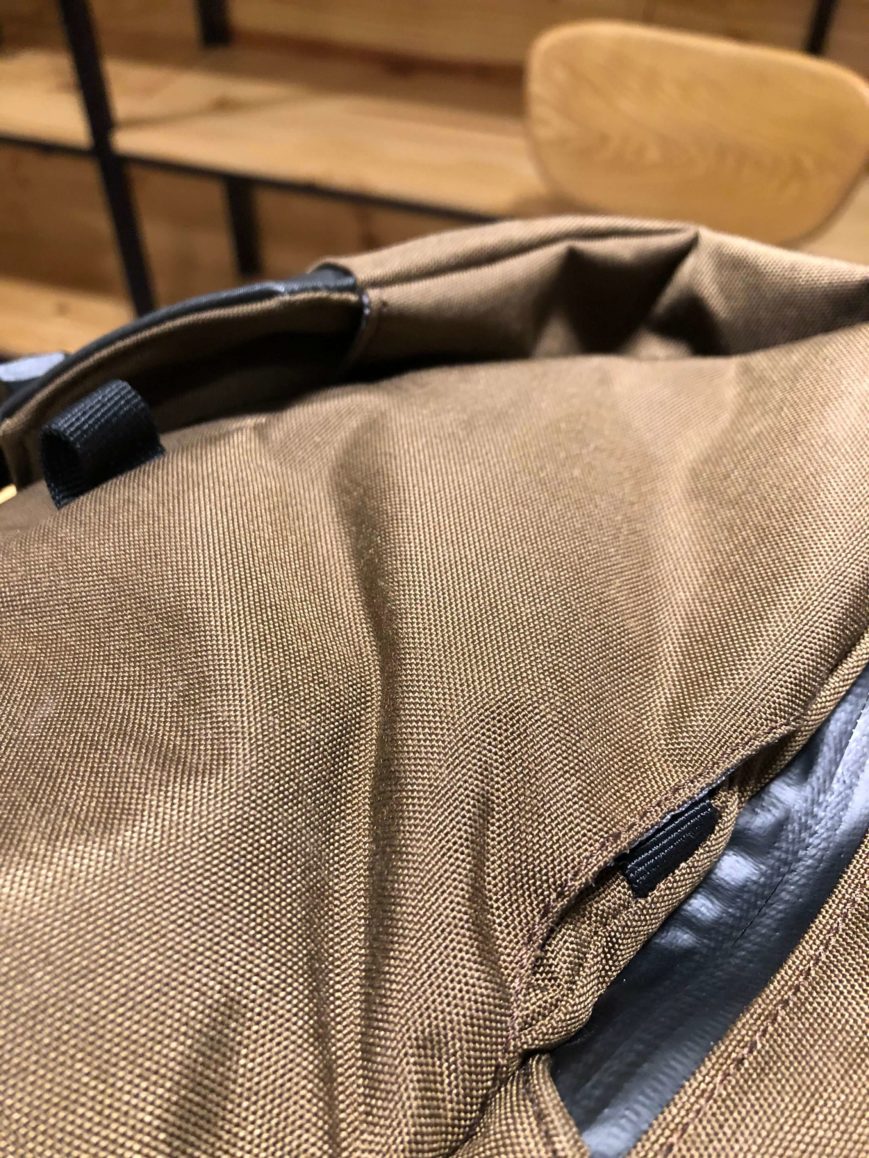 Behind the actual strap is a small pocket – all you've got to do is roll the strap up and stuff it on in. 
This is a really cool feature as it allows you to do a few things…
#1 – To compress you bag (if you want)
#2 – To put a tripod or laptop stand (or something of similar dimensions) in the water bottle holder and use the strap to help secure it
#3 – Or you can stuff it away and never have to worry about it!
The choice is yours young backpacker…
No photography backpack would be complete without some sort of side panel access pocket.
It's a must!
Reason why? If you are a photographer you need to be able to grab your camera quickly! You never know when inspiration will strike, and the ability to swing your bag over your shoulder, unzip the side access pocket and grab your DSLR is invaluable. 
And if you aren't a photographer, it's still a great feature as it gives you another port of entry into the main compartment. 
If you don't have any travel camera gear you'll be pleased to know that it worked perfectly for our Peak Design Tech Pouch and Peak Design Wash Pouch – giving us immediate access to our goods.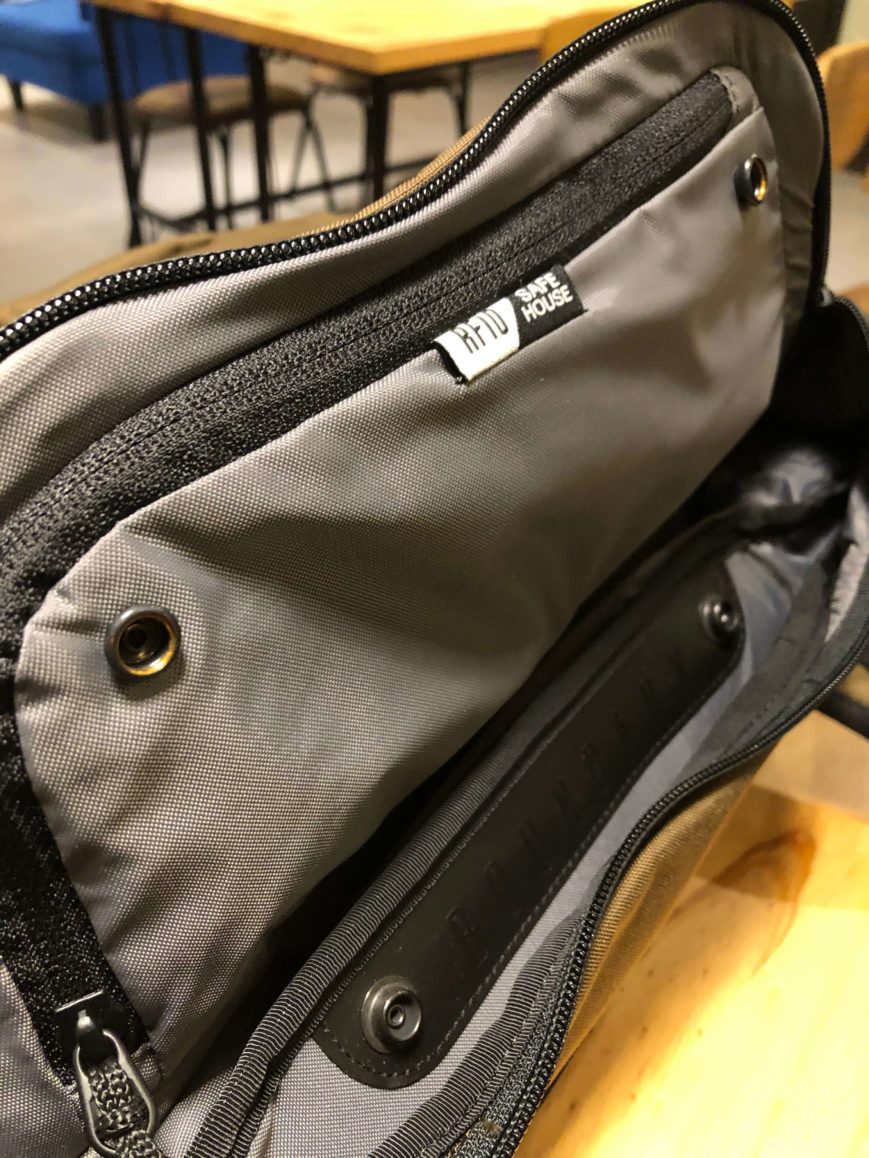 Once you unzip your side access panel you'll be pleasantly surprised to see a small RFID Safe House pocket.
What in god's name does RFID Safe mean?
Some credit cards, IDs and passports have RFID chips in them. These chips let you wave your card in front of a scanner instead of having to swipe them.
Sounds great, right?
Well, yes and no, because unfortunately while RFID chips are convenient for consumers, they are also convenient for thieves as they are easy to scan even from just a few feet away. 
But worry not!
With the help of your Boundary Supply Prima System you can store your valuable cards, IDs and passports into this pocket and sleep well knowing that your information is safe and protected. 
Photographers – get excited. This is where your pack gets taken to the next level. 
And everyone else, also get excited…. but maybe not quite as excited…
Included with every Boundary Supply Prima System comes the Boundary Supply Verge Case!
While this small case is designed for storing and carrying DSLR gear – it can be used by anyone as another compartment for organization, and another bag to carry your gear!
Let's break down a few key features about the Verge Case…
#1 – Customization and organization
The Verge case has zippered pockets and elastic pockets for organization, as well as velcro dividers that will allow you to create customizable sections within the interior of your case.
#2 – Seamless integration
Boundary Supply have done a fantastic job at making their products work perfectly together – and the Verge Case is a perfect example of this.
To make things seamless, the Verge snaps to the interior of the Prima…
Allowing you to easily keep it in place, as well as allowing you to easily access your gear. 
The Verge Case also attaches to the back panel of the backpack, so you can snap it in place and have it easily accessible. 
#3 – Expandable Capacity 
If you are traveling with more gear in general, then you can unzip the bottom zipper to release the expandable compartment.
This compartment is particularly great for photographers who are using large lenses. 
#4 – Ability to use as a sling
There is one more amazing feature about the Verge Case that we will discuss a bit later…
The main compartment of this backpack is big and spacious enough to fit your entire Digital Nomad packing list. 
There are three pockets to take into consideration. 
#1 – Left Zip Pocket 
Simple. Effective.
#2 – Right Elastic Pocket
Simple. Effective.
# 3 – Back Elastic Pocket
Simp-… OK, you get the idea. 
Spacious Laptop Compartment
These type of tech backpacks usually have two types of tech/laptop compartments…
The first kind – can be fully unzipped all the way down the sides of the compartment, allowing you to separate the tech compartment from the main compartment
The second kind – cannot be fully unzipped and therefore cannot be separated.
The Boundary Supply Prima System is the second of the two.
And out of the two kinds, it's one of our favorite laptop compartments!
Often laptop compartments like this are great because they help shed weight off the pack, but unfortunately can be a super tight fit, making getting your Digital Nomad laptop in and out of the pack a hassle. 
Boundary Supply have done the opposite and have done a great job of making this compartment super spacious. 
So spacious that it can fit a up to a 17 inch laptop.
Fieldspace (It's awesome!)
Similar to the Verge Case, the Fieldspace is another removable feature that works seamlessly with the Prima System!
Located in front of the laptop compartment, the Fieldspace easy easy to remove and replace, and has a ton of cool features in itself!
Two large storage areas
These compartments work best for large/flat items. This is a perfect space for smaller laptops, sketch pads, journals tablets, bluetooth keyboard, documents, and more!
Two smaller mesh pockets
One larger and one smaller, these are perfect for smaller notebooks, and electronics that aren't too bulky. 
Two pen holders
Good for… pens. And pencils too!
As full time Digital Nomads, the Fieldspace quickly turned into our favorite feature of the Boundary Supply Prima System. 
It gave us an organized section for notebooks, our bluetooth keyboards, and something we could never find a place for – our mouse pad!
It's also incredibly easy to use, and even gave us a small work-pad that we could take with us anywhere. 
Being able to keep some of our favorite Digital Nomad Gear in one compact and organized area was an absolute GAME CHANGER and helped catapult this pack into one of our all time favorites. 
Fairly Comfortable Back Panel
While this backpack is very comfortable… it's not the most comfortable we've ever tried… and it's a different kind of comfortable.
As opposed to the Tortuga Outbreaker (a larger backpack that is as soft as a pillow) or the WANDRD PRVKE 21 (which has a strange but AMAZING malleable-esque comfort to it) – the Prima Supply has a. comfort that can only be described in one word.
Stiff.
Not saying it's uncomfortable. It's actually got a really nice feel to it… but it is definitely a bit on the stiffer side.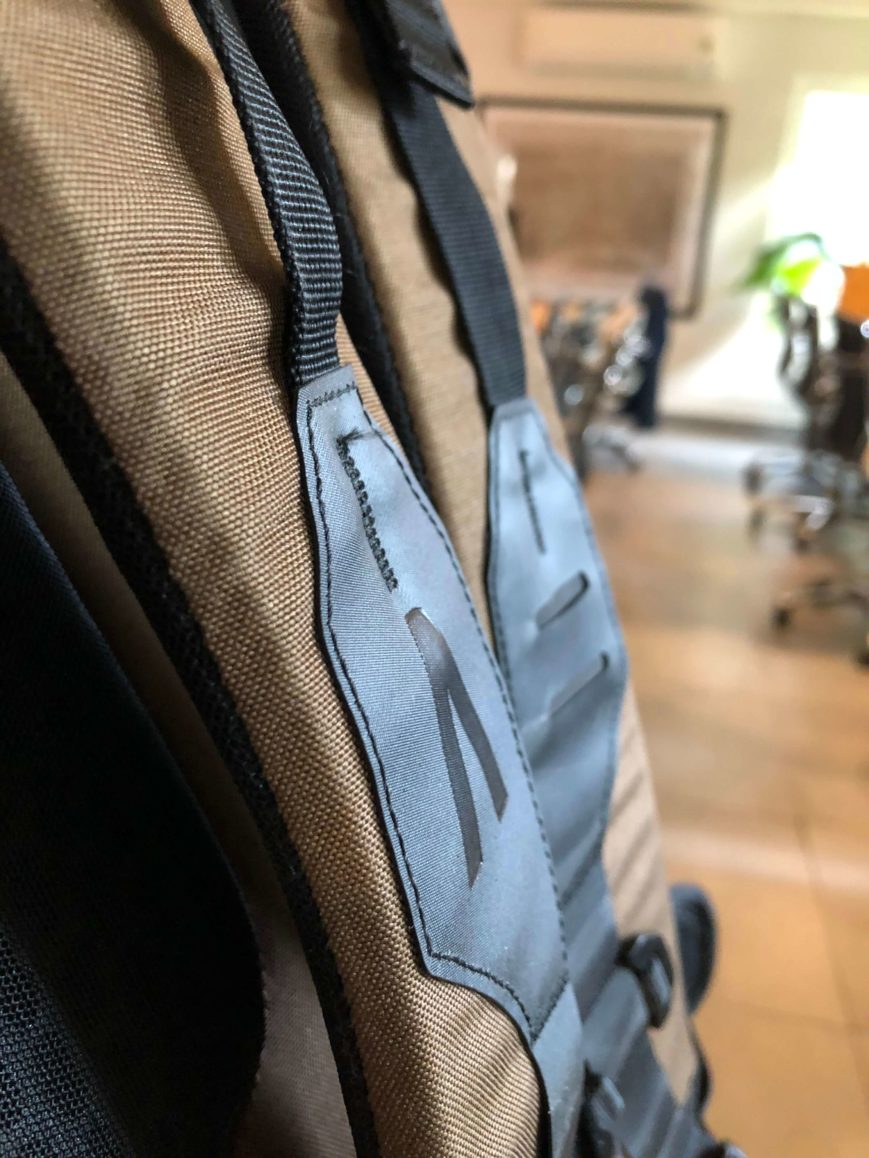 Similar to the back panel, the Boundary Supply Prima System has a comfortable paid of shoulder straps… but they can definitely feel a bit stiff from time to time. 
But having said that the straps look great, provide plenty of elastic bands to make a dangle-free experience, and also have a great sternum strap. 
Speaking of which….
Sternum straps are a really important feature on backpacks as they help take the weight off of your back and give your pack a tighter, more secure feel. 
And it's important to understand that at 31 liters this backpack can carry a TON of stuff – so the sternum straps can come really handy.  
Here are a few more awesome things about these particular sternum straps…
#1 – They are removable 
Sternum straps are a love/hate thing. We love them, some people see no point in them.
Which is why these sternum straps are the best of both worlds – you can remove them!
Simply unhook the sternum buckle from where it meets the strap and BOOM! Sternum straps no more 🙂
#2 – Magnetized!
The Prima System is one of the few backpacks that offers a magnetized sternum strap – and we love it!
The magnet is strong and easy to buckle. It's a much better sternum-strap experience than basically any backpack in this size. 
#3 – Dangle Free
The sternum strap comes equipped with nylon bands so you can keep dangle to a minimum. Halle Berry, Hallelujah. 
Again, Boundary Supply does something pretty awesome and unique here – the waist strap is completely removable!
By itself the waist strap is great. It's comfy, looks great, has no dangle, and most importantly IS INCLUDED in the price!
Yes Brick, so do we. 
But the most memorable feature of the waist strap is the fact that it is removable.
The ability to remove your strap is awesome for a few reasons…
Reason #1 – You don't care for the waist strap and want it gone
Reason #2 – Remove it and use it as a weapon in the case of a Zombie apocalypse (always have to be prepared people!)
Reason #3 – Remember when we said there was one more awesome thing about the Verge Case?
Well here it is – you can remove the strap from your Boundary Supply Prima System backpack, and CONNECT it to your Verge Case.
Such a move would allow you to morph the case and the strap into one and create some sort of sling, fanny pack, or messenger bag.
4 for 1!
Now before getting too thrilled we will say that this is a cool feature, but the Verge Case isn't the greatest bag in the world, so it makes for an OK sling – not the best!
But having said that it is another amazing way that Boundary Supply have really brought their design-game, and created a product that can morph into other products – and in a way that works really well!
It's a pretty impressive feat, and even if you only use it once or twice it's just convenient to know that you always have it as an option. 
So while we clearly love the waist strap – the top handle is just average.
While the handle is well branded and looks cool – we think it does so at the expense of it's functionality. 
In particular we find the handle to be quite stiff not very well padded. 
In fact – it's shockingly uncomfortable. 
And to top it off there is very little space between the handle and the top of the pack, making it hard to get your fingers inside – which makes the handle in general super difficult to use in general.
The whole point of a handle is to be comfortable and accessible – both of which this handle fails at. 
And to make the handle-situation worse, Boundary similarly dropped the ball on their side handle.
Completely different to the top handle, the side handle is cheap and thin.
While it is much easier to grab, it lacks any padding whatsoever, and is really the last thing you'd want to grab if you are on the. go or quickly trying to grab your pack – which is exactly what side handles are created for. 
Ultimately we understand that Boundary Supply was trying to make their handles look awesome. They wanted the top handle to be sexy and well branded, and their side handle to be small and out of the way.
And they accomplished that. 
But unfortunately, both handles lost a ton of functionality in the process. 
Overall Pros and Cons of the
Boundary Supply Prima System
Boundary Supply Prima System Pros
One of the most functional work/photography bags... ever

Tons of amazing features (without going over the top)

The front magnet locks are a freaking joy
Boundary Supply Prima System Cons
It's not ideally used as a casual everyday carry

We were hoping for more from the materials
Other Boundary
Supply Products
Boundary Supply is one of the most respected travel and photography gear companies in the world right now. They are new, but they have made a lot of noise since their first Kickstarter. 
Here are a few of our other favorite products by them…
#1 - X-Pac Boundary Supply Prima System
At first glance the X-Pac might look exactly like the original Prime System.
That's because – it is!
Except for one thing… the fabric!
Made with 3 layers of nylon, fiber, and lamination, the X-Pac is Boundary Supply's most durable pack to date. If you are an outdoors photographer looking for a pack to keep your DSLR gear safe in a thunderstorm – this is your pack.
#2 - Boundary Supply Errant Pack
Raising over 1.2 million on Kickstarter, the Errant is Boundary Supply's other legendary backpack – and it's just as awesome as the Prima System. 
At 21 liters, the Errant is a bit smaller than the Prima System, and was designed to be the perfect bag for everyday carry.
It's also worth noting that while the Errant was also created with photographers in mind, it caters a bit more to the common man.
#3 - Boundary Supply Aegis Duffel
Half backpack, half duffel – many companies have tried to combine the two and failed miserably.
But Boundary Supply has done an amazing job!
Coming in at a manageable 32 liters,  the Boundary Supply Aegis Duffel looks incredibly sexy, and is currently on pre-order. 
#4 - Boundary Supply Arclite Sling
Going off of the design of the Errant Pack, the Boundary Supply Arclite Sling is Boundary's answer to the sling revolution!
But as opposed to most other slings -. this one is larger. Being able to carry 15 liters of stuff AND a 13″ laptop makes this sling one of a kind, and one of the reasons why it has already been so well reviewed. 
How much stuff can you fit into the Boundary Supply Prima?
At 31 liters, the Boundary Supply Prima has the potential to be either a larger everyday carry bag, or a smaller travel backpack. It just depends on how much stuff you like to pack!
Where does Boundary Supply ship?
Boundary Supply ships to every country in the world! They also have global fulfillment centers, which means their products are delivered super fast! We relieved our Prima System in less than a week.
How to pack the Boundary Supply Prima System?
This depends on what you are packing. If you are a photographer, then you can easily fit a days worth of gear into the Prima Supply. If you travel light, you can even use this backpack for weekend trips!
Where is Boundary Supply headquarters?
Boundary Supply is a US company that is based in Salt Lake City, Utah. 
There you have it – the most epic Boundary Supply Prima System review on the web!
We know that this article should answer all of your questions about this amazing pack- but in case we missed anything, feel free to ask us below! 
We answer all of the comments ourselves.
Travel on Nomads…
***Disclaimer*** Some of the links in this post are affiliate links. This means that if you use our links, Nomads Nation will earn a small commission at no extra cost to you. Thanks for the love and support!