Travel Backpack Sizes Explained: Ultimate Guide For 2023
Travel Backpack Sizes Explained: The Ultimate Traveler's Guide For 2023
Backpack size is one of those factors that can make or break our journey. Choose one that's too small, and you'll have to leave behind essentials. Go too big, and you'll find yourself weighed down by unnecessary baggage, quite literally.
Choosing the right backpack size can be an overwhelming task, whether it's months-long travel or even everyday carry.
But the truth is, picking the right sized backpack is just about finding that Goldilocks zone of comfort and functionality.
To save you from the trouble of under or overpacking for your next trip, I have got you covered. In this blog, we'll delve deep into the art of choosing the right backpack size.
Also coming up is a travel backpack size chart to simplify your decision-making. So, make sure to stick till the end to know the A-Z of backpack sizing tips!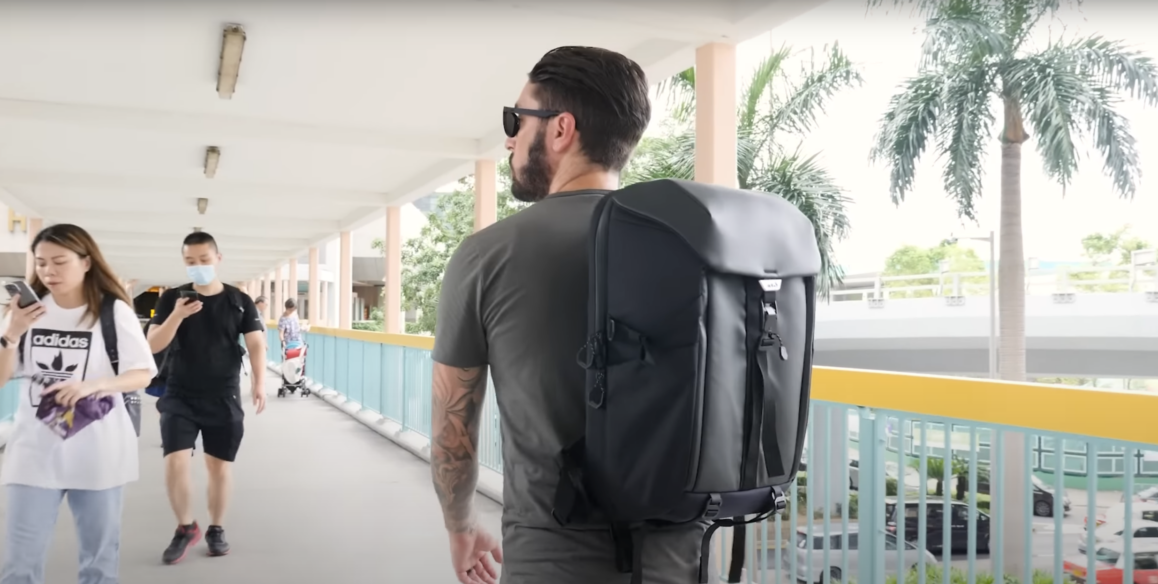 When preparing for your next adventure, the first thing that comes to mind isn't picking the right backpack size.
You are probably more excited about picking your next destination and what you are going to see. And of course, capturing Instagram-worthy moments.
When preparing for your next adventure, the first thing that comes to mind isn't picking the right backpack size. Instead, you are probably more excited about picking your next destination and what you are going to see
However, neglecting this critical element can turn your dream journey into a nightmare. Let's delve into why backpack size is a make-or-break factor for your travels:
Your backpack is like a second skin during your trip, as its size greatly affects your comfort.
A backpack that's too small may force you to stuff it beyond its limits, resulting in discomfort. While a backpack too large can lead to unnecessary strain on your back.
But here's the catch: the perfect backpack size ensures that you can carry all that you need with ease.
Although a rookie mistake, every traveler has overpacked at some point… myself included!
With a large backpack, there is an urge to fill it to max capacity, even with items you may not need. But in reality, this not only adds extra weight but also clutters our backpacks.
The right-sized backpack encourages you to pack only what's essential so you can travel light.
Travel plans vary from one trip to the next. In one, you're on a hiking and camping expedition; in the other, you simply enjoy a weekend getaway.
Each adventure demands different backpack sizes. Having the right-sized backpack for each adventure can elevate your overall experience.
You don't have to worry about stuffing your things for camping in the same backpack you took for a weekend trip, as you have the perfect backpack size for it.
Backpack Size Categories: Finding the Perfect Fit
When it comes to choosing a backpack, one size certainly does not fit all.
The world of backpacks is diverse, and to make the right choice, you need to understand the different backpack size categories.
Let's take a closer look at these categories and how to pick the one that best suits your needs.
Daypacks like the Wandrd Duo Daypack are your reliable companions for short trips and urban explorations.
Compact and lightweight, they're perfect for stashing essentials like water bottles, snacks, a light jacket, and some tech gear.
Best backpack size: Opt for a smaller size if you're a minimalist packer or a larger one for extra layers and gear.
These bags are designed to be companions to your main suitcase or bag.
These bags are designed to be companions to your main suitcase or bag.
They serve as handy carry-ons for your flight, keeping your essentials within easy reach.
Upon reaching your destination, they transform into your daybag, perfect for exploring a new city.
For those who pack ambitiously, this bag size can even suffice for a short weekend getaway.
These versatile bags are perfect for everyday use or short trips.
They typically fit neatly under the seat in front of you.
While traveling with a bag of this size can be snug, it's gaining popularity as airlines enforce stricter baggage policies
Mid-sized backpacks that I have reviewed make a perfect fit for this category.
For longer journeys, travel packs provide ample room for clothing, toiletries, and travel essentials.
Aer Travel Pack 2 and other travel packs come with various compartments to keep your belongings organized.
You can find some great options in this playlist where I have reviewed the best large backpacks from different brands like EPIC, WANDRD etc.
Best backpack size: Consider a 60-liter pack for extended travel; it balances capacity and mobility.
These bags are tailor-made for solo travelers aiming for minimalism.
They come in just the right size to slip neatly under the seat in front of you, ensuring practicality without excessive weight.
While they may be too spacious for a daypack, our top suggestion is to complement them with a compact sling or a compressible daybag for added versatility.
These backpacks are tailored for travelers who prefer the flexibility and convenience of backpacking over traditional suitcase travel.
If you're aiming to keep your luggage light to avoid check-in hassles (given the weight of suitcases), these backpacks provide you with a wide range of freedom.
However, it's worth noting that they tend to be slightly heavier, and certain airlines may require you to check them in.
It's advisable to avoid using oversized backpacks for travel, as they put excessive strain on your back and shoulders. This will potentially lead to discomfort and fatigue.
Opt for a suitcase, which offers more structured support and ease of mobility.
Suitcases also provide better organizatio, making them a practical choice fo longer journeys.
Factors to Consider When Choosing the Right Backpack Size
Choosing the perfect backpack size is like finding the right pair of shoes – it's all about fit and comfort. The backpack size you pick has more to do with your travel experience than you might think.
Let's delve into the key factors to consider when selecting the ideal backpack size.
Start by thinking about how long your journey will last. For a weekend getaway, a compact daypack might suffice. However, for longer trips like backpacking through Spain, you'll need a larger backpack. This is so it can accommodate your gear and essentials easily.
Different types of travel call for different travel backpack sizes. The kind of trip you're planning influences the ideal backpack size.
If you're heading into the great outdoors for a camping adventure, you'll need a backpack to accommodate your gear. For exploring cities, a sleek, easy-to-carry backpack will be more fitting for your needs.
Planning to hike or jump in for a dive? The activities you plan for your journey also matter.
For example, as a photographer, you must take a tech backpack that fits all your gear. So, ensure there's ample space for any stuff that activity you plan to do demands.
Layering yourself isn't enough as the backpack you pick should be able to survive the weather too! Keep the weather in mind when determining your backpack size, and pick one accordingly.
Consider how easily you can access your belongings. Some backpacks have top-loading designs, while others offer front-panel access like a suitcase. Think about which design suits your convenience best.
How to Choose The Right Backpack Size: Step-by-Step Guide
Selecting the perfect backpack size isn't a guessing game. It's a science, but don't worry, not the complex one. Here's the only step-by-step guide you will need to measure and determine your ideal backpack size.
The backbone of finding the right backpack size is knowing your torso length. It's like finding Cinderella for your shoe. Here's how to do it:
Stand up straight but relaxed.
Locate the bony bump at the base of your neck – that's your C7 vertebra.
Use a flexible tape measure for this step. Start from the C7 vertebra and run it down your spine, following the natural curve. Extend this to the point where your spine meets your lower back – that's your iliac crest.
This measurement is your torso length, and this will serve as your compass for choosing the best backpack size.
Consult the manufacturer's sizing chart for the backpack you're interested in.
They often provide guidelines based on torso length, helping you match your measurement to the appropriate size range.
You can also refer to the backpack size chart below for your reference:
Whenever possible, try on the backpack. If you buy online, be sure to see if the company offers free returns so you can try it on risk free.
Adjust the straps to ensure a snug fit around your torso. Remember that a well-fitted backpack should rest comfortably on your back without straining it.
Make sure that the shoulder straps provide balance and stability.
To truly determine if it's the right size, pack it with your essentials.
Ensure there's enough room for your travel gear without overloading or underutilizing the space.
Walk around with the loaded backpack
Pay attention to comfort, weight distribution, and any pressure points. Your ideal size will feel like an extension of your body.
And that, my fellow travelers, wraps up our journey through the world of backpack sizes!
Remember that the right backpack size is not just about fitting your stuff. The backpack you pick should also align with your travel style and preferences.
Whether you're planning a quick day trip or gearing up for an extended adventure, there's a backpack for every occasion. All you need to do is follow this guide, and choosing the right backpack size will be more of a fun task than a chore.