Peak Design Wash Pouch Review (Updated 2023)
peak design
wash pouch review (UPDATED 2023)
The best Peak Design Wash Pouch review on the internet!
Who the Peak Design Wash Pouch is perfect for
If it's not for you – we'll show you which toiletry bag is!
Peak Design Wash Pouch
Overall Score
Our Take – Peak Design makes some of the best travel products we have ever tested – we love them!
And the Peak Design Wash Pouch is a great example as to why.
Huge capacity, yet sleek. Modern, yet classy looking. Aesthetically pleasing, yet functional. This wash pouch is one of the best toiletry bags we've ever tested, and comes highly recommended.
Overall we give it a score of 4.5/5.
Peak Design
Wash Pouch
Specs
Volume: 2.5 liters
Dimensions: 15cm x 26cm x 11cm (6″ x 10.2″ x 4.4″)
Weight: 8.7 oz (0.54 lbs)
Colors: Black or Sage Green
The Peak Design Wash Pouch is
PERFECT for you if...
The formula is simple. If you travel + you don't have a toiletry bag = buy this now. 
Peak Design makes tons of travel and photography gear, and all of it is designed to seamlessly integrate with each other. Don't worry – you won't need any other Peak Design products, it's just a bonus if you do 🙂
There are almost 15 pockets and compartments in the Wash Pouch which will allow you to seamlessly organize all of your toiletries 
With an origami-inspired design, the Peak Design Wash Space has an impressive amount of space.
Aside from a travel backpack, a toiletry bag will probably be the most useful piece of travel gear you can own. Believe us, it's a complete game changer – especially when you own one that is well-designed. 
Having the ability to hang your toiletry bag on any towel rack is awesome. Enough said. 
The Peak Design Wash Pouch has a few built-in features that allow you to clean it easier than other toiletry bags
Peak Design is committed to being an eco-friendly business.  They donate 1% of all proceeds to non-profits some of their products are made from 100% recycled nylon materials – like the Wash Pouch!
The Peak Design Wash Pouch
is
NOT for you if...
While some travelers love to be obsessively organized, others might find 14 pockets to be a bit overkill..
→ If you need a simpler toiletry pack, these are the best options… 
While this bag could technically carry anything, it was specifically designed for your toiletries – not for your tech stuff.
→ Looking for a tech case?
Most of Peak Design's products have the same two color options – Black or Sage Green. 
This is true of their Travel Backpacks, Everyday Backpacks, Tech Pouches, and yes, their Wash Pouches.
And we gotta say… we love the color choices! 
Black is always a classy option and the Sage Green looks fantastic. For our review we opted to go with the Sage Green as it looked fresh and minty. 
Toiletry Bags are not meant to be stylish – they are meant to hold your damn toiletries.
But having said that, some toiletry bags can be UGLY, and we really like what Peak Design have done with their wash pouch (because it is much less UGLY).
The design is clean and smart, all while having all of the toiletry-organization you'll ever need. 
Materials of the Wash Pouch
Peak Design only uses top-notch materials for their products, and the Wash Pouch is no exception!
External Materials
Boasting weatherproof recycled 200D Nylon, the exterior of the Wash Pouch has a sturdy, strong feel.
Because of this the pouch is super durable, and it will survive for dozens of years (and hundreds of bathrooms!).
Internal Materials
Strong materials on the inside of a pack are just as important as they are on the outside of a pack – especially for a wash pouch. 
And Peak Design delivers just that. The materials on the Wash Pouch are strong and do not stain easily, but they are also simple to clean.
Using Woven nylon webbing, EVA foam, the inside of this wash pouch feels fantastic, and just as importantly, is strong and durable. 
This bad boy has three zippers…
Zipper #1 – This is the zipper that gets you access into the main compartment. This is the largest zipper of the three and has a really nice, easy to grab pull-tab. We do have one qualm with this zipper, but we'll cover that a bit later.
Zipper #2 – This is the zipper that gives you access to the back compartment. This zipper is significantly smaller, and has it's own unique (but effective) pull-tab.
Zipper #3 – Located on the interior of the pouch, this zipper gives you access to the side pocket where you can find additional webbing for toiletry-organization. 
All three zippers work very effectively. Moving on. 
There isn't much to the front of the pouch, but let's take a quick look…
Peak Design make great products, and they also have great branding. 
Their logo placement is usually clean, smart, and very consistent. Peak Design accomplishes this by utilizing a leather-looking tab on most of their products. 
This leathery-looking tab can be found across nearly all of Peak's products, and give a nice, smart feel to their products. 
We like the leathery tab. 
The hook is one of the most important features of the pouch, and we love it for a few specific reasons.
Reason #1 we love the hook – You can use it to hang your toiletry bag!
Yes, while you would think that a hook is expected of a toiletry bag – some toiletry bags actually don't have one. 
Thankfully the Peak Design does. 
Reason #2 we love the hook – It can be stowed away!
Peak Design understands the importance of stowing objects. Sometimes when you don't need them they get in the way, and what better way to fix that than to make it straight up disappear?
Yes, it is good form, Captain.
But while we like the hook we will say that sometimes stowing it away can be… annoying. It's not difficult, sometimes it just takes a few seconds to properly get it in its little pouch. 
OK, while the front of the pouch has a few things worth noting, the most important part of this Digital Nomad gear is the main compartment.
And there are some really interesting things about the main compartment that you need to be aware of. 
If you are excited for some next-level-toiletry-organization then you are going to love the main compartment. 
With over 10 distinct pockets and compartments, the main compartment is designed fit all of your toiletry needs in a manner that is comfortable and organized. 
The main compartment will be able to store basically anything you need it to store. 
Here are some of the things we put in our Wash Pouch…
Deodorant 
Two toothbrushes
Large bottle of toothpaste
Cotton buds
Meds
Two razors
Two packages of floss
Band aids
Melatonin 
LARGE pair of clippers
Topical medicines
And more!
And the crazy thing is that even though packed all of the above in the wash pouch, there was plenty of room left for more toiletries.
Ultimately the large amount of storage space is one of its more important features of this pack.
The mesh compartments are awesome!
Made from high quality materials, they are durable and can fit a ton of stuff without being too bulky or taking up space. 
There are 7 mesh compartments spread throughout the main compartment of the pouch. Some are larger (good for large deodorant or a large bottle of toothpaste) and some are smaller (great for floss or small topical medications).
Located on one of the sides of the pouch is a larger storage area.
This area is recommended for one of two things…
When you need to quickly toss something in your pack and run
When you need an organized spot for larger items – like clippers or maybe even a super small hair dryer. 
While it might seem small, toothbrush compartment is a huge selling point of the pouch.
Here's why…
#1 – It's easy to access
The toothbrush compartment was smartly designed to be accessible. Located front and center of the main compartment, it's in a perfect location to be able to quickly and easily grab.
Also the compartment is opened and closed via magnets – and magnets are always awesome. 
#2 – It's easy to clean
Let's admit it – toothbrushes can get messy. And while a dedicated toothbrush compartment is awesome – it's probably going to need a little cleaning from time to time. 
But don't worry, Peak Design has got you covered.
With two pull-tabs in the compartment, simply pull up to be able to clean this toothbrush-cubby. 
Sometimes the tabs can be difficult to pull up, but more over less they work effectively and give you a bit of extra grip when trying to keep your toothbrush pocket as sparkly as your teeth. 
Note, that while we had great things to say about the zippers previously, it should be mentioned here that we noticed the main compartment zipper had a tendancy to get stuck. 
This happened a bit more often than we wished it would happen and really put a damper on the experience of closing the pouch.
The back of the Peak Design Wash Pouch is fairly minimalist, but there are a few features to be aware of…
The main handle has a real nice feel to it and we think it's really well designed.
This is for two reasons…
It is subtle. Sometimes you will even forget it is there because it blends in so well
It is easy to grab. There is an effective amount of space in between the handle and the actual pouch, meaning there is plenty of room to easily (and quickly!) grab your toiletry bag. 
Finally on the back panel is a zippered pocket.
While not our favorite feature – it's nice to have as you can use it for a toothbrush, razor, or something important that you want to have quickly accessible.
Overall Pros and Cons of the
Peak Design Wash Pouch
Other Peak Design Products
As mentioned before, Peak Design makes more than just pouches.
Based out of San Francisco, Peak Design has been making some of our favorite travel gear for years now.
These are the products we most love by them…
Cool, modern, hip, but ever-so-functional, Peak Design have created one of the best laptop backpacks on the market. 
Although this pack BEST suits photographers traveling with DSLR-gear, anyone can benefit from the amazing amount of organization, and streamlined travel this backpack provides. 
Read our full Peak Design Everyday Backpack review.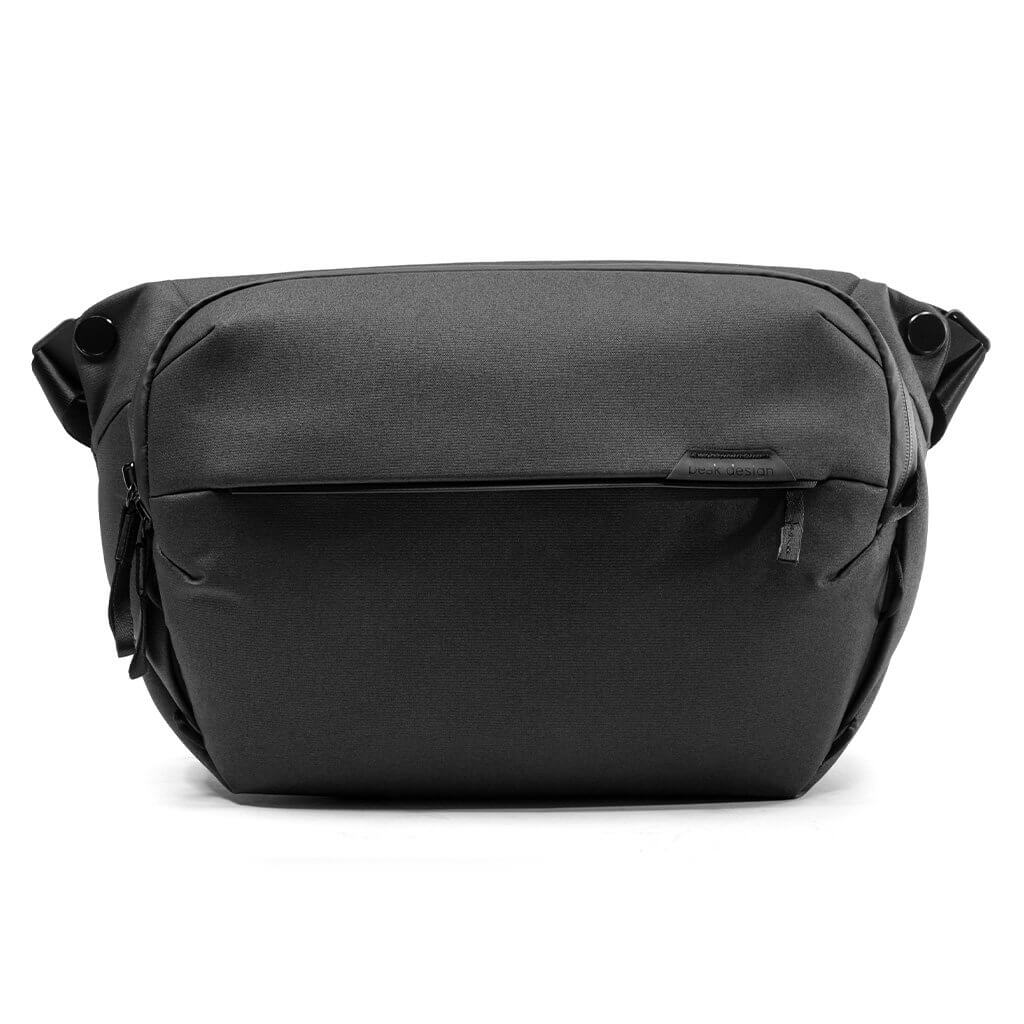 If you are looking for a larger sling and don't mind sacrificing a few style points for it – then the Peak Design Everyday Sling is made for you.
Just like all other Peak products, the Everyday Sling can hold an impressive amount of gear – so much that you could even realistically use it to replace your backpack. 
This is one of the coolest slings on the market. 
Read our epic Peak Design Everyday Sling review. 
The twin-brother of the Wash Pouch is the Peak Design Tech Pouch. 
Similar to the Wash Pouch – the Tech Pouch is perfectly designed, made from great materials, can fit a TON of stuff, and is probably our favorite tech pouch out there.
Seriously, it's the best. 
Read our Peak Design Tech Pouch Review. 
What rating do you give the Peak Design Wash Pouch?
With nearly perfect scores in function, design, and durability, Nomads Nation gives the Wash Pouch a score of 4.5/5
Can you recommend a better toiletry pouch?
While we think the Peak Design Wash Pouch is one of the best toiletry packs, we have a few other we think are equally as impressive. Check out the top of article for those recommendations. 
What should I pack in the Peak Design Wash Pouch?
The Peak Design Wash Pouch is designed help you organize all of your travel toiletries! Toothbrushes, toothpaste, soap, gel, meds – it's basically a transportable medicine cabinet. 
How fast does Peak Design ship?
We ordered a bundle package from Peak Design including the Tech Pouch, Wash Pouch, and Everyday Backpack – they arrived in a week!
And finally we are now through with our Peak Design Wash Pouch Review!
These guides take a TON of time and money to put together, but we know that they are the best on the web and that they will help you determine which gear is best for you and your travels. 
And if our review didn't answer one of your questions -give us a shout below! We respond to every comment left on our blog. 
Travel on Nomads…
***Disclaimer*** Some of the links in this post are affiliate links. This means that if you use our links, Nomads Nation will earn a small commission at no extra cost to you. Thanks for the love and support!