Peak Design Everyday Sling Review (Updated 2023)
Peak design everyday
sling review
The best Peak Design Sling review on the web!
Written by Digital Nomads
Who the Peak Design Everyday Sling is perfect for
If it's not the sling for you – we'll show you which sling is
A video is worth a million words, check out our Peak Design Everyday Sling video review below!
Peak Design Sling
Overall Score
Our Take – Although it's specifically designed for photographers, the Peak Design Everyday Sling is a sling that can be used by anyone! 
It is has a solid build, is made from durable materials, is simple in its design yet it has a ton of customization options. But it is not the cheapest option on the market…
Overall we give this sling a score of 4/5. 
Peak Design
Everyday Sling Specs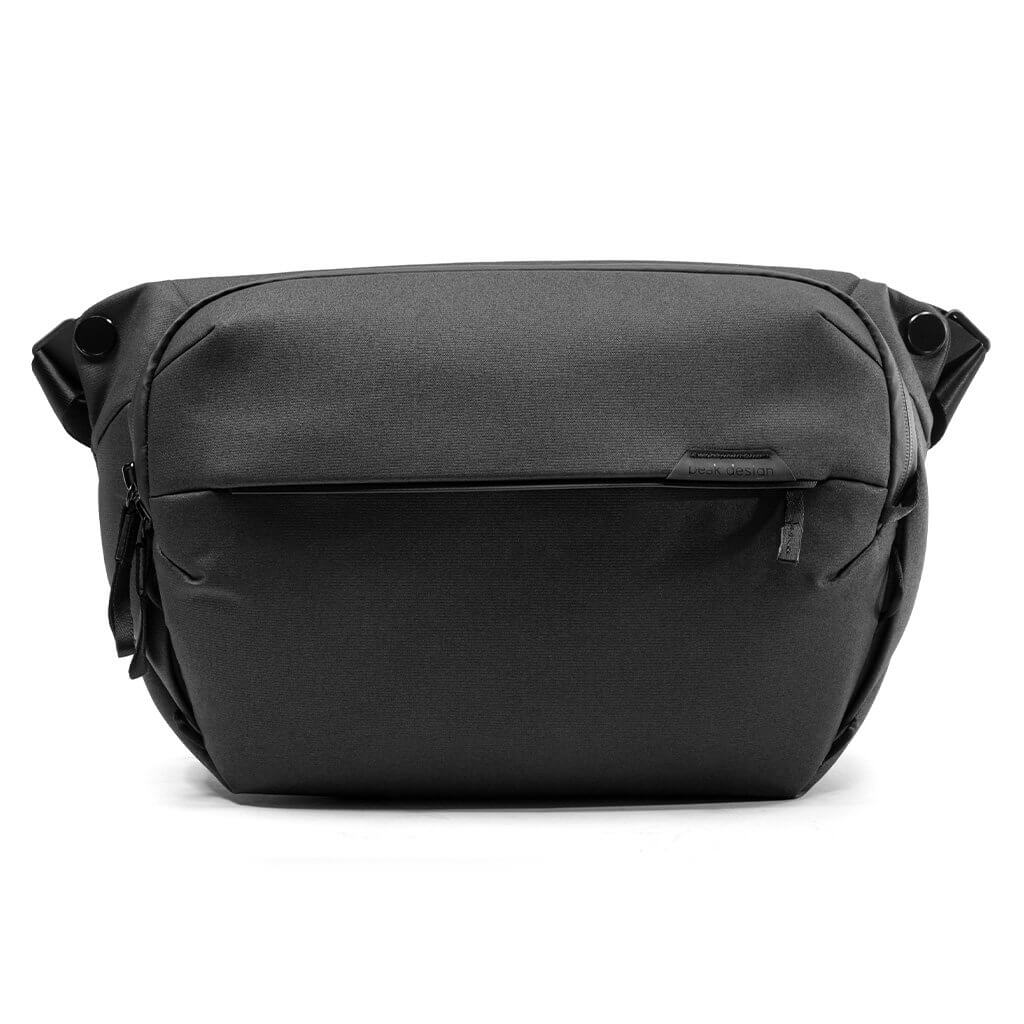 The Peak Design Sling comes in 3 different sizes – the 3 liter, 6 liter and 10 liter.
For this review we purchased the 6 liter – but the design and feel to all of the slings are very similar. 
Here are the specs and pros and cons of each sling size…
Capacity: 3 litres
External Dimensions: 30.5cm x 19cm x 11cm (12″ x 7.4″ x 4.3″)
Internal Dimensions: 19.8cm x 8.9cm x 6.4cm (7.8″ x 3.5″ x 2.5″)
Weight: Without Dividers: 0.45kg (0.99lb) With Dividers: 0.55kg (1.21lb)
Pros of 3 liter – Extremely small and simple. Whether you are a photographer or just looking for a regular commute bag – this will hold your bare essentials. 
Cons of a 3 liter – It's small. Pack very light. 
Capacity: 6 litres
External Dimensions:35cm x 23.5cm x 12cm (13.8″ x 9.3″ x 4.7″)
Internal Dimensions: 27.9cm x 21.3cm x 6.9cm (11″ x 8.4″ x 2.7″)
Weight: Without Dividers: 0.58kg (1.28lb)
With Dividers: 0.78kg (1.72lb)
Pros of 6 liter sling – This is a good middle ground between the 3 liter and the 10 liter. You can fit a larger photography kit, a small drone, and even an 11″ iPad Pro. 
Cons of a 6 liter sling – Might be too big or too small depending on your needs. 
Capacity: 10 litres
External Dimensions: 42cm x 25.5cm x 14cm (16.5″ x 10″ x 5.5″)
Internal Dimensions: 31.5cm x 25cm x 10.2cm (12.4″ x 9.8″ x 4.7″)
Weight: Without Dividers: 0.68kg (1.50lb)
With Dividers: 0.88kg (1.94lb)
Pros of 10 liter sling – The Peak Design Everday Sling 10L is the largest sling in the series. If you carry a ton of gear you will be happy to know this size can fit an impressive array of stuff – including a 13″ Macbook Pro!
Cons of a 10 liter sling – It's big and bulky and because of that it's a bit… unstylish. 
The Peak Design
Everyday Sling
is
PERFECT for you if
...
If you are looking for a sling that was designed for functionality – look no further. No matter what size you pick, this sling was designed to efficiently carry your Digital Nomad gear. 
The Everyday Sling is HUGE! Compared to similar sized slings, our Everyday Sling can fit twice as much stuff. 
Peak Design makes products that can be enjoyed by anyone – but they are MOST specifically designed for photographers. With its design and customizable dividers – this sling is a photographers dream. 
Given its design and functionality, this is a sling that suits a more tech-y lifestyle. 
If the idea of customizable internal dividers strikes your fancy then ohhh boy – you've found the sling of your dreams!
Peak Design makes peak products. This sling is built to last and will last you years upon years. Case closed.
While not a feature that everyone cares about, there is a passionate cult of backpack enthusiasts who NEED their packs to stand up by themselves. This sling checks that box.
Peak Design is a company that is fully committed to being as eco-friendly as possible. These slings in particular are made from recycled plastics, and most of their products are Bluesign Approved. 
The Peak Design Sling
is
NOT for you if...
Trust us, a sling cannot replace a travel backpack. And there are so many amazing 20-30 liter backpacks on the market right now it's unbelievable…
→ Looking for an everyday carry backpack?
If you are looking for a sling that can carry your phone, keys, headphones and the occasional snack – we think the Peak Design is a bit overkill… 
The customizable dividers are a dream feature for some – but if it's overkill for you then should probably look elsewhere. Why pay for a premium feature if you aren't going to use it?
Don't get us wrong – this sling is durable and can last the great outdoors! But it's not a hiking sling. If you are the outdoorsy type, there are better options.
The Everyday Sling has three color options – Ash, Midnight, and Black. 
Although we chose black for our sling review, we think all three of the color options look awesome. 
In our opinion, while the style of the sling is nice, it's not one of its biggest selling points. 
We find that the sling is a bit on the bulky side, which compromises the way it looks.
Granted – this is an intentional decision!
Peak Design made a clear choice with their everyday sling – add more space and use durable materials. This makes the sling look a bit bulkier, but at the advantage of you being able to pack more gear with the confidence that it is going to be protected. 
Take a look at the comparison above. On the left is the Peak Design Everyday Sling and on the right is the Bellroy Sling. 
The Bellroy Sling is designed for simple everyday use and not meant to protect expensive gear. Because of that the sling flattens out when it's not full and we think because of that it has a more subtle and stylish look. 
In contrast the Peak Design is built to protect and survive! Due to its materials and padding, the sling maintains its bulkier shape even when it's not full.
As always, style will come down to personal preference. If you want a more subtle looking sling, check out our Bellroy Sling review. 
One of our favorite things about Peak Design is that many of their products are eco-friendly – the Everyday Sling included!
Made from 400D double poly-coated DWR-impregnated nylon canvas shell – this sling is made from 100% recycled materials. 
For those wondering 'that's nice, but does this compromise the quality of the materials?' – we answer with a resounding HELL NO!
We've tested TONS of packs using recycled plastics – and this one could be our favorite!
Reason being sometimes recycled plastics can create a lower quality feel, or – in the case of the Peak Design Everyday Backpack – feel a bit paper-y. 
In contrast, this sling feels very high quality and doesn't have the same cardboard texture that some of the other Peak Design products have. 
It's also smoother and less scratchy than the Bellroy Sling
This is an amazing feature of the sling. Not only do you get to support products that help the environment, but you get to do so without compromising the quality of the product. 
Peak Design have done and EXCELLENT job with this. Bravo!
Peak Design are the rebels on the block. 
Instead of going with YKK Zippers (like most backpack companies), Peak Design instead uses UltraZip zippers.
And the verdict is…
They are awesome. 
Don't get us wrong – YKK zippers are amazing zippers. But you don't need them on your pack – and Peak Design proves this with their use of Ultra Zips. 
These zippers are durable, and have a very satisfying, frictionless zip to them.
No zipping friction = happy Nomads Nation. 
Overall the comfort of this sling is good, but there are a few things we need to discuss… 
Remember, because of its design, the bulkiness of this sling going to compromise its overall comfort. 
This is because it's going to be larger, heaver, and create more drag in your day to day carry. 
Heavier + more drag = less comfortable. 
But for being a larger and bulkier sling – it is still very comfortable! The strap (to be discussed later) is well-padded, and sling will rest very comfortably against your body.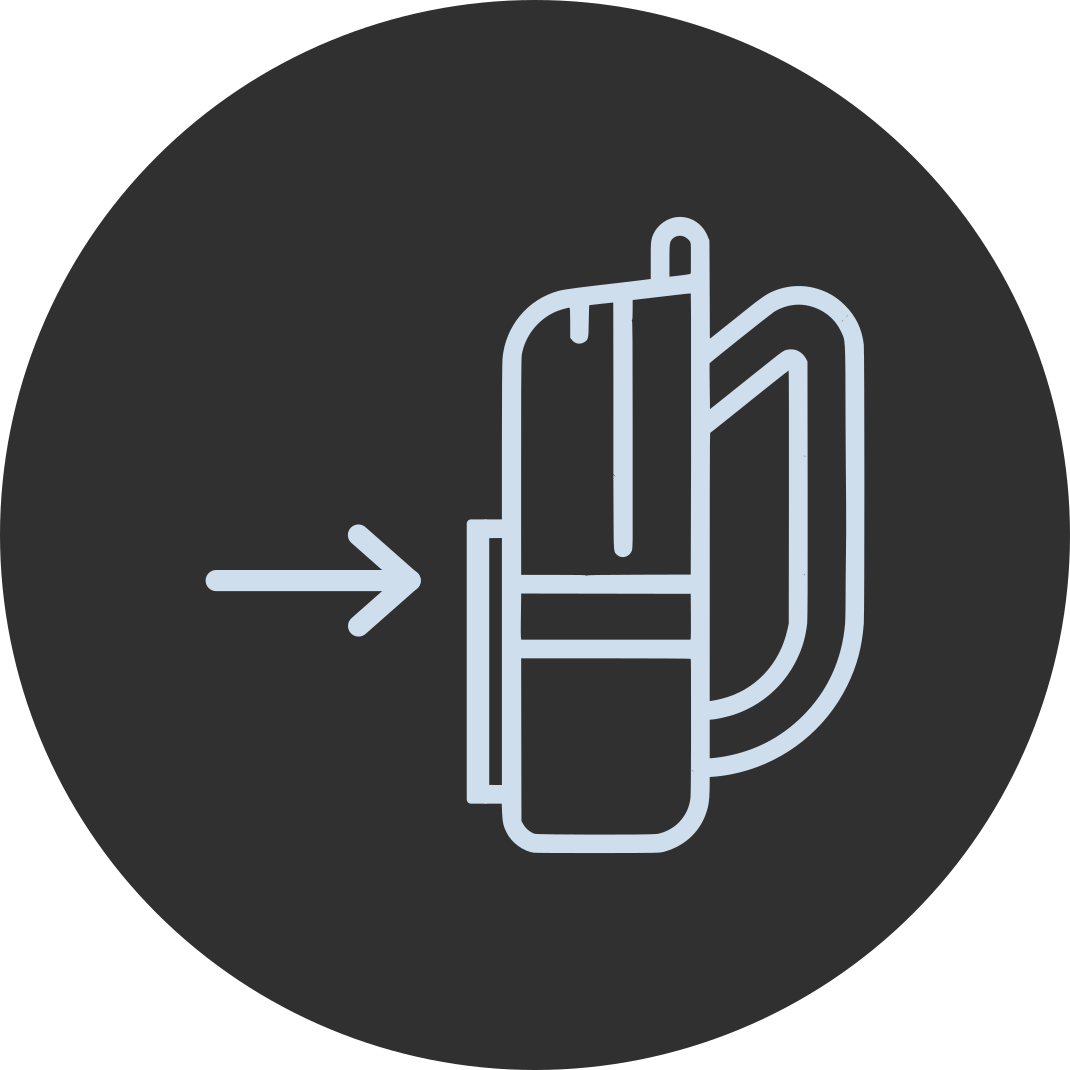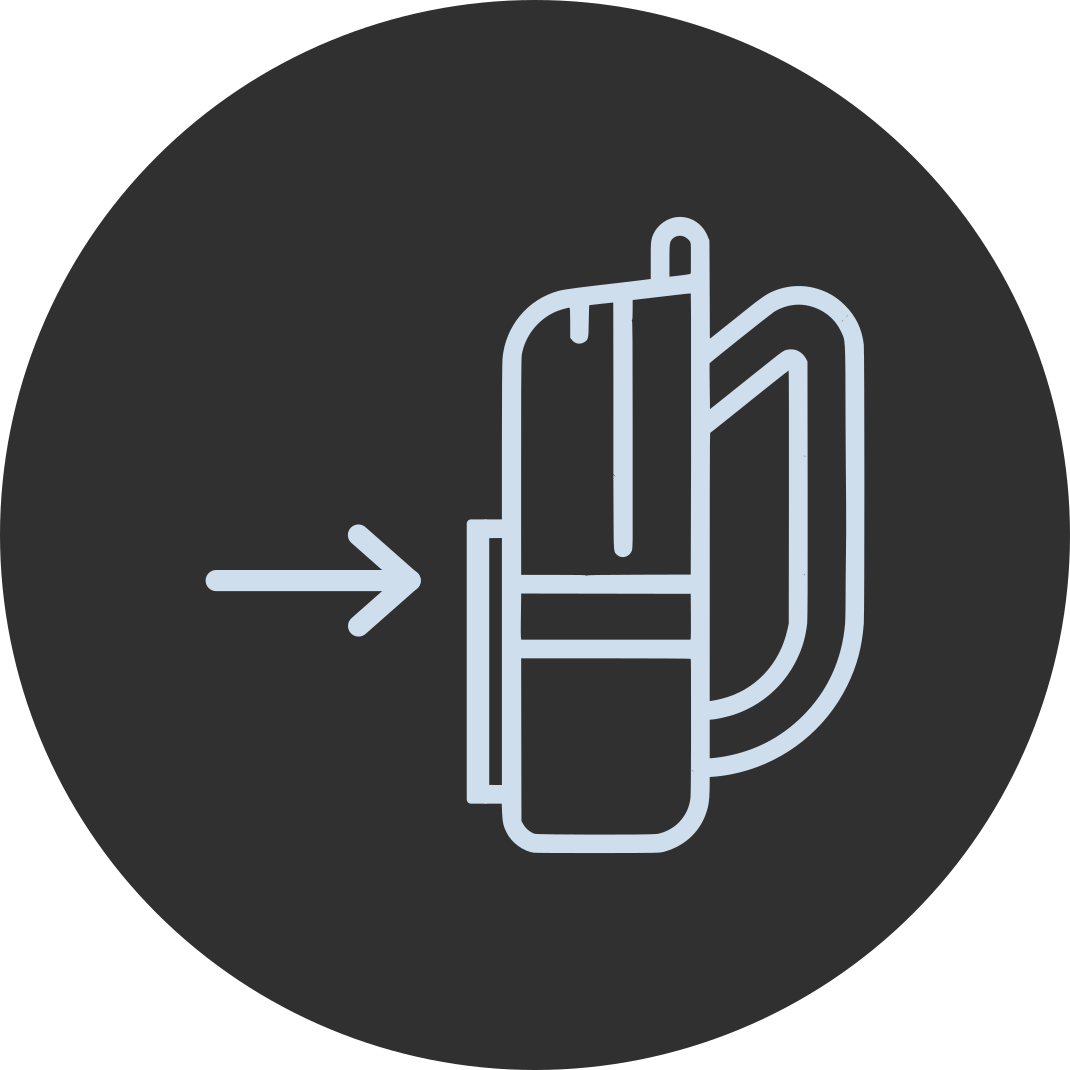 There is never usually too much to discuss about the front of slings, but let's chat about a few things…
We really really really love Peak Design's branding, and the Everyday Sling is a prime example of that. 
Peak Design typically utilize a small leather tab to advertise their brand – usually on the front of the pack. 
The effect is classy and subtle, but while also providing a really nice POP! to their packs. 
One of the unfortunate part about the all black design is you will lose out on the POP! of the leather tab, but if you get the grey or blue color sling you will be able to rock the POP!
Located on the front of the sling is a well protected front pocket…
This pocket is well padded and easily accessible – but let us warn you – it's a bit tight.
There isn't really a whole lot you can fit in this front pocket (at least without having to really overstuff it).
Because of its limited size, we recommend using this pocket for the simpler things – keys, pens, gum, wallet, etc. – and use the larger main compartment for your actual gear. 
Also worth noting that this pocket is colored with a highly visible gray nylon material. 
This color material acts as a light of sorts, making it easier to find your stuff. Black pockets might look cool, but they are dark and because of that they make the inside much less visible. 
 These are the little touches that make the Peak Design Everyday Sling particularly awesome. 
Time for the middle of the sling. 
This is where we break into the main compartment, the sides, and the strap.
Remember that for this review we are looking at the 6L – but the principles will all remain the same regardless of which size you are interested in. 
Let's jump into it…
The first thing to discuss – it's depth!
The main compartment has an impressive size and depth to it, and no matter what size sling you pick, the depth and storage space will surprise you! You'll be able to fit a ton of gear in this compartment.
Also, as opposed to the tight front pocket we just discussed, the main compartment is much easier to access.  
This is because of the sling's build. Peak Design uses materials that are padded and heavy, meaning the main compartment keeps its shape and opens very easily.
This build means that the compartment is large, and accessible – two very important qualities in a sling like this. 
Additional reading – The Ultimate Digital Nomad Packing List
These side pockets are great!
With one on each side, these are good for spare batteries, or a surprisingly nice holder for your sunnies. 
Also worth noting is that these pockets have some elasticity to them, meaning they can stretch… a bit.
Great for a notebook, documents, a tablet or laptop (depending on which size you get) the back panel is a nice feature to have!
What we particularly like about it is its thoughtful design.
When you need it, it's there. But when you don't need it you might forget about its existence! 
This is because the back panel is actually quite hidden. It discretely folds back into back of the pack – we didn't even know it was there for a week – meaning it will never interfere with your usage of the sling unless you need it.
Very well designed. 
The internal zip pocket is made of the same material as the side pockets. The material feels a bit like nylon, and has the ability to stretch ever so slightly.
If you are a photographer, you will love this pocket for small batteries and endless SD cards.
But to all of our non-photographers out there, you'll be pleased to know these pockets can easily store air pods, chargers, wires and tons of other gear.
While having these pockets is nice, we weren't crazy about them as they are fairly small and compact.
This is one of the features that will best suit a photographer, but the everyday traveler won't reap as many benefits. 
Peak Design are masters at creating functional features that are unique and fun to use.
And the FlexFold dividers are probably their best example!
The FlexFold Dividers connect to the interior of the sling via strong velcro, and will enable you to create an internal organizational system that makes sense for you.
You can keep the FlexFolds upright to act as dividers…
Or you can fold the dividers into adorable little cubbies…
Now you might be thinking to yourself 'but Aaron, isn't this just another feature that will only benefit photographers?!?'
And to that I say… it depends.
Truth be told, these are features that are designed for photographer. The 'cubbies' in particular are designed to safely store DSLR lenses in a way that is super accessible. 
But while we couldn't find much use for the 'cubby' we had plenty of fun with the dividers…
We actually really liked the FlexFolds for non-photography use. 
If you are not a photographer, then look for ways for the FlexFold to help you protect your more fragile stuff (reading glasses, nice headphones, external mouse, glass pipes – you get the jist). 
Notice in the center we created a crevice for reading glasses, and on the right we created a bat-cave for an external mouse.
So yes, while we think that photographers will most benefit from the FlexFold Dividers – everyone can take advantage of customized organization in some way. 
It's actually pretty fun…
Notice our choice of words – 'DECENT Strap'.
We say that the strap is 'decent' because this strap isn't bad – but it definitely isn't great. 
Pros of the strap
#1 -The padding – The padded section is comfortable, without being too bulky. Very nice.
#2 – Dangle free experience – There are discrete little pockets where the straps connect to the sling so you can easily stow away any excess straps!
Mark our words, while this is an expected feature at this price point – it's an important one! Nothing ruins a smooth and streamlined travel experience like dangling straps snagging on everything you walk by. 
Cons of the strap
#1 -Unhooking the strap it – It was a hassle
#2 – Adjusting the length of the strap – Even though this is marketed as a premiere feature of the sling – we thought there was tons of friction and it was really annoying to use.
Overall the strap shouldn't be a deal breaker for you – just know that we wish there was a bit more innovation in its design. 
Something that is also featured on the Everyday Backpack – swivel straps!
A swivel strap is a strap that is is connected to the pack on a swivel as opposed to just sewn into the fabric. 
In essence this gives an enormous advantage – greater range of motion.
This means that as you move – the pack basically moves with you, adapting as you go.
Ultimately swivel straps are awesome because they are more comfortable, and give you easier access to your gear. Long live the swivel strap!
The back panel on the Peak Design Everyday Sling is again… just OK.
Why just OK? Well while it's comfy, there isn't any design that promotes airflow, and in our experience things on the back panel can get a little… sweaty. 
This sling has a large flat surface area and holds its shape – and because of that we think some foam padding or indentations would have gone a long way to make the back a bit more breathable. 
Again – the back is comfy… As long as it's not hot out.
If it is hot out, be prepared for this sling to stick to your back like a pancake on a hot frying pan. 
The handle on the Everyday Sling is solid (look at above picture).
It's comfy, easy to grab, has decent grip, and doesn't stick out too far. 
We will say that the handle is a bit tight, especially if you have larger hands, so that might be something to keep an eye out for.
Otherwise it's a super solid handle – nicely done Peak Design!
PEAK DESIGN EVERYDAY SLING Pros
Unbelievable capacity for its size

A dream sling for a photographer or Digital Nomad

Customizable organization with their FlexFold dividers

Made from high quality materials so you know it will last
PEAK DESIGN EVERYDAY SLING Cons
Way too much capacity and organization for your average person

Not the most stylish sling - quite bulky

Photographers will definitely benefit most

Strap adjustments were challenging to make
Other Peak Design Products
If you like the look of the Peak Design sling then get excited because they are CRUSHING IT right now and have tons of amazing products. 
Here are a few of our other favorite bits of Peak Design Gear…
#1 - Peak Design Everyday Backpack
Sharing a TON in common with the Everyday Sling is the Peak Design Everyday Backpack. 
Packed with features (like the sexy MagLatch and the customizable FlexFold Dividers) the Everyday Backpack is one of our favorite daypacks on the market. 
If you are interested in a solid daypack, you check out our epic Peak Design Everyday Backpack Review. 
If there is one thing that all travelers need – it's a toiletry kit. 
And after trying a handful of them, we can confidently say the Peak Design Wash Pouch is our favorite.
Why?
As always, it's well designed, but what's most impressive is just how much stuff it can hold.
Check out our full Peak Design Wash Pouch review!
If you are traveling with tech gear – buying a pouch for all of your gear is literally a life changing experience. 
And the Peak Design Tech Pouch is one of the best money can buy!
Similarly designed like the Wash Pouch – the Tech Pouch is really well designed, but also impressive with just how much stuff it can comfortably fit.
Read our ultimate Peak Design Tech Pouch Review. 
#4 - Peak Design Travel Backpack
While it's on the pricey side, this is a serious backpack for a serious world traveler.
Like all of their products, the Peak Design Travel Pack is loaded with features. 
It's weatherproof. It can transform into a duffel. It can expand from 35 to 35 liters. 
Seriously – this backpack is a serious piece of equipment. 
How to use the Peak Design sling?
The great thing about the Peak Design Sling is its versatility. You can use it as an over the shoulder photography pack, a casual hip pack, a large messenger pack for your tech gear – and everything in between. 
How to wear the Peak Design Sling?
This will depend on which size you get. All three sizes can be used as an over the shoulder sling or a messenger. But the 3 and 6 liter can also be worn as a hip pack. 
What can you fit in the Peak Design Sling?
Again this depends on what size you can get – the 3 liter, 6 liter or 10 liter. All of the sizes can fit a days worth of camera gear, and the larger sizes can also fit a tablet or laptop!
How should I store the Peak Design Sling?
Peak Design make extremely durable products, so as long as you are keeping the backpack inside and aren't crushing it under the weight of anything heavy, the sling will retain its shape and last you for years.
That's all folks!
Hopefully our Peak Design Everyday Sling review has helped you learn everything you need about this sling, so you can decide whether it's the prefect pack for you. 
Do you have any questions that we haven't answered? Is there anything about the sling that we missed? Let us know in the comments below – we respond to every single on of them!
Travel on, Nomads…
***Disclaimer*** Some of the links in this post are affiliate links. This means that if you use our links, Nomads Nation will earn a small commission at no extra cost to you. Thanks for the love and support!