WANDRD HEXAD Access Duffel Review (Updated 2023)
WANDRD HEXAD access
Duffel review (UPDATED 2023)
The best WANDRD HEXAD Access Duffel review on the web!
Written by Digital Nomads
Who this duffel is and isn't for
Check out our full video review below!
WANDRD HEXAD Access Duffel Overall Score
Our Take – Our feelings on the WANDRD HEXAD Access Duffel are… complicated.
And that's because the HEXAD itself is complicated!
On the pros, this duffel/backpack is made from amazing materials, is durable, has some great functionality, and has some of the sexiest aesthetics we've ever seen.
But on the flip side – it's really complicated – probably too complicated for most people. 
Overall we give it a score 3/5
The WANDRD HEXAD Duffel Backpack is currently ranked #7 on our list of the best backpacks for Digital Nomads. 
WANDRD HEXAD
Access Duffel Specs
Capacity: 45 liters
Weight: 1.8 kg (3.9 lbs)
Dimensions: 9″H X 14″W X 22″L
Pros of 45L – If you are a photographer carrying around a ton of gear or a traveler looking for a weekend backpack or long-term travel backpack – 45 liters is going to be a perfect size.
Also this should be carry on compliant for 90% of airlines. 
Cons of a 45L – If you don't have a ton of photography gear and are looking for an everyday carry backpack – 45L will be way too big. 
The WANDRD HEXAD Access Duffel
is
PERFECT for you if
While its functionality can get complicated, at the end of the day this is a solid long-term travel backpack 
When picking a backpack, the aesthetics are super important. The way the backpack looks should be a reflexion of the person you are – so if you love this look then you'll love the pack!
While WANDRD products can be enjoyed by anyone, photographers will get the most joy out of them. This backpack is designed to keep your DSLR gear organized and protected – case closed. 
While there are other durable backpacks on the market – the HEXAD is one of the best. With quality materials and build, this bad boy is built to last for a long, long time. 
While we don't think the duffel feature is perfect – it's certainly solid! If you really want a half backpack/half duffel – this is one of the best options on the market. 
The WANDRD HEXAD Access Duffel
is
NOT for you if...
At 45L, the HEXAD Access is going to be way too big for your everyday carry. A daypack should ideally be 15-25 liters. 
→ Looking for an everyday carry backpack?
The Hexad is feature heavy and its functionality is complicated. Not everyone will enjoy this. 
→ Looking for something more minimalistic?
While this bag certainly can be used by Digital Nomads, we think there are better options…
→ Want a backpack designed for your Digital Nomad lifestyle?
While WANDRD backpacks are durable and made of water-resistant materials, they aren't designed for to be hiking backpacks. You'll want something made from different materials and with better back support.  
→ These are our favorite hiking backpacks…
The WANDRD HEXAD Access Duffel Backpack comes in three color options…
Aegean Blue
Wasatch Green
Black
For this review we kept it classy and chose the black on black version. 
Having said that we think that the Wasatch Green and (in particular) the Aegean Blue look really sexy!
While we like the black on black, if we were to pick again we would go with the Aegean Blue (like we did for our WANDRD PRVKE).
Overall we think that the WANDRD HEXAD Access Duffel has a nice shape and overall design. 
That's because sometimes backpacks in the 45 liter-range can look MASSIVE. 
Backpacks like the Nomatic Travel Pack and Tortuga Outbreaker have a boxier look to them – and frankly look super bulky. 
WANDRD has created a slightly slimmer look for the HEXAD and we really like the way that it turned out. 
WANDRD HEXAD Access Materials
Exterior Materials
WANDRD always does an impressive job with their materials. In particular we love what they did with the PRVKE – combining a sleek and sexy tarpaulin with a durable and tough ballistic nylon. 
And on the HEXAD they use the same materials, but this time 90% of the exterior is made of tarpaulin.
Take a look.  
When viewed from afar, the tarpaulin has a shiny/leathery look to it. 
But when viewed up close you can see that it is not quite as smooth as leather, but still a satisfying, quality material. 
The tarpaulin materials make up the large majority of the exterior of the bag.
Overall we found these materials to be extremely satisfying to feel and look at.
The tarpaulin is also 100% waterproof.
Wait, the backpack is waterproof?
No. That backpack is not waterproof. The material is waterproof. This does NOT mean you can throw your HEXAD into the Pacific Ocean. 
What it does mean is that if you get caught in some rain or spill a Chang beer on your HEXAD – then no worries!
The tarpaulin is designed to ensure that liquids will bounce right off – keeping all of your best Digital Nomad gear safe and dry 🙂
Interior Materials
Just like the exterior materials, the interior materials of the HEXAD felt great. They sue quality webbing, nylon straps, buckles and everything in between. 
Don't worry. When it comes to materials – WANDRD doesn't cut any corners. 
While WANDRD doesn't use any expensive name brand zippers (like YKK), the zippers on the HEXAD Access Duffel are still great. 
They feel great. 
They look great. 
They ZIP great. Well… most of the time. But we'll get to that a bit later…
The zippers also each have their own unique pull-grips – all of which are high quality and easy to grab.
When we opened the WANDRD HEXAD Access Duffel, we thought to ourselves 'this thing does not look comfortable at all'…
But you know what?
We were wrong!
With great materials, nice straps and a well-padded back panel – we were very pleasantly surprised with how comfortable it actually was. 
We'll break down the comfort of this pack a little bit later in the 'Back of the Pack' section. 
OK now is the time in the WANDRD HEXAD Access Duffel Backpack review to talk about the front of the backpack.
And this is arguably the fastest 'front' section that we have ever covered on any backpack review.
Why?
Because there's nothing to cover!
If you look at the front of the WANDRD HEXAD Access you'll notice that there are no zippers, there are no pockets, there are no compartments.
There is only one thing – the logo!
And we love this.
The HEXAD Access uses a super minimalist approach to the front of their pack – and it works really well. The simplicity gives the pack a great look and helps balance out the rest of the pack – which is far from minimalist. 
We hope you enjoyed the quick look at the front of the pack, because now it's time to dive into the middle of the WANDRD HEXAD Access Duffel.
And the middle of the pack has a lot more going on.
Also it also should be noted that up until this point we have not been very critical of the pack – but that will change with this section.
Overall, let's just say that the middle of this pack is great. It's big and can fit our entire Digital Nomad Packing List.
But it can also get a bit… confusing…
While simple, the top handle is great.
It's strong, comfortable, easy to access, and doesn't interfere with the style of the backpack. 
It checks all of our boxes to be a great handle!
These pockets probably serve some purpose, but for the love of god we couldn't figure out what that purpose actually was.
Located on the side of the pack, there is one on the top and one on the bott. Both of the pockets extend halfway down the side of the pack before stopping.
The space is also really tight. At first we thought the pocket was specifically built to store a tripod, but then we realized that it wasn't deep enough for a proper tripod to fit.
As far as we could see, these pockets served no apparent function, so we found them to be fairly pointless. 
The WANDRD HEXAD Access Duffel Backpack has two different types of compression straps. 
The first paid are fairly normal compression straps. They work fine. Nothing too much to comment on here. 
The other compression straps are a bit different – and they look quite cool!
These compression straps can be unbuckled, have an elastic fabric to reduce unnecessary dangle, and coolest of all is that they can be removed all together. 
If you are into this pack because of its military/tactical look – these straps (and their buckles) really add to that feel. 
To be real, while these pockets can be great for all users, they are going to be most beneficial for photographers. 
This is because they are deigned to give you quick, seamless access to your travel camera gear. The jist is simple – keep your pack on one shoulder, slide it to your front, open the zip, and BOOM! You've got access to your camera equipment. 
These sort of side pockets are common on all photographer backpacks, and they give you access to the main compartment.
Speaking of which…
There are two sides to the main compartment. 
One side is a single large compartment.

This compartment is spacious and well built, and it has a mesh lining over top of it to help keep your stuff organized and in one place. 
At the back end is a well protected laptop compartment which is secured with a solid velcro strap.
Pros of this section
Plenty of space
Mesh cover
Accessible from middle and back
Cons of this section
Other compartments can get in the way (shoe compartment mainly)
Zipper access can be rough
Smaller Double Compartments
The smaller sections are great because you can either a) keep it as one large section, or b) you can lift and connect the middle divider to split it into two separate sections.  
While this feature was designed for photographers, it can be used and enjoyed by all! 
We think this feature is awesome as you can further customize your setup to fit your own travel-specifications. While on a trip to Thailand we used the divider frequently and found it very useful. 
Located in the large single compartment are these two smaller pockets. 
These pockets are great for anything small you don't want to lose. We used it for extra money, bank cards, headphones, and a spare phone charger.
Additional pockets like this are always appreciated as they take up very little space, while allowing you take take your travel-organization to the next level.
Problems Accessing the Main Compartment
While yes, we like the main compartment, what we HATE is getting into the main compartment. 
Why?
The Zippers.
Earlier we praised the zippers on this pack for being quality and having a nice, easy ZIP to them.  
And we stick to that. 
But unfortunately there should be an asterisk next to that statement. 
Because on the corners of the main compartment – the zippers can be a terrible experience. Most of the time when opening and closing the main compartment – we would get stuck or snagged. 
And it gets worse when you have all of the other items dangling around and interfering with the flow of the pack – like so. 
We understand that zippers get stuck – no qualms about that – but we do have a problem with zippers that get stuck MOST of the time.
And we found that these zippers got stuck most of the time. 
Shoe compartments are controversial – some people love them and others despise them.
Pros of the Shoe Compartment
We think they are cool! You can use them for your shoes, or pack something else in there, or just roll it up and not use it at all!
Cons of the Shoe Compartment
When the compartment is full it interferes with the main compartment, only allowing you to pack half as much stuff.
Ultimately while some people don't like shoe compartments, we think that it adds a ton of organization and customization, without really sacrificing anything in return. 
Here's something a little different…
Located at the very top of the backpack is a laminated slot for a business or contact card. We review a ton of backpacks and this is something that we do not see every day. 
Pros of the Card Slot
You can put a contact card in it, so if you lose your backpack someone can contact you
You can customize the pack's look! 
Cons of the Card Slot
The slot itself is not very sturdy and the business card that we put in there quickly got warped and ruined. The lesson? Do not put super expensive business cards in this slot. 
Warning people!
While this review has been overwhelmingly in favor of the WANDRD HEXAD Access Duffel… things are about the take a dark turn.
Why is that?
It's because we think that the back of this pack has some serious problems – particularly with its functionality. 
To put it frankly, some parts of it are just a fucking nightmare. 
Terrible Back Compartment Access
This is far and away the worst part about this pack – accessing the back panel. 
This is for a few reasons, but mainly because the straps completely interfere with your ability to open the zipper to this compartment. 
Notice that when you try to unzip the top of the back panel, the zipper runs into the top of the strap.
And to make it worse, the when you try and unzip the bottom part of the back panel, you run into the bottom of the straps. 
So no matter what, when you are opening the back panel, the straps are always in the way. 
Is there a solution?
Yes. But it's annoying.
The only way to actually be able to open the WANDRD HEXAD Access is to take the shoulder straps, and unwrap them around the outside of the back panel – like this. 
While this might seem like a small thing – it isn't. 
This is an interference that occurs every single time that you try to open one of the most important parts of the pack. 
And what makes this even more annoying is that the back panel has the laptop compartment, so every time your travel laptop you need to go through this range of motion again, and again. 
We know that this issue is not the end of the world but if we are paying nearly $300 USD for a backpack, we expect it to have a great UX – and this really compromised our experience. 
Confusing Zipper Experience
With all of this commotion happening in the back, there are tons of zippers, and we found the whole thing to be a bit messy and to be confusing at times. 
This is going to be a trade-off. If you want extra pockets and features, they need to be open and closed by zippers. 
This is a huge reason why we don't recommend this backpack for someone looking for something minimal. 
The WADNRD HEXAD Access is far from minimal. There are tons of zippers, tons of features, and tons of compartments that most people will frankly not need. And those extra zippers, features, and compartments are going to give the pack additional drag and weigh you down.
You have been warned. 
This is not the best – nor is it the worst – laptop compartment we've ever encountered.
Pros of the Laptop Compartment
The compartment itself is well padded and secure – which means that laptop is safe
The velcro strap is also strong and will help further protect and secure your laptop
It's made of nice materials
Cons of the Laptop Compartment
Difficult to access! The laptop compartment is located in the back panel, which means you have to move the backpack straps to actually get into this compartment – which obviously sucks
Removable Shoulder Straps
The shoulder straps on the HEXAS Access are removable!
This is great for anyone who is super serious about using the pack as a duffel.
Simply unclip the straps, and BOOM! You have significantly less drag and can go into full duffel mode. 
We don't think you'll end up removing the straps very often, but having the feature is nice. 
Super Comfortable Shoulder Straps
We aren't sure what sort of black-magic padding that WANDRD is using, but just like their PRVKE – we were shocked as to how comfortable these straps were!
The HEXAD is one of the comfier 45 liter backpacks we've tried and these shoulder straps are a big reason as to why.
Similar to the PRVKE they have a squishy-ness to them. They feel both soft and malleable, yet firm and made of great materials.
Having comfortable shoulder straps is one of the most important aspects of a backpack – especially a large 45L backpack. 
This is an awesome, awesome feature. 
Shoulder Straps/Duffel Straps
Yes guys, remember, this is both a backpack AND a duffel!
WANDRD accomplishes this by doing two things.
Making the center of the straps thinner, so they can be held together like a single duffel strap
Making sure the straps are located in a position that ensures they can be used as both duffel AND shoulder straps
Ultimately we like this feature, but you need to have the proper expectations for it.
Most importantly – remember that this is a backpack first and a duffel as a far, far second. 
To us, while the duffel experience is great, the HEXAD Access works better as a backpack 95% of the time. 
Is it nice to have the option to switch into duffel mode? Sure!
That's what's so great about this feature – the ability to quickly grab it and use it as a duffel. The straps and handles are designed exactly for this. 
But remember – it's a backpack first. 
We are big fans of removable features – especially when it's the sternum strap.
And while most backpacks in this price range have removable straps, WANDRD's system is one of the best. 
Simply pull the strap down to the bottom of the sternum-strap-lining and it will effortlessly pop right out. 
And if you want to put it back in?
Again super easy, just slide it back up on the sternum-strap-lining and you have your sternum straps reconnected!
The side handle on the HEXAD Access is the same exact material and style as the main top handle – and we love both!
It's sturdy and comfy, which is all you can ask for in a side handle 
As we said – this pack is comfy!
And one of the biggest contributing factors is the back panel. 
Not only is it clean, crisp, and well branded, but it is also incredibly functional and feels amazing to wear. 
The foam panels are made of great materials, are well-padded, and allow a decent amount of airflow. 
And finally is the logo! This rubber stamp can be found on most of WANDRD's backpacks.
We think it is minimal and classy. It isn't too loud, but still gives the backpack a nice overall touch. 
Overall Pros and Cons of the
WANDRD HEXAD Access Duffel
WANDRD HEXAD Pros
Made with amazing materials so it looks and feels sexy

Tons of internal organization while not being overkill

Less bulky than other 45 liter backpacks
WANDRD HEXAD Cons
The back panel is a functional disaster

Much of the bag feels cluttered with zippers or buckles

Laptop access is compromised
WANDRD is one one of the coolest up and coming backpack companies out there right now. Ever since their first launch a few years back they have been on everyone's radar – ours included!
Here is a quick look at some of their other (more popular) products…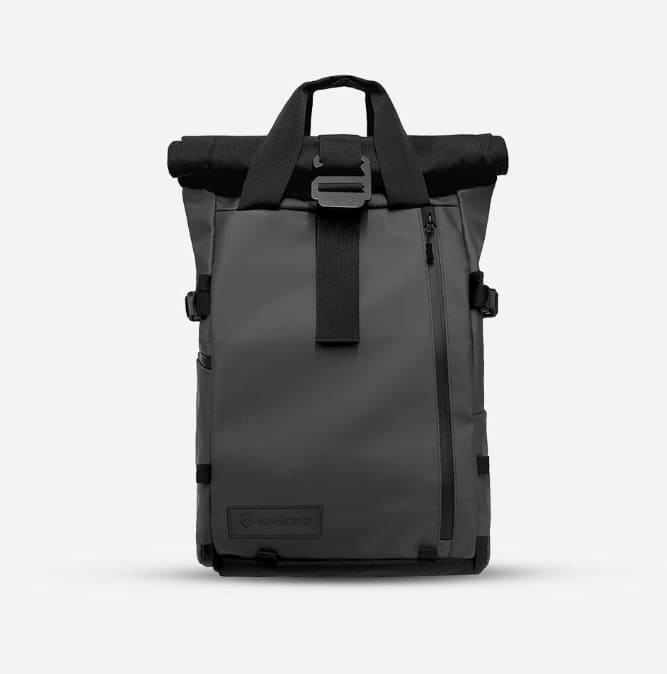 We reviewed the WANDRD PRVKE 21 and were absolutely blown away by it. 
It's comfortable, stylish, durable, thoughtfully built, and most importantly – it feels and functions great.
While the 'instagram-y' look of the backpack won't be for everyone, if you are looking for a daypack that is simple and well-built – this is one of our favorites.
The HEXAD Carryall is the little brother of the HEXAD Access.
And you know what? We prefer the Carryall. 
This is because while the two are very similar, the 40 liter Carryall cuts down on some of the size and features that the Access overcomplicated. 
It's still by no means a perfect bag – but if we had to choose, we prefer it to the Access.
This daypack raised almost $700,000 worth of funding on Kickstarter!
Wow.
But it is well deserved. The Duo is the latest backpack by WANDRD and an absolutely stunning daypack for photographers, travelers, and anyone looking for an everyday carry. 
What rating did Nomads Nation give the WANDRD HEXAD Access Duffel?
On the pros, the Access looks great and is made of amazing materials. On the cons, some of the functionality is a mess. That's why Nomads Nation gave it a score of 3/5.
WANDRD has shipping facilities in Hong Kong, the Netherlands, and the USA. The package that we ordered arrived in less than a week!
How to pack the WANDRD HEXAD Access Duffel?
The HEXAD Access is great for photographer and travelers. Highly organized, there is a pocket or compartment for all of your gear!
Is the WANDRD HEXAD Access Duffel worth it?
While the HEXAD Access Duffel isn't our favorite bag – it doesn't mean it isn't a great bag! Check out the top of our review to see if the HEXAD is exactly for you….
WANDRD. HEXAD. Access. Complete!
We know that our backpack reviews on Nomads Nation are far and away the best on the planet. We put countless hours into our blog posts and videos to make sure you can be 100% sure which travel gear best suits your needs. 
So let us know what you. think. Do you have any questions about our WANDRD HEXAD Access Review? Is this the backpack for you?
Let us know in the comments below – we respond to all of them!
Travel on nomads…
***Disclaimer*** Some of the links in this post are affiliate links. This means that if you use our links, Nomads Nation will earn a small commission at no extra cost to you. Thanks for the love and support!