Peak Design Tech Pouch Review (Updated 2023)
peak design
tech pouch review (Updated 2023)
The best Peak Design Tech Pouch review on the web!
Written by Digital Nomads
Who is the Peak Design Tech Pouch is perfect for?
If it's not for you – we'll show you which tech pouch is
Peak Design Tech Pouch
Overall Score
Our Take – Adding to an already impressive selection of gear, Peak Design has created one of the best tech cases on the market.
Durable, and built to hold an impressive amount of stuff, this origami-inspired tech case will keep your gear secure, and organized for years to come.
Overall, we give it a 4.5/5
Peak Design
Tech Pouch
Specs
Volume: 2 liters
Dimensions: 6″ x 9.5″ x 4″ (15 x 24 x 10cm)
Weight: 288g (10.2 oz)
The Peak Design Tech Pouch is
PERFECT for you if
If you dig the look of the Peak Design Tech Pouch and you want you tech gear to be secure and organized – click the green button below, because this case is as good as it gets. 
Do you own the Peak Design Everyday Backpack or the Peak Design Travel Pack? Peak's gear works better in unison with each other as they are designed to integrate and fit perfectly together. 
Look at the picture – there is literally TONS of stuff that you can fit into this pouch. If you are a Digital Nomad traveling with a lot of tech gear, the Tech Pouch will help organize your life in ways you never knew possible.
This case is specifically designed for tech gear and also works well for general urban travel.
Because, duh. This thing was literally crafted for your lifestyle. 
The Peak Design Tech Pouch
is
NOT for you if...
If this is you, then look elsewhere. The Peak Design Tech Pouch can hold a bunch of Digital Nomad gear – but only the smaller gear.
→ If you looking for a tech case that can fit a laptop, check out the…
If you only have a few tech items you are looking to pack – the Peak Design Tech Pouch might be a bit be overkill for you…
→ If you need a simpler tech pouch, these are the best. 
Peak Design created this pouch for small, everyday electronics and travel gear – not DSLR gear
→ Check out these awesome DSLR camera cubes!
Available in Sage Green or black – the colors of the tech pouch are nice!
We opted for the black because we thought it would be more durable. 
Also we travel with a lot of pens, and the thought of a black pen exploding all over a Sage Green canvas didn't quite seem as appealing.
Granted, as is always the case, the black color picks up dirt and dust a lot easier. 
When it comes to the style of this thing, we aren't saying we hate it… we just think that there are just more stylish tech cases out there!
And that's fine! 
You know why?
Because most people aren't purchasing a tech case to be stylish. They are buying one to comfortably and securely hold their stuff! Case closed!
If you are looking for a pouch to hold your tech gear that has a classier or more sophisticated look – we got you. You will LOVE the Nomatic Tech Case or  the Bellroy Classic Pouch. 
Otherwise don't sweat too much about the way it looks, because it is easily the best functioning tech pouch we have ever tested! 
Peak Design Tech Pouch Materials
The Peak Design Tech Pouch is made of weatherproof 200D Nylon. And the materials feel great!
But note – while the pouch might look leathery-smooth from a distance, it's actually a bit scratchier than one might guess.
Not that this is a bad thing. In fact, quite the opposite. The materials are quality, and the rougher texture means it will strongly ward off scratches or dings. 
Overall the materials feel great on the Peak Design Tech Pouch. Very satisfying. Very durable. 
The Peak Design Tech Pouch utilizes weather resistant  Zoom Zippers – three in total.
Zipper #1 (top zipper in pic) – The largest zipper gives access to the main compartment. This zipper is a breeze to use,  as it is well gripped and provides a smooth zipping experience. 
Zipper #2 (bottom zipper in pic)  – This zipper is significantly smaller, and while it can snag sometimes, we find that more over less it works perfectly. 
Zipper #3 (main compartment – not shown) – Similar to zipper #2 this one is smaller but still functions well, allowing you to access an internal pocket in the main compartment (which we will cover soon).
Overall the zippers rock! They are very smooth and very durable. 
The front of this pouch is fairly basic – which is exactly what you want from a tech pouch!
Here's what you need to know about the front of this case. 
Peak Design does great with branding, and one thing they do better than any of their competitors is logo consistency.
Take a look at what we mean…
See that leathery looking tab with 'PD' on it? You can find that on most all of Peak Design's products. The color might change, but the subtle leathery tab is always there.
While we are (clearly) very enthused about this pouch – it isn't perfect – and these 'handles' are a great example why. 
While we understand Peak Design's intentions and understand why they tried to include a few handles – they just didn't work out very well. 
Ultimately we find these handles fairly pointless.
Here's why….
We never used them, and anytime we tried to use them, we found that they were annoying and difficult to operate.
Here are four reasons why we don't like the handles. 
#1 – You don't need them. Even when fully packed, The Peak Design Tech Pouch is easily grabbed by one hand… unless you have tiny baby hands, and in that case, OK, you might want the handles. 
#2 – One of the handles is on the bottom of the pouch, so when you use it, you are actually carrying the pouch upside down. Not a secure feeling at all. This bottom-handle should have been completely discarded. 
#3 – The handles are small and tight, so even if you wanted to use them, they can be challenging to get your fingers underneath. 
#4 – The materials used on the handle feel a bit on the cheap side.
Overall, we aren't fans. 
BUT! 
Although we clearly aren't fans of the handle, we should note that they are very subtle, and don't get in the way. In fact, you'll probably even forget that they are there 🙂
Let's open up the main compartment to get a better idea of why this is one of the best ways to protect, organize, and carry your tech and travel gear…
Yes ladies and gentlemen, welcome to the the most important part of the Tech-Pouch-Show – the main compartment!
If you are looking for a next-level way to organize and carry all of your smaller tech gear, then this is your pouch made in heaven.
Inspired by origami, the Peak Design Tech Pouch opens beautifully to reveal over 20 pockets, crevices, nooks, and placeholders for all of your most important stuff.
And many of those pockets and crevices can fit more than one thing!
The design is really something to behold, as it opens up in a way that is both functional – and aesthetically pleasing. 
Also worth noting is that the main compartment is colored gray. This is a smart choice from Peak Design as the gray acts as a highlight and makes it easier for you to locate and identify your stuff. 
Notice the array of stuff in the picture above. This tech pouch can fit everything! You will find a place for whatever you need to store (assuming it isn't too big).
Here is a list of the gear we packed in the Peak Design Tech Pouch…
External battery
JBL Wireless Headphones
Small moleskin notebook
Scooter key 
Phone charger
Everyman Grafton Pen and ink refills
Another (less impressive) pen
Spare cash
Tablet charger
Spare wires
Airpods in their case
More wires
Sunglasses
Bluetooth mouse
Computer charger
And more!
If you are traveling with a large Digital Nomad packing list, then this is pretty exciting stuff!
You know what is awesome? Writing stuff down with pens!
You know what isn't awesome? Losing your freaking pens. 
This small (but appreciated) feature allows you to store four pens simultaneously – two on each side.
But one thing to note about the pens…
If your pen that has some sort of rubber grip (like the bottom pen in the picture) then it's going to be very annoying to get the pen in and out of its designated slot. This is because the slots are quite tight, and the material on the pouch creates friction with the rubber grip of the pen. 
Not the end of the world, just something to be aware of. 
Main Compartment and Storage
Now, while this pouch can pack a miraculous amount of gear inside of it – there is going to be a limit!
If you are looking to pack larger items – beware. We found that the largest items we could comfortably pack into the Tech Pouch were a bluetooth mouse and a Macbook Pro charger.
And then items that were larger (a 13 x 21 cm moleskin and a hard container for reading glasses) simply do not fit.
Remember, if you are looking for a gear case that can hold larger items (specifically a notebook and Digital Nomad laptop) then the Nomatic Tech Case is your best bet. 
Interanal Zip Compartment
This is a nice pocket to have, and especially nice if you are a photographer.
Why?
Inside the main pocket are 4 additional smaller elastic compartments – each of which is the perfect size for a SIM card!
We couldn't really find much else use for the elastic slits, but the good news is that if you don't use them, the pocket itself is still functional and capable of carrying plenty of stuff. 
Since the pocket is a bit more discrete, we liked to put a little extra cash away in there… you know… just in case.
This pocket isn't our favorite feature as we never really found ourselves using it all that much…
But in theory it works great for your phone. The pocket is large enough to fit most smart phones, and using the wire-hole, you can sneak your charger into the pocket, keeping your phone charged all day.
While it's not something we utilized, for others it will be a very useful feature. 
The single handle on the back is the exact same as the handle on the front.
And since the handle is the exact same – our feelings towards it are also the exact same.
It's 'meh'.
But like we said, implementing this handle didn't compromise any other aspects of the pouch, which we are thankful for. 
You see those two eye-looking things located in the top right and top left of the pouch? 
Those are attachments that will allow you to turn your Tech Pouch into a Tech Sling! Peak Design sells slings that perfectly fit these loops, so you can seamlessly transform your pouch into a bag. 
While we didn't utilize this feature much – it's nice to have!
But please, for the love of god, do not purchase the Peak Design Tech Pouch to be your primary sling. This is a pouch first and a sling as a  veryyyyyy distant second. It was not designed to be a sling, so while it's a nice option to have, it will not function as well as say the Bellroy Sling or the Peak Design Everyday Sling.  
PEAK DESIGN TECH POUCH Pros
Probably the most functional tech pouch out there

Origami design allows you to fit a surprising amount of stuff

Made from high quality, durable materials

Perfect for Digital Nomads
PEAK DESIGN TECH POUCH Cons
Too small for a laptop or larger notebooks

The handles are pointless

Might be a bit on the bulky side for some
Other Peak Design Products
In case you didn't know, Peak Design makes more than just Tech Pouches. They are actually one of the best and most innovative travel gear companies out there.
Below you will find some of our favorite Peak Design gear. 
One of the coolest and most functional laptop backpacks we have ever reviewed – we love the Peak Design Everyday Backpack.
Made from recycled materials, the Everyday Backpack features endless customization options, a great look, and a MagLatch that we can't get enough of. 
Check out our full Peak Design Everyday Backpack review.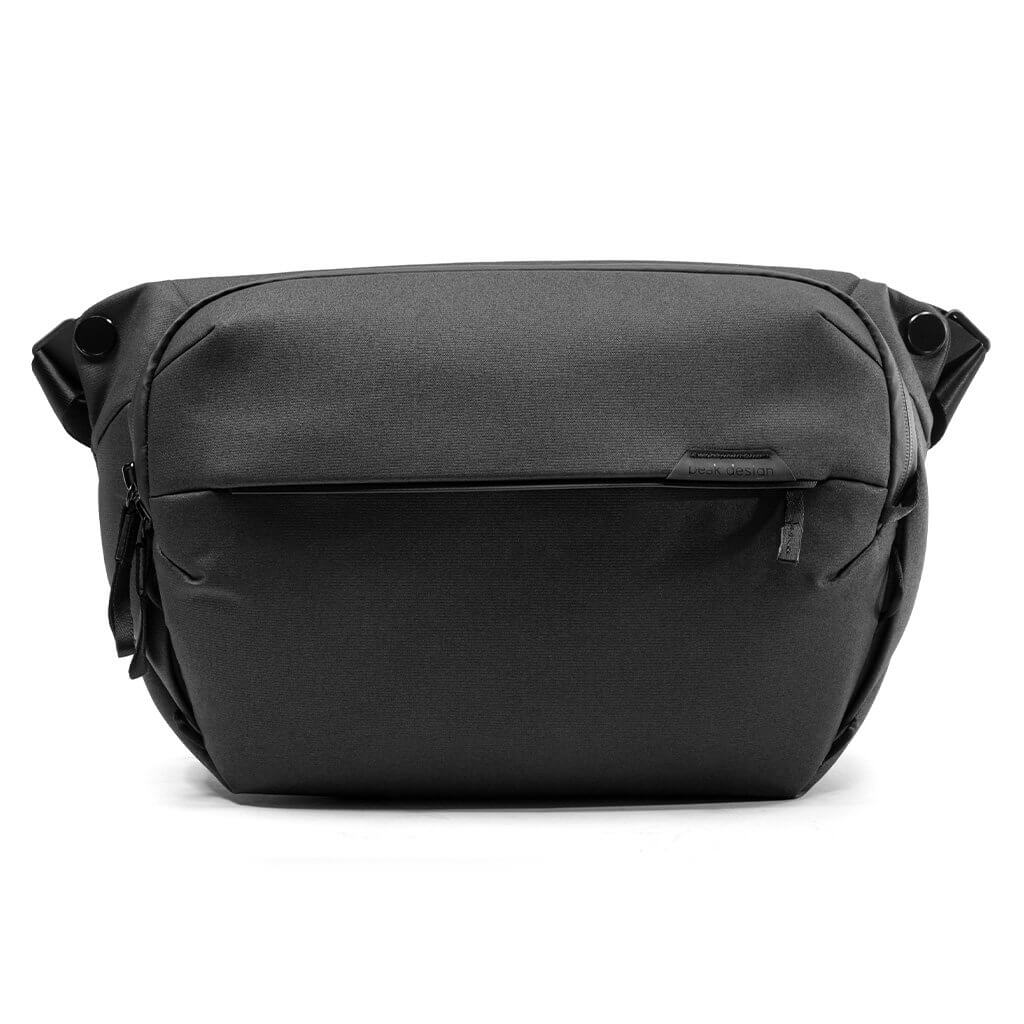 While we don't find it to be the most stylish sling on the market, it's easily one of the most functional (especially for your travel camera!)
Again using Peak Design's patented FlexFold dividers, you get endless customization options to top off a very durable and HUGE sling. 
Have a read of our Peak Design Everyday Sling review for more info!
Does it look familiar?
That's because the Peak Design Wash Pouch is basically the toiletry version of the Peak Design Tech Pouch.
And it's equally as functional. 
Featuring the same origami-style design, the Wash Pouch is our favorite toiletry bag out there right now. 
If you love Peak Design's work and are in the hunt for a large Digital Nomad backpack – give this bad boy a look.
At 45 liters, this enormous travel pack is similar to all of the company's other packs. Highly functional, great aesthetic, and the ability to fit more stuff than it looks like it can fit. 
What should I keep in the Peak Design Tech Pouch?
With such an impressive amount of space – the choice is yours! While the pouch is too small to fit a laptop or large notebook, you can easily fit chargers, headphones, pens, glasses, external batteries and much more in your pouch. 
How fast does Peak Design ship?
When we ordered our Tech Pouch and everyday backpack – we got them in less than a week!
And so that concludes our Peak Design Tech Pouch review!
We know that this is the best review on the web, and if you agree (or have any questions) please let us know in the comments below – we respond to every last one of them!
Enjoy your Tech Pouch 🙂
Travel on, Nomads…
***Disclaimer*** Some of the links in this post are affiliate links. This means that if you use our links, Nomads Nation will earn a small commission at no extra cost to you. Thanks for the love and support!